Stories such as these are rare in villages like Konia, which lies in Uttar Pradesh's Varanasi district.
Chandra Devi actually mustered the courage to separate from her violent husband. But this would not have happened if she had not received a modest bank loan to start a small business.
In the neighbouring village of Ayan, Neetu Devi's dream of giving her children a better life than hers came true when she was able to send them to a private school, thanks to a small dairy business she started, again with the help of a loan.
Miles away in Bhojpuri village in Bihar, Suleha Khatun, an uneducated widow, used her loan to improve her earnings by opening a grocery shop, which in turn made it possible for her to send her daughter for higher education.
Information technology and the innovative use of the ubiquitous mobile phone are bringing banking to the doorsteps of people living below the poverty line in states like Uttar Pradesh and Bihar. In the process, poor women are now being increasingly brought into the banking fold. They are able to economically empower themselves by opening their own savings accounts, access micro-credit schemes and start small businesses of their own.
"Mobile phones have helped to reach out to those village women who would have never thought they could ever engage with the bank. It has become a game changer considering the socio-economic barriers and cultural norms that prevent them from engaging with formal banking services," remarks Mukul Jaiswal, Managing Director, Cashpor Micro Credit, a not-for-profit microfinance institution based in Varanasi. The organisation is currently working on the financial inclusion of women in rural Uttar Pradesh and Bihar.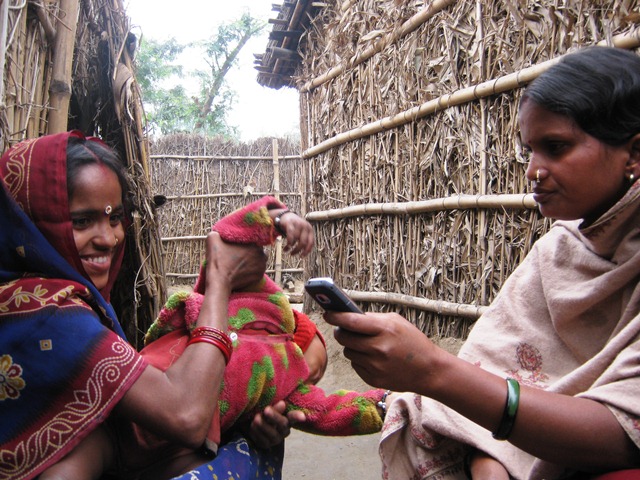 Cashpor has helped over 1,57,968 women, between the ages of 20 and 60, to open a savings account through their mobile phones over the last two years. Of them, 47 per cent belong to the Scheduled Castes and 34 per cent to Other Backward Classes. What Cashpor had realised, according to Jaiswal, was that poor women required a range of financial services, from microcredit and small bank loans to better earning opportunities.
Traditionally, women would safeguard their hard earned income, so that it could help them tide over sudden crises, by hiding it somewhere in the house – sometimes with disastrous consequences. It was to address this unmet banking need that Cashpor began to work only with rural women living below the poverty line (BPL) who have no previous access to any kind of financial service.
Another important reason for working with such women was their financial discipline. Observes Jaiswal, "Women are good borrowers and savers because they think of their children's future and education. They don't gamble or drink and are, therefore, more responsible and will always think of their family first. It is an established fact that increasing women's access to financial resources leads to higher investments in children's health, nutrition and education."
New communications technology has played an important role in connecting Cashpor to these rural women. Before mobile phones became commonly owned, Cashpor's outreach and impact was limited.
"Our staff could not handle more than a certain number of clients at one go because of all the paperwork involved. In 2010, we were processing 280-300 applications monthly. Since mobile technology was adopted in 2011, in collaboration with ICICI bank and its technical support partner Eko, this microfinance institution has expanded its reach as a banking intermediary and applications have increased from 371 in 2010-11 to 542 in 2012-13," Jaiswal reveals. The number of new members has also been rising – from 48,465 in 2010-11 to 98,420 in 2012-13.
Offering education, ease and comfort
Manni Devi of Ayan village, Varanasi, has six children. She is a member of a joint liability group like her neighbour, Neetu Devi. "I joined because I knew I could never approach a bank. I have never been to school and I don't have the confidence to speak to the bank officials. By joining this group, I got a loan and was able to open a savings account with dignity. Now I, too, can give my children a better life," she says.
Ramrattan Devi, 50, suffers from painful back spasms. Long years of carrying heavy loads of vegetables on her head to earn a living have taken its toll. But after she joined the joint liability group in Ashapur, Varanasi, she was able to replace the basket with a cart and her health has improved.
"I am old and uneducated. But I have learnt how to sign my name and how to check the balance in my savings account with my phone. My children are very proud of me," smiles Ramrattan Devi.
Besides offering an easy and convenient mode, Cashpor representatives visit the women once a week. They don't need to accumulate big sums of money before making a deposit in their account and can start with a minimum of Rs 20. Once this is given to the Cashpor representative, they can use their mobile phone and the special code they are provided with to check their balance, explains Ajay Mishra, Deputy Director Operations.
Since all these women belong to BPL communities, have never had a bank account, and are mostly uneducated, awareness generation and financial literacy campaigns were conducted initially.
"When we started, the women didn't know how to sign. Now, they can at least sign their names. The five-day financial literacy training they undergo empowers them with information about rates of interest, the processing fee and their credit repayment schedule so that they can make informed choices based on their own knowledge," Naveen Sharma, Training Head, Cashpor, says.
Girls from disadvantaged backgrounds in urban areas have not been left out either. The Market Aligned Skill Trainings (MAST), pioneered by the Delhi-based not-for-profit, American India Foundation (AIF), adopted two mobile applications in October 2011. Formulated in partnership with Citi Foundation, it improves financial literacy of young girls being trained under the MAST programme and gives them the edge to improve their financial portfolio.
The AIF course, taught at 14 MAST centres in Delhi and Jaipur, is drawn from the "Financial Literacy for Poor Women" curriculum developed by Citi Foundation. "The potential for disseminating knowledge through mobile technology is immense. The mobile 'kunji' or financial guide and an interactive mobile game are two AIF-Citi mobile applications for financial literacy. They engage the youth – girls and boys – innovatively and provide a fun, interactive, and practical platform for them to learn lifelong lessons on positive financial behaviour," says Dr Hemanth Paul, Country Director, AIF.
Clearly, mobile phones are proving to be more than just aid for inter-personal communication. They are opening up new worlds for women who have always found themselves left behind and helping them to leverage their own resources and capabilities to make better lives for themselves. (© Women's Feature Service)