Shabnam Khatoon, 21, lives in Khadagpur village, on the fringes of Lucknow. The sole bread winner in a family of eight, Khatoon's years of low-paying domestic jobs came to an end when she trained in jute bag making, candle making and then chikan embroidery. Today Khatoon, who herself employs four other women, has put her younger siblings in school and is saving to buy a home. Neeta Kumar, 39, is experimenting with a concept new to Lucknow, a rural theme park that doubles up as an arts and crafts exhibition ground and market. The park opened in February to enthusiastic response. Rita Mittal, 43, determined not to go the "boutique and beauty parlour way", set up a menthol production and processing unit in 1989 in Lucknow's Chinhat Industrial area. Today she supplies to the Delhi and Mumbai markets, and is working on plans to export her products.
In a state with 7.89 crore females, where even the Chamber of Commerce and Industries has no records of the numbers of women entrepreneurs, the stories of Khatoon, Kumar and Mittal are rare finds. Despite a banking system that actively promotes credit extension to women, and government schemes aplenty, the term 'women entrepreneur' still evokes expressions ranging from dismissal to disbelief.
K K Singh, senior officer at the Punjab National Bank's zonal office's credit division, attempts an explanation. "Urban women prefer the security of jobs, and few are willing to risk entrepreneurship. As bankers we have targets to meet and encourage women to apply. Sometimes the loan is only in the woman's name while the actual work is done by the male members of the family. But if you look at it, the economic assets thus created remain in her name; so it is not such a bad bargain".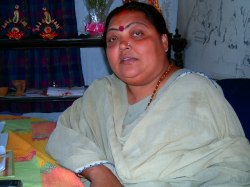 Neeta Kumar, who is developing a different kind of theme park (Picture by Puja Awasthi).
But credit data reveals that even this imperfect bargain is difficult to come by. According to statistics released by the State Level Bankers Committee, for the financial year 2005-06, upto September 2005, the total advances in the priority sector (that includes 14 segments like agriculture, software, small scale industries, food processing, retail trade) made by lead, non-lead, private, regional rural, scheduled commercial, and co-operative banks in UP, were Rs.45,315 crores. Of these, advances made to women are a mere Rs.3,529 crore, a miniscule 7.7 per cent of the total. Private sector banks fare worse than this average, with only Rs.14.2 crores of the Rs.2,565 crores - a measly .5 percent - of priority sector advances going to women. This, despite statistics showing that recovery rates from loan advances made to women are as high as 96 per cent.
Elsewhere too, the data is often similar. Figures from the Karnataka State Financial Corporation, for instance, reveal a downward trend in financial assistance given to women since 2000-01 when 540 women were given loans worth Rs 100.93 crores, a figure that dropped to Rs 62.17 crore given to 283 women in 2004-05. The state's Department of Industries and Commerce too helped only 2,146 women set up small scale industries in 2004-05 as against the 3,630 women it had helped in 2002-03.
Similarly, data from the Uttar Pradesh Khadi and Gramudyog Board (UPKGIB), which manages the Margin Money Scheme that extends credit for projects upto Rs.25 lakhs with a generous subsidy thrown in, reveals that only 155 of the 923 units set up in 2004-05 were by women, a small improvement over the 2003-04 figures of 137 units in a total of 1138. This, when women entrepreneurs are required to pitch in with only 5% of the project costs and get 30% margin money whereas men (other than those from scheduled castes, minorities and backward classes) must put in 10% of the project costs and get only a 25% subsidy.
The same data throws up the fact that while men experiment with enterprises as varied as agricultural implements and steel furniture women are more content with incense sticks and carpentry. This gender bias is also accentuated by bank-run special loan schemes. The Punjab National Bank for example has schemes for financing women for tailoring, boutique, cyber cafes and PCOs. Where loans are put to newer uses, the reasons are often not only of the woman's making. For instance, Meera Gupta, a Kannauj based rice mill owner who took a Rs.10 lakhs loan from UPKGIB, attributes her choice of enterprise to her family background. "My father had been in the business so it was a natural choice", says Gupta, who employs 13 people in her business with annual sales of Rs.47 lakhs.
Other factors matter too. Marriage and consequent migration, an inability to raise even the minimum equity fund for a loan, lack of confidence, gender stereotypes, unsupportive husbands all conspire to keep women away from loans. Even where these are taken they may be under pressure from the family and even be put to unproductive uses.
Anil Kumar Singh, Chief Executive officer of the Network of Entrepreneurship and Economic Development (NEED), a 10 year old micro enterprise cum micro finance organization, points to the absence of a service culture as the reason women, particularly poorer women, are not keen on loans from banks and government institutions. "Most government and bank officials carry a poor impression of the underprivileged, especially in terms of loan recovery. The poor are emotional about their assets and not comfortable with the idea of attaching them to a bank and thus risking losing them. In government offices nothing gets done without a bribe as there are a fleet of ambiguities and apprehensions regarding the loan process. Though banking infrastructure over the years has increased, the emphasis has turned to deposits rather than developmental credit. Moreover credit structures, systems and processes are more for the well educated rather than the disadvantaged", Singh says.
Priority sector advances made to women by public finance institutions is a miniscule 7.7 per cent of the total. Private banks did even worse.


• Opportunities and challenges
• Neighbourhood entrepreneurs
• Gender revolution in dairy

Singh's last contention is disputed by Neeta Kumar, whose theme park 'Kalagaon' spreads over 2.75 acres acres on Lucknow's fringes. It took Kumar, a teacher at the College of Fine Arts, two years to convince banks that her proposal was financially viable. "There is no place for creativity in the cold economic logic of banks. I was repeatedly told to do something more routine. Put up slides; make a swimming pool or a saree showroom, bank officials suggested. The objections were more to the idea than the fact of me being a woman", Kumar, who took Rs.60 lakhs in loans, notes.
But things were no easier for 43-year-old Vibha Pandey, who wanted a much smaller loan - Rs.1 lakh - to set up her beauty parlour. Pandey, a post graduate, found the entire loan process so complicated that she had her husband fill in the forms and pull a few strings before the loan was sanctioned.
In such a scenario, self-help groups offer women a much easier way to get the money to turn entrepreneurs. Krishna Murari Yadav is Secretary of the 1984-established Ekta Education and Welfare Society, which works with 35 self-help groups with 2400 members in Lucknow's rural Bakshi ka Talab block. He believes that such groups score over banks and government institutions because they operate with an inbuilt security net. "The fear of what will happen if a loan is not repaid on time is set deep in the psyche of women who will do nothing to endanger the family's security. Seven women from one of the groups were encouraged to take a loan for a gobar gas plant. They know that even if the plant fails, the society will step in to put it to other uses and repay the bank", Yadav points out.
NEED has 15,175 members in its 1301 self-help groups spread over 519 villages of Kakori, Mehmoodabad, Sitapur and Barbanki. Between them the groups have savings of Rs.1.19 crores, while total loans received by them stand at Rs.1.33 crores. And despite the relative safety of the self help group, repayments stand at a high 98 per cent. Meera Devi, 40, from Kakori block's Dasheri village, is part of one such group which started with 10-rupee contributions from its members. Two years ago she started packaging pulses and spices. Today, in addition to a store near her home, she operates a mobile shop to ferry her wares to city markets. "Self-help groups don't have complicated terms of reference. I could easily start a business for which I have the required knowledge. Unlike government departments, where records are the only concern, here the focus is on our needs", she avers.
While turning entrepreneur has allowed Meera to take charge of her destiny and make a better future for her family possible, her story is much more the exception than the norm. There is clearly a need for more women-friendly and less complicated banking and governmental initiatives that can prompt greater numbers of women to form and run commercial enterprises. Until that happens, women entrepreneurs will continue to find obstacles to their aspirations, and their success will continue to be met with incredulity.