Gil Penalosa, who addressed public meetings in Bangalore and Mumbai last month, was Commissioner of Parks in Bogota, Colombia and succeeded during his brief tenure to create as many as 200 neighbourhood parks, big and small, in his city. He was able to build footpaths around lakes in three years, when it had not been done in 27.
Bogota is famed, world-wide, for its Ciclovia – Spanish for "cycleway". Each Sunday, arterial roads are closed to motorised traffic and taken over by walkers, cyclists, skaters and other fun-loving, health-conscious citizens.
An amazing two million of Bogota's citizens – one in every three – use the Ciclovia. In addition, public stages are set up in parks throughout Bogotá as well as Medellin, otherwise notorious throughout the world as the city where drug lords are based. In these week-end public performances, aerobic and yoga instructors and musicians put citizens, a great many of whom are children, through their paces.
As it happens, a few Indian cities have taken a leaf from Bogota's book and declared car-free days. Mumbai has just one a year on Carter Road, which hugs the coast in the suburb of Bandra. It is an enormous success, attracting maybe 15,000 visitors, from the crack of dawn to nightfall. However, Delhi has gone several steps further, belying the popular impression that the capital is made for bureaucrats and plutocrats alone, giving public transit short shrift.
From November last year, the public transport advocacy group EMBARQ, parented by the World Resources Institute in Washington DC, has sedulously hand-held an initiative which today has 11 km of a circular route closed for cars and motorbikes every Sunday from 6 am to 11 am in summer and 7 am to 12 pm in winter. What is more, this is in Sector 27 in Gurgaon, which is home to high net worth individuals who commute to Delhi every day and can be said, as a class, to be infatuated with their snazzy cars. It does help that there is a service road, such as Lutyens' Delhi also enjoys, ensuring that motorists aren't stuck at home.
This is in an area encompassing two villages, with a total population of 2.5 lakh. When EMBARQ first broached the subject with the police, they thought it was crazy. But with proper branding – christening the initiative "Raahgiri", avoiding the negative connotation of banning cars, and instead celebrating "freedom" – the Police Commissioner, Traffic police and Collector were gradually won over. Importantly, there were also several stakeholder consultations instead of the imposition of such a revolutionary scheme from above.
Some 18 schools were targeted first, with the knowledge that for each kid, one would net two adults. The slogan "apne raahein, apni azaadi" (our roads, our freedom) was popularised. The prominent builder DLF, which has built much of Gurgaon, was roped in, along with the Times of India with its sister radio station, Mirchi. The paper devoted half a page to ads, which made a huge difference. Other commercial sponsors included Reebok and Coca-Cola.
On the opening day on November 17, the organisers were keeping their fingers crossed, hoping the crowd touched one or two thousand. Some 20,000 turned up and since then – with a break in the current build-up to the elections, lest politicians use the captive crowds to canvas votes – it reaches up to 30,000 every Sunday.
Other off-shoots in India of the Ciclovia, which first acted as a catalyst in getting public transport experts and enthusiasts all over the world to emulate its example, include the two-year-old experiment with creating bicycle lanes in Jayanagar in Bangalore and in the emerging new central business district of the Bandra-Kurla Complex (BKC) in Mumbai.
In the former, planners are trying to take a more holistic approach and integrate cycle tracks, footpaths, parking and bus-stands. In the latter, planners got it wrong, since no one lives in BKC. The Mumbai Metropolitan Region Development Authority, which created BKC from a mangrove-filled wetland, had earmarked bicycle lanes on internal roads, which were thrown open to the public in 2011.
However, the Rs 6.48-crore project proved to be a failure as the 12-km track lies unused. One can only sometimes catch sight of portly executives pedalling to work, with their chauffeur-driven cars following at a discreet distance, carrying their owners' suits neatly folded for a quick change in office.Now the municipal corporation plans to go ahead with such tracks in other parts of the city; and the civic roads department has been directed to carry out a survey for this purpose.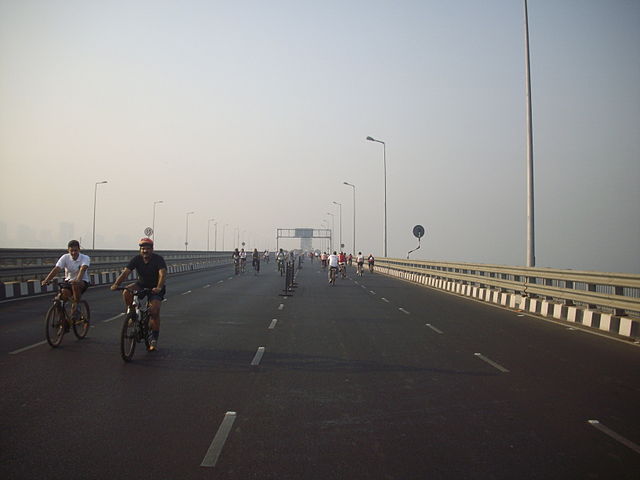 If, as we saw in an earlier article based on Penalosa's presentation, New York can get its act together and earmark such tracks, what prevents cities here from following suit, except for the apathy of decision-makers? It should be remembered that one factor which greatly boosted Raahgiri was the enthusiasm of Delhi's Transport Commissioner himself, who cycled 30 km to attend a Sunday event.
Taking a holistic view
If there is one message that Penalosa delivers, it is that it isn't just a matter of creating amenities for better public transport, but of making cities more liveable in entirety. This is why creating open spaces is an integral part of such a drive. Mumbai is perhaps the worst-off in this respect among all mega cities, with more than 10 million inhabitants, each having just a little over 1 sq metre of open space. Streets can provide such space, on certain days of the week, at certain times, for cyclists and walkers, who form by far the greatest majority.
It may come as a shock to Mumbaikars to learn that, according to World Bank statistics, when one takes all people who travel to work in the city by motorised and non-motorised transport, a staggering 55 per cent walk to their workplaces. Of course, if one only pauses to remember that this proportion coincides with the slum population of the country's commercial capital, the figure should not prove so incredible.
Ciclovia now encompasses 280 km of bicycle ways, created in three years. According to Penalosa, there is also an important social message in such initiatives. On the conventional street, there is first of all a big divide between those who own cars and those who don't, with the latter being pushed to the sidelines in any conflict over space. There is also a subsidiary divide between those who own high-end cars and those who drive smaller makes. However, in a Ciclovia-type experiment, everybody on the car-free street enjoys the same freedoms.
As he put it, "A person pedaling a $5,000-bicycle is literally on the same level as one with a $30-make. It is also necessary to dignify pedestrians in poor neighbourhoods."
The Velib, an inexpensive public bike-hire system in Paris, is a great example of what can be accomplished even in the capital of an advanced industrial country like France. There are now 1,451 bike stations where anyone who has registered can swipe a card to free a bike and dock it at the nearest station to his destination, where the hire fee will be deducted from his card. This has eliminated an astounding 7,000 car parks.
In New York, there was an elevated railroad which fell into disuse and was due to be demolished, but citizens intervened and created the $200-million Highland Park, which NGOs maintain. Seville, Spain, was heavily car-dominated in 2006, with less than one per cent using bikes. However, in three years, 150 km of cycle tracks were laid, increasing the usage to 6.6 per cent (about the same proportion that uses cars to commute in Mumbai). In Chicago, the new Mayor pledged to make the city more bike-friendly and to create 100 miles of such tracks in his first term.
Penalosa minced no words when he referred to the well-to-do Indian's penchant for inactivity: "Physical activity is a wonder drug," he pointed out. There were 100 million suffering from diabetes in the country, the second largest number in the world. There is a disquieting growth of two-car households. Even on the one day in the year in Mumbai when cars are banned on a single street, motorists behave as if their fundamental rights have been violated, when they do not enjoy any such prerogative by any means.
On his single day in Mumbai, Penalosa met the Municipal Commissioner, Sitaram Kunte, and questioned how he justified the corporation planning to build a Rs 2,900-crore coastal road from Bandra northwards to Versova as the extension of the Worli-Bandra Sea Link, which only met the needs of a tiny proportion of motorists. He didn't obtain an answer. The Mumbai Transport Forum, where members trade news and views online on a daily basis, has advocated that such mega projects should only be on the anvil if half the users are in public transport.
There is a need for much greater public engagement in deciding issues of better public transport, parks and vibrant open spaces that will make our cities more liveable. More than a technical issue, public transit is now a political issue, pitting people's interests against elite interests, masses versus classes. On the part of decision-makers in our cities, who often pay obeisance to experiments such as the Bus Rapid Transit System in Curitiba, Brazil and Bogota, it is certainly time to literally and metaphorically "walk the talk".