Huge mounds of plastic bags, papers and scrap soar into the skyline - you might call it the Dharavi skyline, quite unlike the one a few kilometers south. At first this appears to be nothing more than a jumbled mass. Slowly one begins to discern some order in the chaos. There appear to be distinct working zones. At the far end near the foetid waters of a mangrove swamp sits an old bath tub with its associations of luxurious living providing a distinctly bizarre touch in this setting. Some men have put the tub to a new use and are washing down bits of metal and iron scrap.
Closer to the main road is the E-zone. Here Shafiqbhai is patiently breaking down the mangled remains of computers, television sets, cell phone chargers and so on. In another corner Mangala is perched amid a pile of toys, packets and cables. She is instructing Nawabbhai who is hammering away at an old plastic doll. "Inside the hollow of the leg is the hard nub that you must extract." Mangala is clearly adept in grading various forms of plastic. "I've spent years in this business," she says with a touch of professional pride.
Dharavi was a mangrove swamp and fishing village till the 19th century. With the process of land reclamation and the growth of Mumbai, the area became the hub for the city's poor but enterprising migrants. Long looked down upon as nothing more than a huge slum, it is now gaining recognition as the world's largest recycling unit where almost 80 per cent of dry waste is reused and recycled to make various products. Mangala, Shafiqbhai, Nawabbhai and 120,000 other ragpickers make a livelihood here out of the 8000 tonnes of waste that the megapolis generates.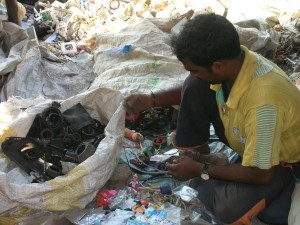 Hundreds of young children, women and men comb the city's alleys, swamps, beaches and garbage dumps for dry waste by day and even by night. Plastic bags, bottles, bits of metal, hard plastic and so on are recovered and brought to Dharavi.
(Above: The E-bay at the Dharavi scrapyard where electronic items are broken down and later sold.)


• Twilight City
• Whose garbage is it, anyway?
• No wasteful business this!

Laxmi explains the business, "Hundreds of young children, women and men comb the city's alleys, swamps, beaches and garbage dumps for dry waste by day and even by night. Plastic bags, bottles, bits of metal, hard plastic and so on are recovered and brought to Dharavi. Here it is sorted and segregated into lots and then sold by the kilo at various godowns of scrapdealers. E-waste for example can fetch Rs.10 for a kilo, plastic bottles can bring in Rs.12 per kilo. Copper untangled from circuits fetches Rs.20 per kilo. The hard plastic is crushed by the scrap dealers and made into pellets which are then reused to make drums, barrels and so on. The waste industry gives us a livelihood. If you work from say 9 am to 6 pm you could fill your stomach."
Though marginalised, this community of unorganised labour is an invaluable asset to the city. If it were not for these ragpickers who recover, recycle and ensure reuse of the waste Mumbai would have been reduced to one big dump yard with serious sanitary issues. Now along with the three R's there is an effort to give these workers the fourth R - respect. An initiative by the Acorn Foundation India Trust, under the Dharavi Project, aims to organise this vulnerable section and train them in scientific methods of waste handling, segregation and recycling.
Says Vinod Shetty of the Acorn Foundation, "We want to highlight their work in protecting the environment. We want the government to set up a board with the concept of polluter payers (those in the food industry, those manufacturing PET bottles, those in the Tetrapak industry and so on) paying a cess of about one per cent. The money can go towards giving these ragpickers a proper income with safe equipment like gloves and so on. We want them to be trained in how to handle toxic waste and expertise in recycling goods in a scientific, non hazardous way."
For a start all members of the Dharavi Project are being given identity cards and they have formed their own committee which is involved in waste awareness programmes. One is in association with the Lions Club and another is aimed at children. In the second programme the ragpickers work with children's schools in waste management. In this unique handshake children are given lessons on how to sort dry and organic waste. The organic waste is treated with compost bins whilst the dry waste is collected by the ragpickers periodically in tempos and taken to Dharavi for recycling. Through this project, it is hoped that children in the schools will start looking at waste even at home and adopt the same principles.
Currently there are some 350 members of the Dharavi Project working at different levels of recycling. Either they work at segregating waste, or in the recycling units or they recycle the waste themselves. There are also other initiatives - health clinics, programmes and workshops whereby young children engaged in ragpicking can get some kind of informal education in music, photography and so on. Says Shetty, "Nearly 40 per cent of the people in this business are children and women. We do not want to support child labour but realise this most vulnerable sector needs alternatives. We hope that such informal schooling will act as a catalyst and help them to think differently."
Some of the events organised thus far are a month-long multimedia campaign from 22 March (Water day) to 18 April 18, highlighting issues of water conservation, water filtration, using renewable energy sources etc. An eco fair was held in the Maharashtra Nature Park. Musicians, actors like Katrina Kaif, Shankar Mahadevan and Suneeta Rao have participated in events and interacted with the children. The Acorn Foundation has also tied up with Mumbai's popular nightspot Blue Frog for musicians to conduct workshops with the children. Recently the international beatbox group, the Boxettes, held one such workshop for the children.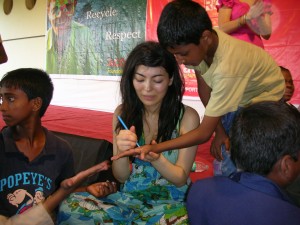 A member of the beat group The Boxettes with youngsters of Dharavi.
The interaction is aimed at spreading awareness on the fact that Dharavi, denigrated as Asia's largest slum, is actually a self-sustaining community. It is where the unorganized sector reveals its entrepreneurial skills and proclaimed the ability to think green long before it became a fashion. There are men for example who recycle corrugated boxes to make new ones saving paper and fuel. Or who make gift boxes for presentation out of scrap. The Acorn Foundation hopes to take such products into the market and help build up strong support for community based organizations engaged in recycling. It wants to start a movement in waste management which not only has environmental benefits but supports livelihood as well.
As a young ragpicker says, "For others it is waste. For us it is sona (gold)."