For the Irulas of Tamilnadu's Kancheepuram district, the free, universal education that the Indian constitution guarantees has been a bad cheque, one they have never been able to cash. Among members of the semi-nomadic hunter-gatherer tribe, education levels are very low, according to Census 2001 - 33.5 percent at the primary level, and a mere 0.5 per cent at the college graduate level. High illiteracy levels among parents, low motivation among teachers in government schools, and discrimination in the classrooms have meant that drop out rates are high, says P Krishnan, Project Director, Irula Tribe Women Welfare Society. Their aspirations for a better education for their children have been lost in a sea of indifference from the public education system.
Elsewhere in Tamilnadu, parents' dissatisfaction with public school is evident from one odd fact - despite the obvious need for more schools, the number of public schools is shrinking, as parents choose private alternatives. Cheththupattu panchayat in Thiruvannamalai district, which has a significant Dalit population, will see three of its government primary schools closed from this month. This is consistent with the larger trend state-wide; the number of government schools has steadily decreased. School Education Department data indicates that the number of primary schools run by the government and local bodies has decreased from 26,238 in 2000-2001 to 24,331 in 2005-2006.
"Many parents have chosen to enrol their children in private, English medium schools. People have lost confidence in the ability of government schools to deliver quality education that is either competitive or has any relevance to local needs," says Manavalan, Founder, Society for the Development of the Depressed. "In a competitive world, government schools have lost their relevance. In Thiruvannamalai district, a teacher close to superannuation was sent for training on activity-based learning. Transfers to rural areas are often treated as punishment postings. How will these teachers show any motivation?" he wonders. "Successive governments have cast away the government schools. On the other hand, private schools are competitive and goal-oriented and can offer region-specific training. Little wonder they are a popular choice even among the poor."
An estimated 71 lakh students study in the 31,000-odd private schools in the state. But for the poor, many of even the most abundant of schools are out of reach. Those who cannot afford the fess in private schools inevitably forego education for their children, after the first few years. Being a drop out, many parents feel, is better than being enrolled in a school that doesn't teach much.
Vouchers - a new option
Manavalan believes that there are better options - the government, since it is clearly not able to provide quality education, should simply provision the schooling of children through a funding programme, and let the parents themselves choose the private schools for their children. "It is estimated that the state government spends around Rs.1000 per month on a student in its schools. At much less cost, private schools deliver better results. Give the poor parents that money, and they can provide their children with competitive education in private schools, he argues.
His argument is as simple as it is forceful. Good education buys opportunities, and trying to keep the costs of early education low eventually leads to lost chances for higher schooling and college. "Rural students may spend less in government schools, but can only aspire to get into private institutions for higher education, spending lakhs. Whereas an urban, private-school-attending student may spend a lot more for school education, but as a result he is able to attend top institutions such as Anna University, paying much less," he says.
Inspired by the School Choice programme first implemented in 1990 in Milwaukee, Wisconsin (USA), the proponents here believe the scheme will improve educational standards among the low-income groups. In the USA, students who cannot afford private education can only attend public schools within their school districts. The Milwaukee Directorate of Public Instruction issues vouchers to students from poor neighbourhoods so that they can attend a private school of their choice. A 2005-study by the Milwaukee Journal Sentinel found that while parental satisfaction with school choice was high and "brought some fresh energy to the mission of educating low-income youth."
The paper did report problems - deficiencies including lack of infrastructure in voucher schools, poor parental choice, and difficulties in creating good new schools. Also, at least four voucher schools were closed and many stopped receiving voucher money for fraud. Despite these problems, in 2006-2007, 17,275 students study in 124 voucher schools. '
The Society for the Development of Depressed has already planned a primary school that will accept vouchers.


· An entitlement with no law

And closer home, in New Delhi, a school voucher programme introduced in 2007 has already seen a long waiting list. The Centre for Civil Society hopes to expand it throughout the country. In Tamilnadu, the Centre has recently launched a campaign working with NGOs to create a demand for such a scheme, and with schools and donor communities to implement it.
Says CCS vice-president Raj Cherubal, "Government's involvement in education has only restricted the supply. In a globalised environment, parents want their children to be able to speak English to compete (i.e. not attend Tamil medium schools). There is only one reason why our (the educated class) children and our domestic helps' children are different: their schooling." Nonetheless, Cherubal admits that for the voucher programs to be widely available, the government has to embrace them, or the idea will not scale. "In Delhi, we had 2 lakh people applying for 415 vouchers. Right now private funding is impelling the voucher movement, but the Government only has the capacity to take it forward. If Pilot projects are started in every state, the Government could use them as examples to consolidate and ultimately take over the voucher scheme," he says.
Private Schools, Cherubal predicts, will be eager to get these vouchers and would compete amongst themselves to attract students. Citing Prof James Tooley's essay, Private Schools for the Poor, published by the Centre for Civil Society, he says the private school market will provide the opportunity to introduce innovative teaching methods that will provide quality improvement in education. "For example, in the slums of Hyderabad, a leading software training company experimented with peer group learning methodology called 'the hole in the wall' to improve language skills. A speech-to-text recognition programme was given free to schools. Given the success of the programme, others too were ready to make the investment," Cherubal said.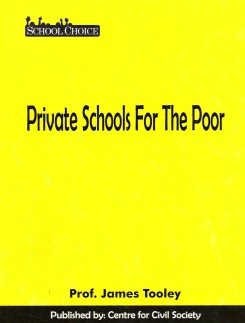 Centre for Civil Society has published Professor James Tooley's essay, Private Schools for the Poor
Dr Tooley, Professor of Education Policy at Newcastle University, in his award winning essay, notes: "The School proprietors were hungry for innovation. Why? In part simply because, whatever the critics of private schools for the poor may claim, many care about children's education ... But the power of the market means that it's coupled with another major incentive: proprietors know that they are in an increasingly competitive market. They need parents to know that their school is special, to maintain or increase their market share."
CCS and other proponents of vouchers are now educating parents on choosing a school, and creating a pool of private voucher schools. They recognise that their argument would be compelling if they can prove that voucher-funded poor students in private schools perform much better than their peers in the public school system. "Voucher schools also need to have transparency and accountability," say the campaigners.
Alert to the risks
Propoents of vouchers recognise, at the same time, that private schooling is not a bed of roses either, and that parents of private school students face numerous issues too. "There are thousands of unrecognised matriculation schools running out of sheds. Vouchers should not reach schools that lack infrastructure or transparency. Children from government schools may also require bridge courses and extra tuitions to fare well in private schools," says Krishnan, who works amongst students who are first generation literates.
Centre for Civil Society
Chennai Campaign Office
3A. #18, 'Sindur Waves'
New Beach Road, Thiruvanmiyur
Chennai 600041
www.ccsindia.org
Relief Foundation
B6/2, 11th cross street,
GOCH Colony,
Besant Nagar,
Chennai - 600090.

He also raises questions about the deregulation that School Choice movement is pushing for. "Are we minimising the role of the government and supporting privatisation in one of the most basic needs? Vouchers should challenge the school education departments and make the government more accountable, while making the community aware of other ways to access quality services," he adds. In the long run, Krishnan hopes, the government will draw inspiration from the voucher system and revamp its own schools to make them competitive. Cherubal, on the other hand, believes that some of the non-performing government schools may close down and others will become better to compete. But the voucher scheme will provide an entrepreneurial opportunity for local communities, especially marginalised groups such as dalits and tribals, to start their own schools.
Overall, there is optimism about how the campaign will turn out. Bangalore-based Cirrus Management Services, which hand-holds self-help groups in seven states including Tamilnadu, has decided to leverage its reach to start a voucher programme. M S Ashok, of Cirrus, says they are working with a group of individuals and corporates to develop and finance private schools across rural India, initially across 700-plus villages, to be scaled up subsequently. Education content, methods and environment are to be based on the needs of the local area, involving new low-cost, high quality methodologies. With an established a network of 4 schools and 2000 community-based micro-organisations in 7 states, CMS hopes it can expand the effort to cover 20,000 micro-organisations.
The Society for the Development of Depressed has already planned a primary school that will accept vouchers.
Others see a role for it in the oddest of places - in children's observation homes for juvenile delinquents. "Often the children held in these homes are forced to take a break from schooling till their cases are heard and a verdict is passed. Students who are intrested in studies are left to languish for months," says Vidya Shankar of Relief Foundation. Working with an observation home in Vellore, the foundation funded teachers to help the children successfully take their Class X public examination. "The social defence system is grossly understaffed to provide teachers. If the government were to issue vouchers to the children held in homes, they could pay their own way through school," she says.