Sourav Sarangi's Bilal, an 88-minute documentary film shot in one of the darkest slum pockets in Kolkata, has won awards at 14 film festivals in India and abroad. It is a film about a three-year-old boy - Bilal - who is born to blind parents but has normal vision himself.
It is a simple, but very dark film; though it revolves around a bright little boy, Bilal reveals to us one of the darkest underbellies of Kolkata where people are forced to eke out an apology of existence in sub-human conditions. Bilal lives in Taltala, a low-working-class neighbourhood in Kolkata where the rains flood the streets and children play around freely in the flooded bylanes. Where the sun does not care to shed its brightness. Where the yellow shop-sign of his father's once-upon-a-time STD booth stands as a silent sign of somewhat better days gone by. Where there is no milk left for tea because Bilal has finished it all.
This dark existence is heightened by the physical conditions of his home - an 8x10 feet partitioned room he lives in with parents Shamim and Jharna and little brother Hamza. The room is almost completely dark, and the filming team has to organise some temporary lighting with the help of Shamim to get things going. The audience too, is challenged to keep its eyes glued to the screen which often goes pitch black, or, is very dimly lit with the street lights streaming in. The only scenes that are bright are the ones shot on the streets outside.
Sarangi, an alumnus of FTII in editing, has chosen compelling subjects for his earlier films too. His debut film, Tusu Katha (The Tale of Tusu) (1997), was an ethnographic documentary shedding light on traditional Indian rural life of women engaged in a harvesting ritual called Tusu. Three years ago, he also made Bhangon, an investigative 60-minute documentary on river erosion in eastern India causing environmental disorder and migration of innocent victims.
Desperation, and a recurring bright spark
Bilal defines the purity and the innocence of the child even in the most desperate circumstances. The film opens with the crew preparing to begin its shooting while the children in the neighbourhood are preparing to celebrate Bilal's third birthday. Candles are brought in, a cake is organised and the children crowd around Bilal asking him to blow out the candles and eat a wedge of the tiny cake. It is as if the entire neighbourhood has taken on Bilal's growing up as its collective responsibility, albeit, up to a point.
The next morning, one can hear temple bells ringing somewhere in the distant. Sound effects come across sharply in the dark ambience because sounds are the language Bilal's parents can communicate with. Notes of soulful azaan often punctuate the sounds of children fighting, playing, arguing, trying to find their own forms of entertainment when the ones normal children enjoy is denied them by accident of birth and the reality of their environment.
"My wife was working with a theatre group for non-sighted people called Blind Opera," says Sarangi who edited the film himself. "Bilal's parents were in this group, so I'd heard about their kid before. I met him in a hospital bed when he was just eight months old. He had fallen and had a severe brain injury. I stood in silence and looked at the boy struggling for life, the blind mother holding him tight. Bilal looked at me for a very long time and finally smiled. He touched his mother gently and that is how she knew I was there.
"I felt the magic of the touch and saw those beautiful eyes of Bilal ushering love and hope in moments when darkness rules. This film is a rough assembly of my moments with Bilal collected between September 2005 and December 2006."
The ethical issue of capturing two blind people on camera made it mandatory for the filmmaker to seek their permission before shooting. Sarangi told them to use the sounds the crew made as a sign that the camera was rolling.

"Bilal's parents initially thought they had to enact roles in a television film and asked to be paid an appearance fee. I told them I was going to shoot their lives. They said, 'what is there to shoot?' I made them understand that this wasn't a rehearsed situation. I told them that I would contribute to their expenses whenever I would be shooting in their home. I took them food and medicines when the kids fell ill. I set aside money received for the film from the Dutch IFDA Jan Vrijman Fund for the family," details Sarangi.
The squalor that meets you in every frame can be depressing - the terrible condition of the room Bilal lives with his family, the single bed sometimes soiled with Hamza's vomit, sometimes with his urine, often with the milk spilling out of the feeding bottle, a bottle falling off the bed and breaking, with the blind Shamim and Jharna using sound as their only guide and their kids as their source. The relief to this starkness appears intermittently, as the camera closes in on the bright smiling face of the little Bilal, with his big, naughty eyes making fun of the world around him.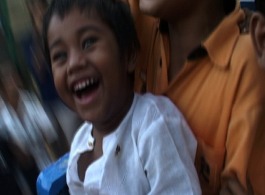 Bilal defines the purity and the innocence of the child even in the most desperate circumstances.
The drops of happiness Bilal draws out of every moment, throws in relief the struggle his parents live through not only because they are blind, but also because they are very poor. Their way of 'looking' at the world they live in is through Bilal's eyes. Bilal's father does not have any income. Jharna says in the beginning that she works but we do not see her going to work at any point of the footage. Their very real poverty is also borne out by an observation Jharna makes, philosophically; she points out that living with an extended family in circumstances of poverty and want is tougher than two blind adults living together separately with their kids.
As the film rolls on, the team gets closer to the entire family and becomes a part of the extended family. Jharna tells them how she got converted to Islam the day before she tied the knot with Shamim. "She goes into depression each time there is a festival," Shamim tells the director Sarangi. But Id is very much a part of the locality and one sees the little Bilal look lovely in his new kurta-suit and a pair of red shoes the crew gifted him with. "It is not mutton," he tells his little brother, "it is too sweet to be mutton," he says wisely. "This fish is very tasty especially during roza," says Jharna, smiling, her depression gone.
There is a small ray of hope behind the family's layers of pain. Jharna has no time or place to rest after a hurried abortion. She is often angry with Shamim and shares confidences with Sarangi. A touching moment is when she hesitantly asks Sarangi to give her a loan for medicines. But towards the end of the film, we find Shamim putting together an open telephone booth on the streets with his wife helping him out. The closing frame shows the entire family - Jharna, Bilal, Shamim and Hamza walking away, their backs to the camera, in the bright sunshine the street is flooded with, perhaps towards a brighter future.
An objective reminder
Sarangi makes it clear with his straightforward, seamless and unpretentious structuring and approach to the film that he has no axe to grind, no issue to resolve. His focus remains rigidly on Bilal and through this sighted boy, how blind parents and their normal visioned children communicate through words, sound and most importantly, touch. Jharna speaks only in Bangla while Shamim speaks Hindi and Bengali but Bilal speaks lispingly mostly in Hindi. There is not the slightest hint of pontification or patronising attitude on the part of the filmmaker. He treats his subject with respect and through Bilal's life, offers us a microcosm of a dark world that exists alongside our skyscrapers and the bright lights of shopping malls.
That said, the sheer force of the conditions in which the film is shot, and its portrayal of very real suffering cannot be discounted. Bilal inevitably reminds us of the darkness within us, the darkness of ignorance that keeps a world beyond our vision because it is easier to live in the complacence of not knowing such hardship.
What makes the film stand out as a critique on the documentary form itself is the absolute absence of the hierarchical relationship that evolves between the director and his subject when he is making a film like this. It is very difficult to merge with one's subject and yet retain one's objectivity, especially when there are such stark differences between the filmmaker and his subject. But then, who, or what is the subject of his film? It is Bilal, a naughty little boy of three who wipes out man-made differences with his innocence and his ability to draw happiness in what appears to us, the worst of situations. He can fracture an arm and scream in pain when he is being circumcised without anaesthesia. But soon he bounces back to life, ready to tease his parents with one more prank.