When a group of young women spend time together on a relaxed afternoon, what do they generally talk about? Make-up? Fashion? Boys? Hollywood hunks? Yes, at any ordinary group hangout, these would be definite conversation starters.
But as one observes a bunch of jeans-T-shirt-sneakers/boots-clad youngs ters sitting outside a nondescript eatery in Central Mumbai ordering a round of juice, fruit beer and coffee, puzzling words like 500cc, gears, Enfield and race hit the ears. When one approaches them, one sees riding helmets and bike gloves stacked in a corner.
"We are the Bikernis and we prefer mud to make-up and petrol to perfume," they declare with pride. This is a gang that comes from different cities across India, loves to go vroom vroom and talk non-stop about their first love: motorbikes.
Their Facebook profile describes them as 'an association of like-minded females, who are interested in touring, stunting and racing on geared motorcycles. We believe that biking is a source to Nirvana and at the same time, it brings the adrenaline rushing into our veins.'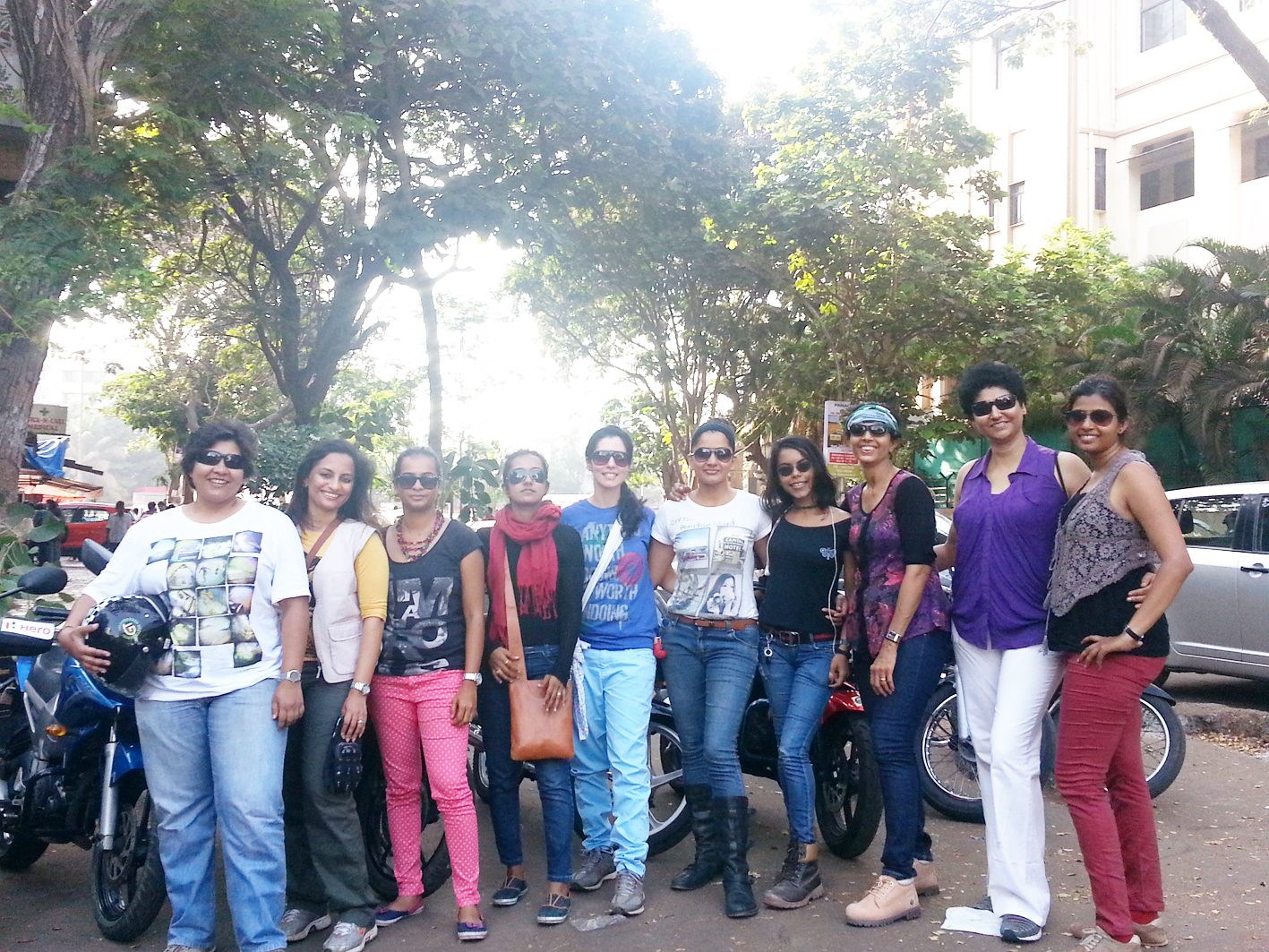 Bikerni, the first all-female motorbike association of India was formed in January 2011 by Pune's Urvashi Patole and Firdaus Shaikh. While initially they were 11, now they have grown to become a 350-plus group. Members include students, professionals and homemakers from cities such as Rajkot, Chennai, Bengaluru, Hubli, Hyderabad, Delhi, Mumbai, Pune and Guwahati.
"Anyone who can ride a bike, doesn't believe in taking pointless risks or showing off while riding and has a rider's license can become a member," says Sheetal Bidaye, coordinator of Bikerni's West Zone association.
A travel writer, a bike reviewer and an adventure biking guide, Bidaye has traversed the Mumbai-Manali-Ladakh-Kargil-Jammu-Mumbai route several times. She has four bikes - Hero Impulse, Pulsar, KTM Duke and Royal Enfield.
In addition to all these must-have attributes that have been enumerated by Bidaye, all new members have to take three test rides - on sandy, cobbled and city roads - along with other Bikernis. Only after qualifying in these tests do they get to become a part of this exclusive all-female bikers club.
"Someone who has been riding a bike for years may still not have complete control of the machine, whereas a biker who is only a couple of months-old may be able to handle things very well. So the enrolment of a newcomer isn't dependent on the amount of time she has spent riding a bike, but on how skilled she is," explains Patole, a founder member.
A professional motorcyclist, an automotive photo-journalist and the vice president of the Women's International Association (WIMA) division, India, Patole has travelled to almost every corner of the country except for the North-East. "Once I visit that region, I would like to ride abroad," says Patole, who along with her business partner Dr Sourabh Sane recently rode from Pune to Chikhaldara in Amravati district, covering a distance of 600 kilometres one way in a single night.
Tales of thrill and adventure
A couple of months back, 12 Bikernis from Mumbai, Pune, Bengaluru and Hubli had taken a trip to Dandeli in Karnataka.
A picturesque city set amidst the backdrop of the Western Ghats, Dandeli in Uttara Kannada district of Karnataka has a dense forest cover where wild elephants roam at night. This is where a few members of Bikerni got stranded after one vehicle was stalled.
"That must have been the first time when one of our girl's bikes broke down late one evening and we got a bit worried," recalls Shubhangi Manjrekar, a Mumbai-based advertising professional who rides a Royal Enfield 350 cc Thunder Bird.
When the women failed to revive it, they decided to tow it using their 'dupattas' as rope to the nearest village, about 14 kilometres away.
Leaving the bike for the night at a villager's house, these women joined the rest of their group, which had already reached the resort appointed for stay, covering the remaining 20-odd kilometres in the dead of the night.
Says Manjrekar, "It was tough, but not unsafe."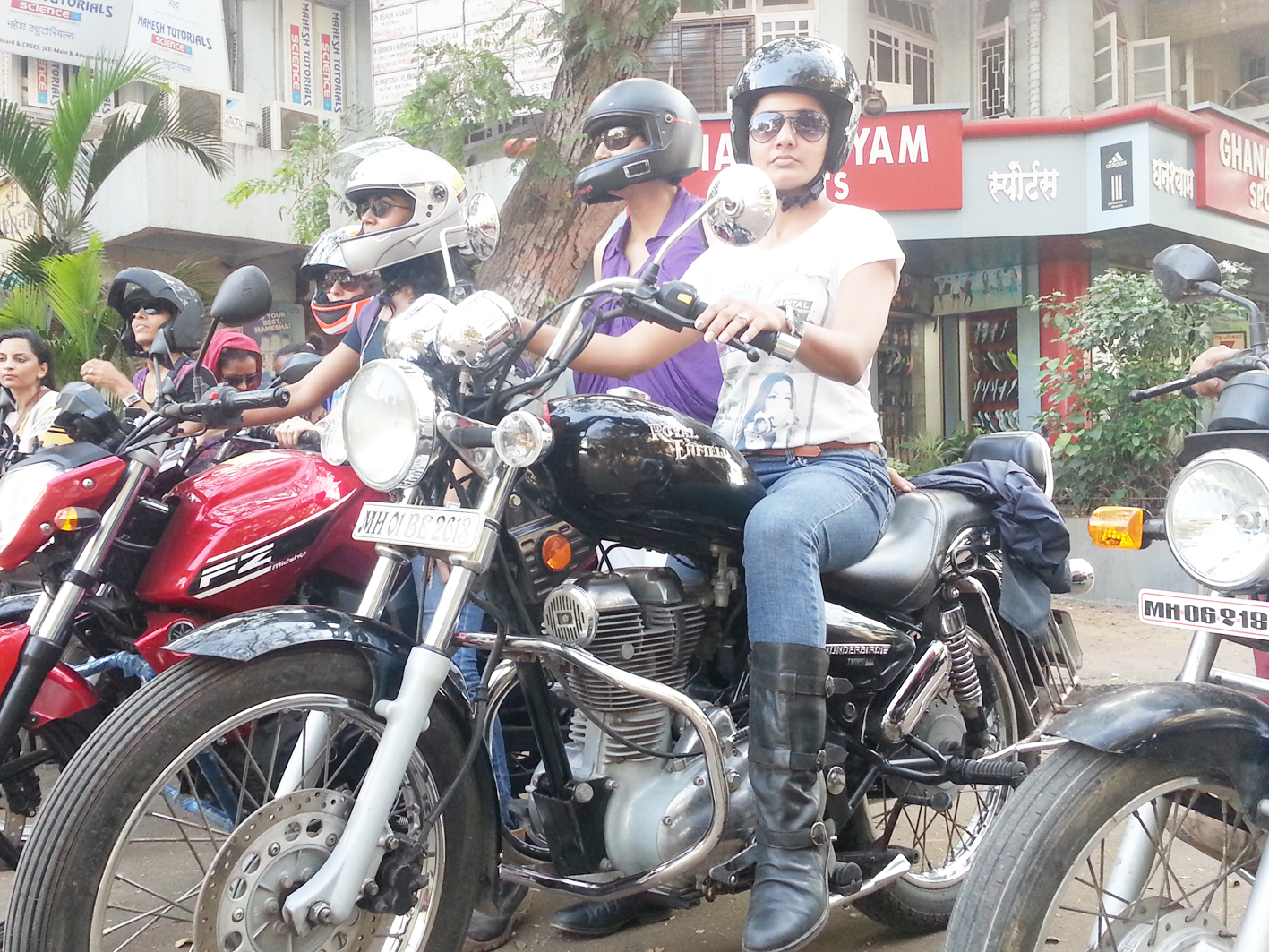 The Bikernis admit that though riding a bike is not dangerous, it is certainly challenging. Patole is an expert on the Ghat roads while Bidaye is in control on treacherous mountainous stretches. Bidaye has her name in the Limca Book of World Records for leading the largest all women expedition to the highest motorable road to Khardung-La from Delhi to NubraValley. She has another Limca record of solo-riding the Marsimik La pass, the highest mountain pass in the world.
Manashri Bordoloi, the only Bikerni from Guwahati, undertook a ride with her biker husband and 11-year-old daughter to Bhutan reaching its capital Thimphu via Phuensholing, Paro, Chelela, Haa, covering a distance of 950 kilometres. The return journey was 600 kilometres but she loved every moment spent on her Royal Enfield bike.
"If you take care of the bike, get it serviced before leaving for a trip and make sure that the tyres and tubes are in top condition, you are unlikely to encounter any problems," points out Ishita Lakotia, a banker who loves to zoom around Mumbai in her Yamaha Fazer.
The Bikerni members don't just mount their bikes for long distance tours, they also like to use them for daily commute to their college or office or to meet friends. Of course, they do encounter harassment from the few men who are yet to accept women bikers.
On road at times men on bikes challenge them to race; those driving cars zoom past and suddenly open the door in an attempt to make the girls fall off.
"We simply ignore such pranks. If they still persist and if we are in a group then we haul them up or seek help from the public. Earlier in Pune, I used to face problems, but now things are better," says Patole.
The women also receive tremendous support from male biker clubs. And there are more than 1,000 such clubs in India.
"Bikers, irrespective of their gender, always help each other," says Aniya Satam, who is interning after completing her Bachelor of Homeopathic Medicine and Surgery (BHMS) exams. Petite she may be but she has learnt ways to lift her heavy Yamaha FZ 16 bike on her own in case it ever falls down.
There are times when family members of some of the married bikers oppose the idea of them going on long trips as they fear for their safety. But when convinced by other members, they relent, especially upon a promise of phone calls every now and then.
The Bikernis are not just for fun or adventure, they support social causes as well. They have promoted the Child Rights and You (CRY) campaign in addition to spreading awareness about women's safety and violent crimes against women after the gruesome December 16 rape case in Delhi. They want to talk about issues of women's empowerment, including health and education, and meet up with women's groups to take their message further.
For now, the next step for Bikernis is to travel abroad on their bikes. Once on their bike they are in their own happy zone. They remark in unison: "Who needs a therapist when you have an open road and a bike! (© Women's Feature Service)