Mumbai – the industrial metropolis and the proverbial melting pot – ensures everyone learns the art of 'surviving' Mumbai; people living with HIV being no different. India's migration capital has perhaps the longest history when it comes to an effective HIV response. Even as early as 2000, Mumbai had projects and homes looking at children affected (orphaned) and infected with HIV, and the community and civil society had already begun playing their role.
One important link in this chain of effective response is Sanmitra, an NGO registered in December 2002 and located in Siddharth Hospital, Goregaon. Sanmitra focuses its efforts on helping HIV positive women re-enter the mainstream workforce. Along with that, it has also been working among street-based sex workers and bar girls. The thrust is on HIV prevention, care and support. This includes treating sexually transmitted diseases; making women aware of services such as testing for HIV; for those who test positive testing of CD4 count; where CD4 count is below 200, helping them access free antiretroviral treatment (ART) from public hospitals. At present, Sanmitra's projects reach out to about 1,000 street-based sex workers, 2,000 bar girls and 500 of their male partners.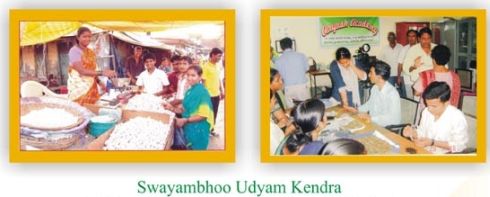 Sanmitra's Swayambu Uddhyam Kendra creates employment opportunities for HIV affected and infected people. Pic courtesy: Sanmitra, Mumbai.
According to Prabha Desai, who heads Sanmitra, the biggest challenge for people living with HIV today is stabilising health and getting re-enty into the mainstream labour force. "We cannot create artificial jobs in NGOs. Factories and offices are reluctant to recruit HIV infected people," she says. Desai says employers hesitate as they are not sure if HIV positive people will be as punctual and efficient as the rest; if co-workers will accept their presence. "Employers are telling us, for now, we will recruit affected people but not those infected."
She elaborates on the difference between infected and affected people: infected are those living with HIV themselves. Affected are family members, spouse, children, parents, etc. – those not infected themselves, but bearing the brunt of HIV, including psychological and financial effects. Desai observes that the employers are reluctant to take in the infected, but if there are any affected people, employers are willing to give them employment.
Desai's solution to this situation has been simple: set up an enterprise for doing industrial assembling and packaging jobs, get work outsourced from factories and train and employ affected and infected people to do these jobs. In another initiative, Sanmitra trains affected and infected people, most of them young widows, to become HIV counsellors and para-health workers. Desai strongly believes earning livelihood is critical to one's well-being. "How long can positive people go begging from one church to another? Is that the solution? We have to set systems in place so people can live well," she emphasises.
Sanmitra's income generation programme called the Swayambhu Uddhyam Kendra has found support from factories producing electrical goods. The Maharashtra Industrial Development Corporation (MIDC) has been supportive, as have large companies such as Larsen & Toubro. At Swayambhu, a 20-year-old AIDS widow with two children shows us how she assembles switches. Hands deftly hammering she says, "If I work fast and concentrate I can do about a 100 pieces a day." At any given point of time, there are about 10 women like her who spend seven-eight hours here each day. They earn wages on a per piece rate. This adds upto a minimum of Rs 70 per day, some earn upto Rs 120. Over a month, they earn about Rs 2,000. The NGO gives them a bus and train pass, along with some basic nutrition in the form of a daily snack.
A 20-year-old AIDS widow with two children shows us how she assembles switches.
Hands deftly hammering she says, "If I work fast and concentrate I can do about a 100 pieces a day."
As much as livelihood for its sake is critical, work also acts as therapy helping women heal.

Working with other HIV positive people in a safe and nurturing environment helps women reach out to each other. Being employed and taking home a salary gives them a newfound confidence. They work for a few months gaining foothold, and move on to other jobs. Some train to be outreach workers in health programmes or lab technicians, others take up sales jobs. People are encouraged to move on, so they can enter the mainstream again.
As much as livelihood for its sake is critical, work also acts as therapy helping women heal. Sanmitra believes in the power of peer counseling – people who have been through the experience themselves reach out to others. Its Ayush training academy runs three-month courses for infected and affected people, training them to be para-health workers and counsellors. Most trainees are young widows. The course runs over weekends and is offered free of charge. Of the 50 people trained over the last two years, presently, 10 are employed with Sanmitra and the rest with other NGOs.
Trained outreach workers and counsellors work as part of the community initiative under the government-run programmes for prevention of HIV and offering services to infected people. These include the PPTCT (Prevention of Parent to Child Transmission) programme and the ART (Antiretroviral Therapy) programme offered at public hospitals. Under PPTCT, pregnant women are counselled on HIV and encouraged to test. Women who test positive require constant follow-up, ensuring they return to the hospital for delivery. Under the ART programme, outreach workers act like a bridge between the programme and its users to ensure treatment adherence.
One woman counsellor says when she tested positive some years ago all she had heard about HIV was that "it is a death sentence". Meeting Madhu (name changed), a peer counsellor at JJ Hospital, gave her a lot of courage, she says pointing to a woman sitting next to her. "I realised – we can live." Another woman recounts the experience when she met Madhu, 33, who talked about her HIV status and her HIV positive daughter. "First, I thought she was lying. Then I thought – maybe I can live too. Before that, I had even thought of suicide."
Over the last two years, Sanmitra's outreach staff of 25 including 10 counsellors has reached out to over 1,000 infected people, mostly women. Trained women counsellors counsel pregnant women, outreach workers do home visits. In resource starved public health settings, these footsoldiers are doing remarkable work. Add to that the benefit of peer counselling. The power of peer counselling in enormous, say the positive women. They should know – they have been on the other side of the table.
Many HIV positive women face a double stigma – of HIV and also of widowhood. The trajectory of experience is similar in most cases: husband's HIV status gets known, he dies some years later, leaving the woman emotionally exhausted and physically drained out. There is little or no family support. There are little children to be looked after. As HIV depletes family resources, there is emotional and psychosocial stress along with the economic. There are constant health issues – trying to ward off opportunistic infections, ensuring proper nutrition, especially those on antiretroviral therapy (ART). Bouts of sickness make it difficult for them to keep a regular job in a scenario where stigma persists and employers cannot be taken into confidence. Children's education and nutrition remain their biggest concerns.
Thirty of Sanmitra's staff of over a 100 are HIV positive – that's one in three. They are motivated to match the mainstream in terms of skill and efficiency. "Everyone lives and works together. Positive people are sheltered – we don't give them jobs that might put them at risk in any way. Some flexibility in terms of working hours may be required," says Desai. "Earlier, MDACS (Mumbai District AIDS Control Society) used to insist that counsellors have professional qualifications. Now, our counsellors have passed tests conducted by MDACS in Grade A. That battle has been won."
Desai says when women first come to the centre, they are traumatised. A couple of months of work helps them start rebuilding their lives. "Just look at them now," she says pointing to their smiling faces. The women look confident and cheerful – it's difficult to believe they have survived a battle they must fight everyday. Having experienced firsthand the near-death-experience and then bouncing back after hitting rock bottom with suicidal thoughts and severe depression, these women are extremely generous when it comes to reaching out to others. As HIV positive women reach out to each other and those newly infected, they are saving lives, and in turn finding a new meaning for their own selves.