As Indians, we are no strangers to piles of garbage dumped on street corners, gaping holes in our footpaths and paan-splattered walls. It was, therefore, heartening for all when the Prime Minister announced the Swachh Bharat campaign, with the objective of turning around the deplorable condition of our public spaces.
What PM Modi and many others are perhaps unaware of is the fact that even before our present government launched the "Clean India" campaign, several citizen-led movements had been quietly but seriously attempting to address this burning issue.
One such organisation which has gained prominence is the anonymously run group, The Ugly Indian (TUI), which has come to be regarded as a pioneer of 'do-it-yourself' (DIY). This "positive disruptive anarchist" movement which started out in Bengaluru more than five years ago has since spread far and wide to numerous cities in India.
TUI's feats include over four hundred "spot fixes" where residents of a locality help eradicate open garbage dumps, install urinals on walls where men often urinate, insert missing slabs on footpaths andplace dustbins in public spaces.
Most recently, they motivated citizens to help in rebuilding Vishakapatnam after it was ravaged by a cyclone. They were also the inspiration behind the 'Cleanistan' campaign in Pakistan.
The group has over two lakh Facebook followers and their TEDx talk has been trending on people's feeds; indeed, TUI has become something of a legend among urban youth.
However, one point that makes them stand out from many other citizens' groups is that they tend to undermine the role of government institutions in managing civic issues. This was evident one more time when during the recent, much-acclaimed TUI TEDx talk, the speaker said, "Don't complain to the government, go and fix it!"
While this indeed fires people up and inspires hope for change, it also inevitably leads to several important questions over the sustainability of changes brought about thus.
Are DIY methods going to lead to long-term solutions for the garbage crisis? Can we really solve the garbage crisis without ensuring that there is improvement in the governance of our municipalities?
DIY solutions across India
When one looks at DIY solutions implemented across areas, it is found to be a story of mixed success. Their achievements, however, are indeed to be recognised.
My initial research led me to Bengaluru where TUI originated. Driving through the city, it is easy to identify which sites have been fixed by TUI from their signature marking - red walls, with a border of white triangles. Sadly, many of these spots have gone back to being garbage dumps.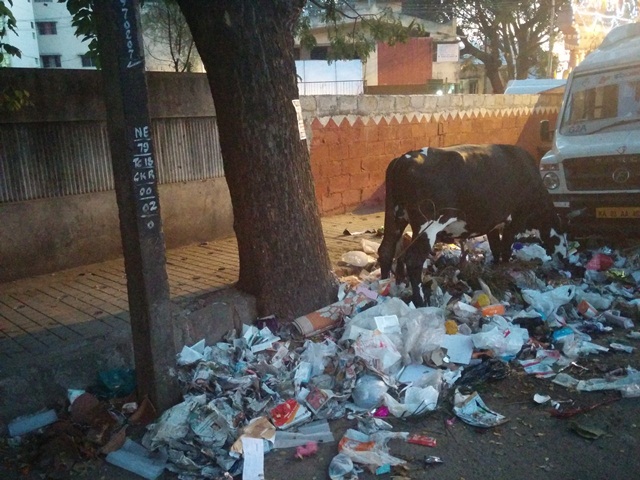 This is primarily because municipality contractors often use empty lots to throw some part of the collected garbage somewhere in the city, due to the landfill restrictions. If residents are dumping garbage in these spots, it is usually because the house-to-house collection system isn't functioning, and the municipality has agreed to collect garbage periodically from these black spots.
The reasons for such malfunction are many and complex, but once again, independent efforts to tackle the same have been widely evident.
Daily Dump, a start-up company encourages individuals and resident associations to segregate garbage at the household level and use Daily Dump's composting systems to dispose of the waste. The company claims that they have managed to prevent 14 tonnes of garbage from ending up in the landfill every day over the past eight years. Although this is a mere drop in the ocean of waste that is produced in Bengaluru everyday – 5000 tonnes, it is a indicative of the growing culture of self help.
Itika Gupta from Daily Dump feels that although it is a modest start, citizen participation is the only way ahead towards solving the waste management crisis in growing Indian cities like Bengaluru. "At the rate at which the city is urbanising, the municipality cannot handle all the waste generated. Hence, waste needs to be handled at source. The way the government can help us is by creating awareness about the possible ways in which waste can be handled at source."
It is not just Bengaluru, where groups and organisations have been engaged in the quest for sustainable DIY models for waste management. Waste Warriors, started in 2009 by two young women in McLeod Ganj, has taken its work to many famous tourist spots such as Dehradun, Corbett and Dharamshala. They recruit volunteers and staff to do weekly waste collections from these spots – sometimes door to door, or from the dustbins that they have installed.
The impressive part about their solutions is that they practise a long-term method which ensures that the waste management programme is happening systematically, thus preventing polluted areas from going back to their original state. However, on a cautionary note, if Waste Warriors runs into a dearth of volunteers or corporate financing (which is its current mode of funding), the organisation will not be able to continue its operations.
Vatavaran, a Delhi based organisation has been actively involved in the field of waste management in the capital. One of their main programmes is trying to educate schools, universities and other NGOs in waste management. This has encouraged a lot of entities, including a number of Delhi universities, to adopt progressive waste management initiatives.
A critical part of their work relates to an extensive study of the area and a training programme of local citizens as well as rag pickers; only after that is done do they implement waste-management solutions. This has led to higher levels of hygiene in many localities in Delhi.
Dr Iqbal Malik, founder of Vataran feels that decentralised citizen movements in residential areas will be the way forward towards sustainable waste management. "We shouldn't follow the Western model of waste collection, it is imperative that each complex takes care of its own waste. The municipality has no role to play in residential waste; they can take care of other waste, such as common areas and industrial waste. This is the only sustainable model and we have been doing it in certain areas for over 15 years," she adds.
Although Malik feels strongly about residents taking charge of their waste, it is to be seen if this can really be replicated on a national level.
Is the system not to blame?
TUI states on their website –"the system that takes 95 percent away gets no credit – the offending 5 percent causes outrage to some."
Yes, the system does handle a majority of the waste, but a closer look reveals that they are not doing this efficiently enough. In most Indian cities, although only 10-20 percent of the waste should theoretically end up in landfills, over 90 percent ends up there. Experts have been screaming hoarse about how segregation could easily solve the massive garbage problem. However, today there do not appear to be any strict actions on wards which don't adhere to good segregation practises.
In a recent article in The Hindu, Pushpa Mitra Bhargava points out how there is a complete lack of expertise in municipal corporations to clean up our cities. The system is riddled with corruption, with no supervision when work contracts for garbage collection are handed out. Further, there is no accountability on how the contractor actually handles the garbage once it has been collected.
But even with this bleak condition of our urban authorities, the inherent corruption and utter lack of transparency, and the success of individual attempts, the message that groups such as TUI are sending to the urban youth could be only half a truth. While local clean-ups do result in temporary solutions, if we do not try to improve our municipalities, we have lost sight of the bigger picture.
It is certainly important to change people's fundamental attitudes towards public spaces; however it is equally important to make sure that people are not blind or apathetic towards our dysfunctional municipal authorities.
Not all of us are ugly Indians
Contrary to what many believe – that Indians will make any space they occupy a complete mess – certain cities in India display high levels of cleanliness. The best example is Surat, which was hit by a plague epidemic in 1994 due to theunsanitary waste disposal methods that were practised back then.
The main driving forces in Surat's transformation were two municipal commissioners. The first of these was Mr Suryadevara Ramachandra Rao of the Surat Municipal Corporation, who managed to turn the situation around with his cleanliness drive.
Rao, an IAS officer, developed strict monitoring systems, imposing fines on anyone who was unwilling to comply with the rules. By inculcating self-pride, he managed to change the local civic culture and make the locals respect sanitation workers.
The second was Mr. S. Jagdeesan, who ensured that the systems created by his predecessor were strengthened and the municipal's funds were fortified. Today according to data available with the Ministry of Urban Development, Surat is the third cleanest city in the country and a role model for waste disposal. The SMC shares regular updates on their expenditure, so that people know where their tax money is going.
In Pune Municipal Corporation(PMC), the Zero Garbage Ward pilot project has been such a success that they are planning to extend it to 11 more wards. This project is a partnership between PMC, SWaCh, a waste picker union and Janwani, the CSR wing of the Mahratta Chamber of Commerce, Industries and Agriculture (MCCIA).
This project involved all 55,000 residents of the Katraj ward, a majority of whom lived in chawls and slums,and brought about a change in their attitudes towards waste. The solution was simple: complete segregation at the source, door-to-door collection and a decentralised waste management. Today the garbage going out of Katraj, is 80 percent less than what it used to be.
Aparna Susarla of SWaCh says, "It is very important to work with all stakeholders. Collaborating with the government and other NGOs is essential to achieving common goals. As a policy, we never bypass the municipalities, as the final responsibility of waste management lies with them."
In 2012, civil society, activists, NGOs and concerned citizens managed to get the High Court to pass "The Integrated Solid Waste Management Policy" in Bengaluru. This law was introduced with the intention of decentralising waste management. This led to the setting up of about 171 DWCCs, or dry waste collection centres.
Un-segregated waste is brought here by BBMP workers and the dry waste is segregated for recycling. Although DWCCs are hindered by the lack of segregation at the source, waste collected here in increasing every day. These centres prevent about 5 percent (200 tonnes) of the total garbage produced per day from going into the landfills.
"Citizen initiatives are absolutely essential for improving the waste management situation", says Nalini Shekhar of Hasiru Dala, who was instrumental in getting the government to instil DWCCs. Today she runs 34 of these centres on an MoU with the BBMP. "However, we cannot move away from the framework of the municipalities. Movements without government support, such as spot-fixes are not a long-term sustainable model; but they are useful if they result in larger citizen movements with long-term goals," says Nalini.
We should be careful, therefore, before we dismiss the role that our municipalities play. The way forward involves strengthening our civic bodies by undertaking capacity building. There needs to be more checks and balances in place, so that we know where and how taxpayer money is being used.
There is also a dire need of experts to serve on the municipality board, who know how to handle issues such as road repair and waste management. Organisations actively involved in policy research, such as think tanks, should be engaged in the search for appropriate policy solutions.
Therefore, while taking to the streets with our brooms might be an attractive, feel-good option for today's urban youth, it may not automatically lead to a cleaner India. There are a few small steps that citizens can start taking such as source segregation, composting and recycling; however, if we really want a clean India, it is very important that we start making positive policy changes in the entire system, strengthening every component. Until then, no matter what we do, India is going to remain ugly.