Juxtapose two recent news reports. First Indian Express Pune Newsline and Loksatta reported that thousands of farmers of village Maan near Pune battled with police, opposing acquisition of over 464 hectares of their livelihood farm land for the Rajiv Gandhi IT Park Phase IV. The land was being acquired at confiscatory rates. Two villagers were admitted to hospital with police bullet wounds, and many hurt in the lathi charge. Protests continue. The adjoining hills and 587 hectares of agricultural land from villages Hinjewadi, Marunji, Wasve Bhoirwadi and part of Maan had already been acquired by the state government for phases II and III.
Second, The Hindu and The Indian Express reported on 3 March 2006 about a US-India CEO Forum citing "absence of adequate infrastructure and the bureaucracy as the reasons for lack of excitement in American companies about investing in India." The complaint is not new; last August in Pune, foreign diplomat-guests articulated it as well. They decried the condition of Pune's infrastructure from a Ganapati festival podium. Later some European CEOs added their mite in interviews to the press . Do not expect Foreign Direct Investment (FDI) in Pune, they said, unless quality infrastructure is assured. That, of course, includes land.
Read together with a 2003 United Nations Industrial Development Organisation report that said Pune is a Dynamic City Region because of, among other things, "the availability of huge land in prime locations coupled with the cool climate", "Affordable Real Estate prices" and "Maharashtra government's 3As policy (Anytime, Anyhow, Anywhere)", the import is not lost. (The UNIDO report was 'Dynamic City-Regions in India', focusing on Automotive and Information Technology Industries.)
Under the Jawaharlal Nehru National Urban Renewal Mission, sixty-three cities have been identified to get thousands of crores of rupees each if the municipalities or Urban Local Bodies carry out enumerated 'reforms' in the by 2011.


• Bangalore's CDP controversy
• Cutting through the urban jungle

To this, add another recent development. The Financial Institutions Reform and Expansion–Debt (FIRE-D) Project of the United States Agency for International Development (USAID) hired CRISIL (85% held by Standard & Poor Division of McGraw Hills Companies, USA), to draft Pune's City Development Plan (CDP) under the Jawaharlal Nehru National Urban Renewal Mission (JNNURM). Consenting to this are the Government of India, the Government of Maharashtra, and the local government — Pune Municipal Corporation (PMC). U.S.-owned firms are now even planning the future for the city of Pune, and, as I report in this article, governments - Centre, State and City -- are agreeing to a hidden handshake on non-transparency.
Prime Minister Manmohan Singh launched JNNURM on 3 December 2005. The Mission wears its heart - urban poor - on its sleeve. Sixty-three cities have been identified to get thousands of crores of rupees each if the municipalities or Urban Local Bodies (ULBs) carry out enumerated 'reforms' by 2011. USAID's Office of Economic Growth has worked out these "reforms" which include increased taxes across the board and loans to be raised from markets. Continuing the "we know what is best for you" tone, USAID has even drafted Model Municipal Act for us Indians.
Since the states have jurisdiction over local bodies under the Constitution, the Maharashtra state government's Urban Development Department (UDD) is part of the hierarchical linking. The Centre contributes 50% of development costs. State governments will put in 20% and municipalities 30%. The City Development Plan will be the blueprint. The CDP designer gets 5% of the project costs.
In all this, the procedure followed thus far to develop Pune's draft CDP has been a facade.
Why the iron curtain on the CRISIL deal?
Maharashtra's UDD had already asked Delhi for Rs.8037 crores for Pune for the next five years, according to a CRISIL-PMC presentation to the state Chief Minister Vilasrao Deshmukh on 31 January 2006. It was my critique of this presentation that compelled PMC Commissioner Nitin Kareer to admit at the CDP Workshop convened by PMC and CRISIL on 3 March 2006 that a CDP proposal undisclosed to Pune's citizens, had been forwarded to JNNURM in Delhi a month ago on 2 February. I posted my critique to both PMC and CRISIL via email and Kareer had to explain the PMC-CRISIL relationship. PMC did not choose or hire CRISIL, he said. UDD did, he claimed. In a telephonic conversation, UDD's top bureaucrat, Principal Secretary Ramandand Tiwari admitted to me that the CRISIL deal was secret. (1 crore = 10 million)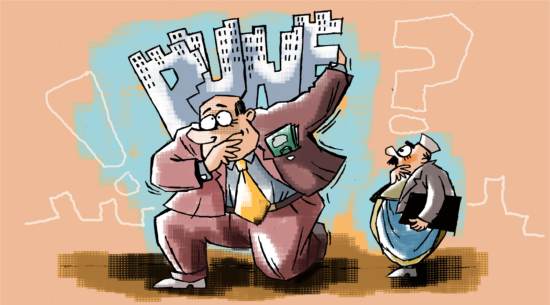 Farzana Cooper
Earlier in response to my questioning on telephone and during in-person conference on 23 February, CRISIL's Brijgopal Ladda also admitted that CRISIL was hired by USAID-FIRE-D but he was not free to disclose anything else. The CRISIL contract to draft Pune CDP was for 3 months. "Ask the client, PMC Commissioner," he said. One may point out that USAID and CRISIL have both asserted that in the new municipal governance scenario, 'transparency' would have to be a vital value.
As non-binding advice to the state governments, the central government's Ministry of Urban Development empanelled 29 organisations in January 2006 for preparation of 'City Development Plans' under JNNURM. CRISIL Infrastructure Advisory Services is one of the empanelled consultants.
The MUD said this in its note: "The State Governments/Urban Local Bodies should undertake transparent and due process in selection of organisations along with assessment of technical capacity." (Emphasis added.)