The view is stunning. Spurting currents crash on to spotted rocks, surfing waves reach up to brown grains, smooth pebbles, and coloured seashells. Green seaweeds gently sway in tandem to the sea's music and tiny brown crabs dig up their own havens of peace. Tiny dinghies in the distance sea, salty breeze wafting along with smell of freshly fish netted and the bustling view of the fishing village with its women and men involved in their fishing activities is staggeringly beautiful. This is introspection; but back to grim reality, its ugly.
At the picturesque Manganipuddi beach village, about 12 kms from Machilipatnam (AP), you will find your dream utopia fading into an undesirable nightmare. Meet, Muthu Lakshmiamma, one among the 400 fisher-families who have suffered the neglect of state government along with wrath of nature. She says, "See for yourself how we are living." Hundreds of thatched huts are in run-down condition, clothes and utensils remain unprotected, while smashed catamarans slouch desolately on the beach, damaged nets lie neglected. Big words need not be written on the insecurity of incomes, houses, jobs or lives that exists, but how such a circumstance came to be?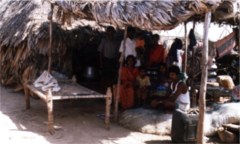 Lakshmiamma and family
Lakshmiamma throws light on the query, "All of us used to live on the upland region there," she says pointing her finger towards a vast tract of land behind the beach. "Then last year the government authorities and the police came and removed us saying we had no right to be here. We asked them to give us a replacement land but they never gave us any. We had to move out. We spent our money, no one helped us." No prior legal notification was given to the families before their ejection.
The reason for the removal of 400 fisher-families from the upland region to the low-lying beach is simple. On 31st July 2003, a foundation stone for Swarnandha Beach Resorts Private Limited was laid on the same upland region Lakshmiamma mentioned. The ceremonial chief guest was Mr. N. Narasimha Rao State Minister for Backward Caste and Fisheries, Mr. Brahmin Aiyar, MP, Machilipatnam, Mr. Prabhakar Reddy, Zilla Collector, Krishna district, Ms. Chandana, Principal Secretary, AP Tourism, Mr. K. Lakshman Mohan, SP, Krishna district, Mr. V. Anjandu, Chairperson, Machilipatnam Municipal Corporation, Mr. K. Narayana Rao, Mr. K. Venkateshwar Rao, state government officials along with others.
The inscribed black granite foundation stone stands tall in the vast 100-acre land fenced in by wire. The 400 families got evicted in August 2003 without any due consideration for their safety or rights. On December 15th 2003, a category 3 cyclone struck devastating the beach. Had the fisher families been relocated to another upland region then they wouldn't have suffered during the cyclone.
This situation came to the notice of the local non-governmental organization KANTHI, a partner of the CADME network (Coastal Area Disaster Mitigation Efforts), when carrying out an emergency survey under its disaster program for Oxfam Great Britain (Oxfam GB). Mr. Edwin, a field officer of KANTHI says, "The state government offered no support either for relocation or during the cyclone. Whatever little help we could give, we did." In Jan 2004, KANTHI distributed warm clothing, food and utensils to 50 families and to three families gave money to rebuild their houses.
Many like Lakshmiamma, Sreenu, Payidamma, Appaji, or Kanakeswariamma are not very satisfied with what they have received. "It costs Rs. 2,000 to build a traditional boat, while repairing it costs Rs. 1,000. A brand new boat will cost easily Rs. 10,000. The maistry will charge Rs. 2,000 for his labour. Once a week we go out into the sea and our earnings depends on the catch we get. Our earnings vary from Rs. 600-2,000 at times to nothing," smiles Rajaram.
"There is need to advocate on sensitisation of intricate ground problems to policymakers and higher authorities." -- a local development official.


· At Tadadi, a familiar battle

There is another twist to the problem. The fisher families migrate into Manganipuddi from areas like Uppavada or Tuni, stay for seven months and return during the lean season or fish-breeding season. So their names are not registered in the voter's list and are not entitled to any of the government beneficiary schemes. The local mandal development officer, Mr. Venkateshwar Rao understands the complexities involved but expresses his inability to do anything. "There is need to advocate on sensitisation of intricate ground problems to policymakers and higher authorities," he says.
CADME is currently pursuing the case of getting the fisher people their identity cards and due benefits. Their case rests with the Machilipatnam district collector.