Sixteen candidates will battle it out in the Bangalore graduate constituency MLC election on June 10th. The candidates include those from five political parties - BJP, Congress, JD(S), Lok Satta and CPI(M) - and 11 independents.
The elected candidate will become an MLC (Member of Legislative Council). MLCs have powers similar to that of Rajya Sabha members - they can raise debates, introduce ordinary bills and access funds. They can become ministers too.
Karnataka Legislative Council has 75 members, seven of whom are elected from graduate constituencies. A graduate constituency is one in which only graduates from any recognised Indian university can vote. Bangalore is one such constituency. The election is held once in six years.
The graduates constituency MLC election
MLC elections in graduates' and teachers' constituencies follow the preferential voting system. "In this system, no party symbols are used, instead only the names of candidates will be mentioned.
Voters have to rank candidates in their order of preference," says Soumya N Gowda, Tahsildar at Regional Commissioner's office that holds the election. Candidates who get the least number of votes are removed one by one.


Meet the candidates (Citizen Matters)

The number of voters in Bangalore graduate constituency is usually low as many graduates are not even aware of the election, and also because the enrollment process is difficult. Graduates have to go in person to enrollment centres - many of which are not functional - with documents and register. Hence, in this election, the votes a candidate gets will depend on the number of voters he himself has gotten enrolled.
In the last election in 2006, there were only 60,000 people in the voter roll, of whom only 20,000 actually voted on election day. This time, the voter list has over 1.1 lakh names, as there were around 51,000 new registrations.
Different strokes, different folks
Campaign strategies differ from one candidate to another. While some candidates campaign within city, others focus on outskirts; some bank on party workers, others on non-party supporters.
Sapthagiri Gowda, 33, BJP candidate Ramachandra Gowda's son who is active with the campaign, says that BJP party workers had gone door-to-door to get voters enrolled. "Going door-to-door is difficult, but we have booth level workers for this. We have 40 workers in each BBMP ward, each of whom has enrolled 3-4 persons in their locality. Some 60-70% of booth level workers have done this," he says.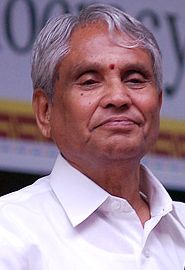 BJP's Ramachandra Gowda has served as minister twice; the second time he had to resign after being accused in a staff recruitment scam. "Public memory is short", he says. He is the incumbent and a four-time winner of this seat. Pic: Ramachandra Gowda.
Only rarely do these activists get voters enrolled at the enrollment centres; mostly they distribute forms. Sapthagiri says that 20,000 new voters may have been enrolled. "We have an army of workers to do the campaign," says H S Sachidananda Murthy, 52, President of BJP Bangalore Urban District. Ramachandra Gowda is incumbent MLC from the constituency and has been so for the last 24 years - he had won all four elections since 1988. He also became minister twice.
JD(S) has no door-to-door campaign for its candidate Deve Gowda, who shares his name with leader and former prime minister from the same party. But it too gets local workers to enroll voters. "Since December, the president of each assembly constituency was in charge of enrollment. Presidents and ward members would already know who the graduates are in their areas," says N V Krishna, JD(S) spokesperson.
Party workers initially tried themselves to get voters enrolled, but stopped soon. "Many would come to enrollment centres without full documents - sometimes they may not have original degree certificate or attested copies. So we decided to only distribute enrollment forms. We may have distributed more than 10,000 forms so far," says Krishna.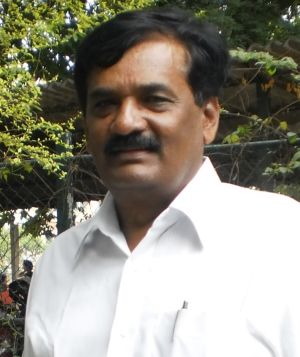 A Deve Gowda, 51, of JD(S), is founder of an education trust and former secretariat employee. He had contested and lost in this constituency twice before. Pic: Navya P K.
Congress also has its panchayat members and local area members identifying graduates and enrolling them. "Youth Congress members, especially, are campaigning for me," says Congress candidate Ramoji Gowda (known as Ramojam).
The three major party candidates campaign personally at banks, colleges, government departments, hospitals etc., where they can find graduates in bulk. Pamphlets and forms are distributed to graduates, and they are requested to enroll and vote. All three candidates claim that they have over 1000 supporters campaigning for them. The number of new enrollments they claim seem to be inflated. Their claims of new enrollments are in the range of 32,000-50,000.
Enrollments happen not just through party channels, but also through other associations, especially for Congress and JD(S) candidates. Both have been office bearers in associations of government employees, graduates and teachers, and have supporters in these groups, some of whom campaign for them.
Ningaiah J, 62, accompanies Deve Gowda in his campaigns. He is a retired primary school teacher and former General Secretary of Karnataka State Aided Teachers Association. Listing out Deve Gowda's achievements, Ningaiah says, "I have known Deve Gowda for over 36 years as he has worked for associations and done social work. I am not associated with JD(S) at all, but am supporting him as an individual candidate."
On the other hand, much of BJP's enrollment happens through party channels alone. Ramachandra Gowda personally visits major institutions like Bangalore University and professional colleges. "Talking to associations is only a small part of our campaign. Half of our voter base are those enrolled by party and the rest would be Gowda's existing support base. In this election, people are likely to vote based on how well they know the candidate rather than based on party," says Sapthagiri Gowda.
BJP campaigns strongly within the city, as it has been getting more votes from here. "In rural areas, the number of voting centres are far in between and not easily accessible to public. Hence many do not turn out to vote. Urban voters have traditionally voted for us in this election," Sapthagiri says.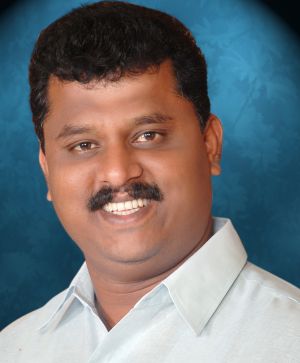 Congress' Ramoji Gowda, 39, became full-time politician three years back; he was a primary school teacher earlier. Pic: Ramoji Gowda.
JD(S) and Congress candidates have been focusing more on rural areas like Anekal, Doddballapur etc. They say that graduates here face issues like unemployment compared to urban graduates, and they have promised to focus on these issues if elected. "I am not focusing much on IT companies as people from middle and upper middle class backgrounds usually do not turn out to vote," says Deve Gowda.
BJP's major leaders like Chief Minister Sadananda Gowda, Home and Transport Minister R Ashoka have been endorsing Ramachandra Gowda, along with MLAs like Ashwath Narayana. In Congress, Ramojam is supported by MLAs Ramalinga Reddy and Dinesh Gundu Rao. JD(S) has not had major leaders endorsing their candidate, but has formed committees in the four election districts who go on the final door-to-door campaigns.
Ashwin Mahesh's contrasting approach
Strongly contrasting this approach is Ashwin Mahesh of Lok Satta party. Mahesh is a co-founder at editor at India Together and this is maiden venture into politics. Mahesh's campaign uses social media extensively and is mainly focused towards IT employees. Unlike other candidates, he talks about city-level issues in his campaigns, as opposed to graduates' or employee's problems alone. Even Ramachandra Gowda, during his tenures as MLC has addressed graduates' concerns more often, as per his campaign pamphlet.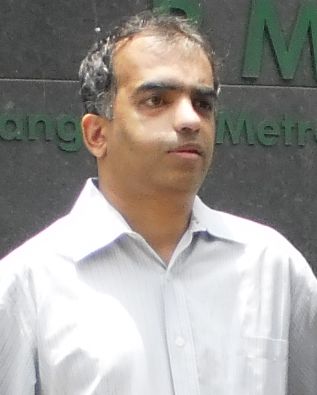 Ashwin Mahesh, 42, trained as an astronomer and atmospheric scientist, is advisor to state government and its various committees on governance and policy-making. He is also a co-founder and editor at India Together. Pic: Navya P K.
Mahesh, and Lok Satta, says that there is need for better governance and more public participation. This is the first time Lok Satta is contesting in MLC elections; relatively new in Bangalore, the party is still building its voter base. Most Lok Satta supporters who campaign for Mahesh are from IT industry, and are part of the IAC (India Against Corruption) movement. In Andhra Pradesh where the party is head-quartered, its head Dr Jayaprakash Narayan is a sitting MLA.
Mahesh is banking on what he calls 'new India' - where people are ready to participate in governance and fix problems themselves. "People participated in large numbers in IAC movement. The movement itself has not fizzled down; just that the participants have moved onto different spaces; they are still part of the movement," says Mahesh.

Ashwin Mahesh (second from right) at a public debate 'Can new India win elections' organised by Lok Satta in Bangalore. Also in the picture are Rajeev Gowda (Congress, and professor at IIM, Bangalore), Vasanthi Hariprakash, senior journalist, Dr Jayaprakash Narayan, leader of the Lok Satta party and MLA in AP. Pic: Navya P K.
Lok Satta activist and Bangalore-based IT professional Anand R Yadwad says, "Mahesh meets RWAs, and groups of graduates within city and in outskirts; our activists in each area organise these meetings. We ourselves got around 10,000 new voters registered; there were many indirect registrations - for example, many companies had gotten their employees to register after we campaigned with them." Mahesh himself has not campaigned directly in IT companies, but Lok Satta got the Election Commission to set up enrollment centres in campuses like Electronic City.
Mahesh has had public endorsements from Mohandas Pai, former member of Board of Directors at Infosys, Biocon founder Kiran Mazumdar Shaw, and others. But Mahesh's major endorsement was from former Lokayuta Justice Santosh Hegde. It was Hegde's scathing final report that put former chief minister B S Yeddyurappa out of office. Hegde was also on Anna Hazare's national civil society panel that conducted high voltage negotiations last year with the UPA government on the Lokpal bill.
Justice Hegde has gone on two door-to-door campaigns endorsing Mahesh. He interacted with small groups of people in these neighbourhoods for couple of hours. He plans to go to a few more localities before election day.
"I have worked with Ashwin in IAC campaign and know about his work. I am only endorsing him as a candidate, I do not know much about Lok Satta. If there are outstanding candidates in future also, I will endorse them irrespective of which party they are from," says Hegde. He makes it clear that he will never commit or dedicate himself to any party. "The door-to-door campaigns are to raise awareness - I tell people what graduate constituency is, who can vote etc. Engagement with public is necessary," he says.
The CPI(M) candidate is K S Lakshmi, 41, a post graduate in Economics from Bangalore University. She is state General Secretary of CPI(M)'s women's wing AIDWA (All India Democratic Women's Association). She has been a senate member of Bangalore University and state President of SFI (Students Federation of India) before. She was endorsed by CPI(M) politburo member Brinda Karat last month.
Lakshmi says that she might have enrolled around 13,000 new voters - she and the party's 20 teams meet graduates. "We have had constraints as a big budget is needed for campaigning. Election Commission should have facilities to get graduates enrolled themselves, and distribute information on candidates," she says. She says that the impact of globalisation is visible - "Education is too costly, there are no salary hikes or job security, suicide rates and gender discrimination is high - these are common people's issues, and I have been campaigning on these."
The others
Campaigning is more difficult for independent candidates. Nagalaxmi Bai, 50, an independent candidate, has not had major endorsements or much media publicity, but still has a large team working with her on the campaign. They got the list of previously enrolled graduates from the Election Commission and sent letters to each voter, appealing them to vote for her.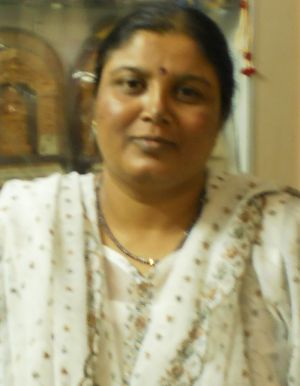 Nagalaxmi Bai, 50, has been a journalist for the last 23 years, and is known for the many PILs she has filed, one of which is against current Chief Minister D V Sadananda Gowda for illegal land use. Pic: Navya P K.
Nagalaxmi says that many voters have responded to her and even enrolled more people. She campaigns in public meetings of teachers, and in colleges, associations of professionals, universities and with IT company managements. Pamphlets have also been distributed in organisations like IIM and HAL, she says. Her campaign is also strong in rural areas. She claims to have enrolled around 6000 new voters so far.
She says that she decided to contest in this election as graduates may vote based on merit rather than political party. "Highly qualified graduates want non-corrupt leaders who can fight injustice," she says. Her supporter M S B Rao says, "She is known as a journalist among public and in government circles. We started campaign about a year back, but strengthened it by last October. Nagalaxmi can contribute to society; no other candidate has filed as many PILs against corrupt politicians as she has." Rao, a former journalist, has been working with Nagalaxmi for 12-13 years, and is founder of the news agency Kannada Suddhi Samsthe, where Nagalaxmi now works as Chief Reporter.
Registrations still a challenge
However, even after all of these campaigns, the total number of registered voters is extremely low compared to the number of graduates in the city. There are approximately 25 lakh graduates in Bangalore by various estimates. Sachidananda Murthy of BJP is very direct about the political reality. He says that campaigning is low across parties as graduates are difficult to influence. "In regular elections, public can be influenced with liquor or money, but educated people do not care for these things; they vote only based on merit of candidate."
Murthy says that BJP's campaign starts about one-and-half years before the election. "We have to meet and convince voters many times. First we have to go door-to-door to identify and enroll them, then contact them regularly, and also meet them before election. There would be only 5-10 graduates in a street, so we cannot do public campaigns either," he says.