Nagpur, November: It was a temptation that 65-year-old Daulat Moon could not avoid any more. The deal was too big for him to reject: Rs 40 lakh per acre of land. "I stamped it."
The six-acre farmer, Moon, fixed some of his huge sum and bought five acre in a village, 50 km away, at Rs 10 lakh an acre. "Once a farmer, always a farmer." He's the latest in the burgeoning list of farmers who've sold their farm land in Mondha village, barely 4 km from Hingna town and 20 km from Nagpur. The real estate sharks gobbling up the lands have been after him for six months.
Mondha has sold its 75 per cent land to developers and city's noveau rich in two years. Stretches of what were once cotton and soybean fields or orange orchards now bear hoardings of buy-in-installment plots. The price per plot is a staggering Rs.500 per square feet. That's in multiple of what Moon got from the developer.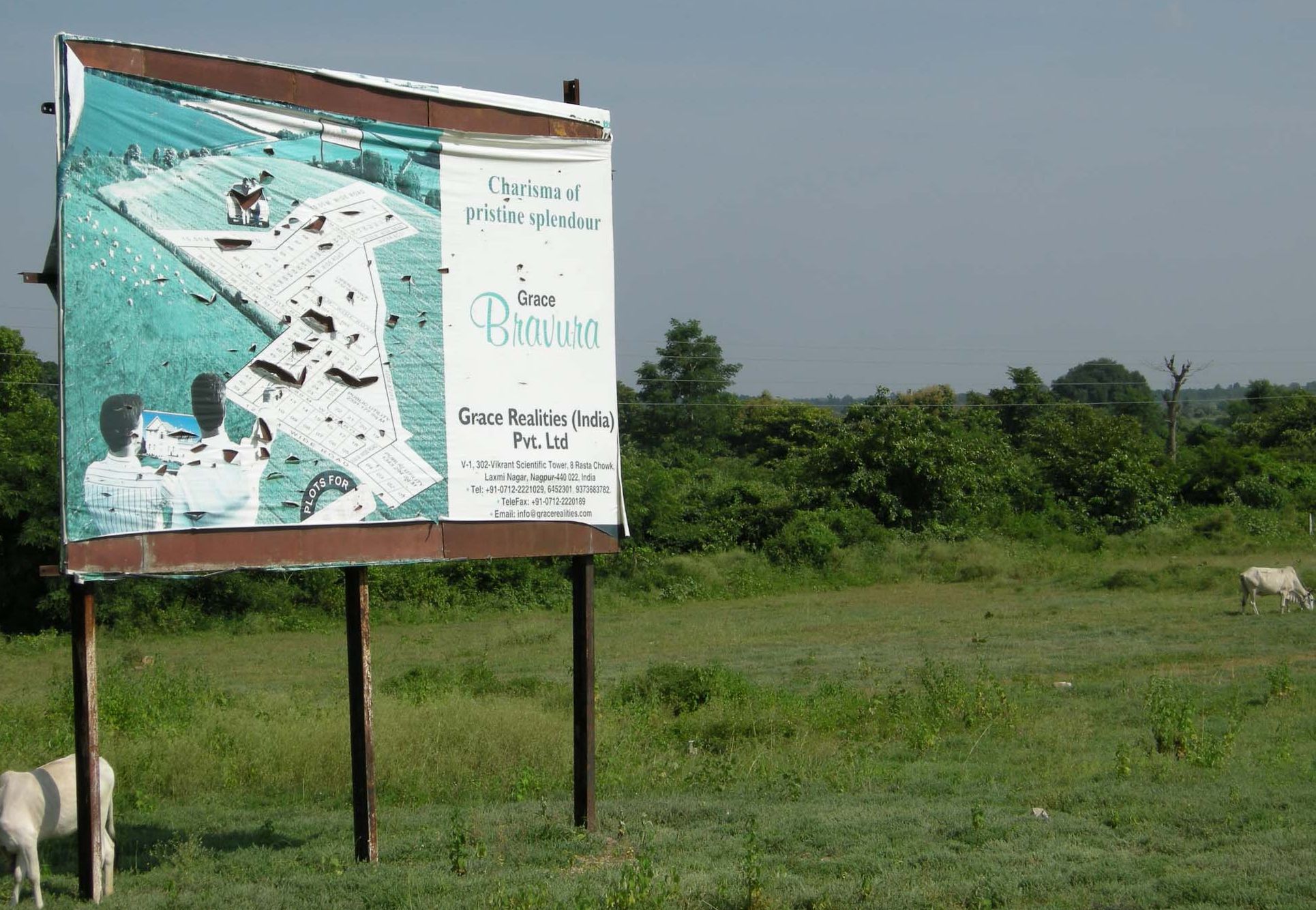 Good times for middlemen working farmers to sell to developers. A hoarding put up by a real estate firm at one of its 'gold mines' near Nagpur. Pic: Jaideep Hardikar.
Land rate has soared to staggering Rs.1-5 crore per acre on the outskirts of the city. Driven by the hype created by the proposed Multi-Modal International Hub and Airport at Nagpur (MIHAN) project and the adjoining Special Economic Zone (SEZ), villages around here have seen a sort of land-riot for some time.
But the scale at which it's happening is incomprehensible, say the locals. Over a hundred villages, like Mondha, within 50 km radius of Nagpur, have sold their agriculture land. About a million small and big investors have invested in plots or farmland beyond the city limits with the hope that prices will appreciate.
What's more, the realtors estimate at least 200,000 individuals to be engaged in the land brokering in and around Nagpur.
The district collector's office estimates that 30,000-hectare land (330 crore sq ft) has changed hands from farmers to individuals – many in benami (in fake name) transactions; 10,000-hectare (110 crore sq ft) has been sold in plots to small investors from and outside Nagpur. At a modest Rs.300 per square feet, the game is at least worth Rs 33,000 crore! No wonder, the rural police say, land-related crimes are on rise.
"This explains the sudden affluence that has come to a few land developers and real estate firms and their agents," says Praful Gudadhe, a Nagpur Municipal Corporation member and builder himself. This, he feels, is not sustainable unless manufacturing and industrial units come up in big way and creates an unimaginable demand. That prospect seems more suspect in a 'Meltdown' era!
But today, prices are too alluring for the farmers to reject, insists Moon's young neighbour Raju Lomsonge, a part-time land-broker who works with the Hingna spinning mill. A couple of years ago, Raju sold his own land and took up the job as a broker when he realised that the sector had a potential to make quick bucks.

Raju says the number of registries everyday has risen manifold. And he's right. If you visit the deputy-registrar (land records) office at Hingna, where the land deals are notified, the rush is mind-boggling. The middlemen are omnipresent.
What he couldn't earn all his life from his job at the only-surviving spinning mill here Raju makes it in a few minutes from one land deal. There's a great demand for many like him these days across rural Nagpur – both from buyers and sellers.
Raju doesn't go beyond the simple arithmetic of commission. "I don't know if the prices would remain stable, rise or fall in the future; what I know is that it's wiser to sell agriculture land and make money today than to till it in losses forever."
"Today it is Rs.50 lakh per acre; I can't quote you tomorrow's figure," says Raju. The 35-year-old reveals that the young and unemployed of his village are all into land brokerages. "A middleman fetches two per cent in commission."
Evidently, the sudden inflow of money has transformed the lifestyle of villagers, particularly those who drive the deals as middlemen.
"Yes, there are a few more cement houses in the village now, consumption of liquor has risen, and so has the number of two-wheelers," says the sarpanch of Mondha, Arvind Modak. He says, "People buying land here are obviously doing it for commercial reasons. The farmers who get good price here for their land are buying farmlands in distant villages of Wardha and Yavatmal."
A farmer from here sells his land to developers and migrates to Wardha but not before spiking land rates there. The wave thus travels further, and farther. But hundreds of farmers sold their lands cheaply five years ago or earlier. Today most of them are landless labourers. Going by today's deal rates, they have suffered huge losses.
Modak says rich traders from other cities have also bought land big time. "Many businessmen and traders have come from as far away as Mumbai and Delhi."
The bubble created by the MIHAN and SEZ has had a cascading effect on land holding pattern in Nagpur, nay Vidarbha. And while the ambitious project looks a distant dream, the realtors have already made a life out of it by selling dreams to the unsuspecting investors expecting good returns by investing in land plots.