Three weeks ago the national media, quoting police sources, said the stone pelters in Kashmir were being funded by separatists and other groups across the border with Pakistan. For 57-year-old Mehraj-ud-din Malik, however, the summer of the sangbaaz (stone pelters) is all too familiar. He vividly recalls similar protests way back in 1964, and the killing of his best friend 11-year-old Abdul Rashid Wani.
Pointing to the streets below from his house in downtown Srinagar, Malik describes the day they were engorged by hundreds of protesters. He and his friend also marched with the crowds. "There was heavy stone-pelting near Nowhalta Chowk, and then firing began. Shots rang out and my friend fell with bullet injuries to the stomach. I was terrified and ran away. The people, unable to find a stretcher or a cot, wrapped the young boy in a mat and took him to a nearby shrine, where he died a little later. He was taken to the Martyrs' Graveyard in Khwaja Bazar and buried," says Malik.
Wani's father had also died only a few months earlier, and his mother was inconsolable. "She clung to her son's blood-stained shirt and wouldn't let go. The family moved away. It was only some years ago that I was eventually able to trace my young friend's sister and find out how she had coped with the tragedies."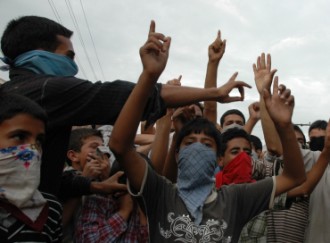 "Our parents tell us, "
Azadi
is your
haq. Magar aman seh karo.
" (Freedom is your right but fight through peaceful means.)


• Autumn in decay
• The humanrights challenge
• The trouble with Eden

Such historical resonances and a strong sense of collective suffering are striking features of one's conversations and interviews with ordinary Kashmiris. While politicians and the media ascribed the the present-day anger to rising unemployment, Malik views it with the prism of historical continuity. An outcome of what happened in the 90s during the period of militancy.
"There was a lot of violence, a lot of human rights violations. The gun prevailed. A whole generation grew up developing fearlessness. You can see it today in youths coming out on the streets, whipping off their shirts and standing in defiance of the security forces," he says.
A young student (name withheld) echoes this viewpoint. Strolling besides the Nagin lake, just across the road from Srinagar University, he describes what it was like to grow up under the shadow of violence in Islamabad (a town in Anantnag district). "Many of us never ever felt really safe. Even as small children we were frisked going to school. Security troops were omnipresent. I knew a shopkeeper who was arrested in the wake of the Chittisinghpura massacre of the Sikhs. Later an inquiry was ordered into the arrests and it was also alleged that the police had conducted a fake encounter."
The state's efforts to co-opt Kashmiri youth to be part of the military structure through the counter-insurgency drive, and through renegade militants brought about even more disarray. "These people were Kashmiris and had far greater insight while working as informers. And so the drives were far more successful. For me it was betrayal. You expect the army to act in a particular way, but not your own people."
Saiba Varma, a Phd candidate from the Anthropology Department of Cornell University, who has been conducting field work on mental health in the Valley elaborates how the prolonged conflict has fractured society and led to a wariness among the people in their dealings with each other and with outsiders. "Domestic, familial and community relations have been disrupted due to the conflict, in terms of both rumour and reality: it is said that every household in Kashmir has an informer, and these 'stories' - whether real or not - have a real effect on the way people behave with each other."
Another reason for the intense frustration and anger of this new generation is the stifling of dissent and denial of legitimate avenues of protest. The student asks, "Why was the Kashmir Students Union dismantled? Why are the authorities rattled when we protest over something like postponement of exams? If I go to the law department to meet a friend why does someone tail me and spread the word that I am getting ready to organise a protest? You are asking me what I mean by azadi. Different leaders have their own different interpretations. My concept is freedom - something I have never possessed."
In Palhalan, Baramulla district of North Kashmir which saw much unrest, Rameez and Fayaz (names changed) say their protests have the backing of village elders although there is the rider that stone pelting is, perhaps, not an acceptable form. "Our parents tell us, "Azadi is your haq. Magar Aman seh karo." (Freedom is your right but fight through peaceful means.)
The youths say that many of the stone-pelting incidents are not part of a pre-meditated strategy but simply a release of anger and pent-up emotions when they come out on the streets to protest and meet with resistance. This sense of community and strong assertion of a Kashmiri identity has been manifested over the years through protest songs, poems, and cultural evocations of Kashmiri characters such as Habba Khatoon, the legendary peasant girl who won the heart of the last independent ruler of Kashmir, Yusuf Shah Chak.
This summer spawned an ever greater outburst, with social media providing a new platform. Facebook, blogs, Youtube and other sites saw an outpouring of poems, writings, reports and rants. There was also the phenomenon of 20-year-old rapper M Kash, sounding off with his local hit "I protest" on the online music site Reverbnation and attracting huge fans. Kash, whose mother is a school teacher and father is a physician, told the media he wants to set the pain of Kashmir to music.
Such virtual platforms, as Varma says, have enabled people to add to the protests from their bedrooms, dormitories, or wherever, not necessarily putting their lives at threat in a direct way. This has also made the issues in Kashmir far more vocal and visible.
With winter, the protests on the streets have become more muted. "It is now a time for contemplation, for taking out the kangri (firepot) and huddling indoors," explains a Kashmiri journalist, "but with spring it will be a new season again, and one will have to wait and see what will happen."