For the residents of Villiyar colony in Senji Agaram, (30 km from Chennai) it is either a three-kilometre detour along the banks of Pichathur lake or a 100-ft long wade through its waters to reach the nearest bus stop. This hamlet is populated exclusively by Irulas, an aboriginal scheduled tribe. They and their elected panchayat ward member S Balasubramaniam, have long, and in vain, sought a bridge and better connectivity from the village panchayat. They are now hoping for a change after the October 2006 local body elections.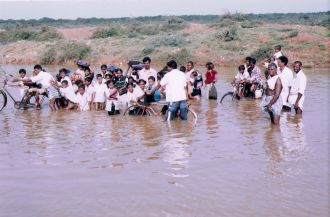 Irula kids crossing a lake to get to school. Pic: Sarpam Thozhil Sangam.
For the 2006 polls, this village panchayat was notified in as a reserved constituency for the Irulas. S Balasubramaniam has since been elected panchayat president. He knows the responsibility of bringing a bridge and development to his village now lies on his shoulders. "As a ward member, I could not convince the panchayat of the urgent need for a bridge. The village only has a primary school. Students in class VI and above had to go to the high school in the neighbouring villages, passing through the lake. Drownings were quite common," he says.
From three village panchayats in 2001, the reserved local bodies had increased to 12 this year thanks to efforts taken up by the Bharathi Trust, an NGO founded in 1995. Civil society organisations have helped correct the gross under-enumeration of Irulas in the 1991 census. And this, Irulas hope, will translate into creation of a vocal pressure group of leaders that will ensure development for them.
The benefits of reservation and free education that the Irulas are entitled to, have largely not accrued to them thanks to difficulties they face in obtaining community certificates.


• Imagination of the future
• Adivasis face health care chasm

Says Siddamma, founder of Bharathi Trust: "We had fielded 35 candidates in the local body elections and a total of 15 have won the panchayat presidentships with a handful winning elections to the wards. The reservation for the Irula population in the elections this year has been increased from 0.25% to 1% due to better representation."
Uphill battle
For the Irulas of Thiruvallur, Cuddalore and Vellore districts, it has been an uphill task till date to get even the most basic of development projects going. The benefits of reservation and free education that they are entitled to, have largely not accrued to them thanks to difficulties they face in obtaining community certificates. Literacy rates are among the lowest -- anecdotal evidence suggests only 5 percent of the 60,000 Irulas living in Thiruvallur district are literate. Many Irulas still live in bondage, working in rice mills and manufacturing units that are on Chennai's outskirts. Unsurprisingly, the Irula leaders think that progress and development is bypassing them.
M Arjunan, president of Nayakannur Panchayat (in Vaniyambadi Taluk of Vellore district) is among a handful in his community to have a Masters' degree. While he has been able to obtain a community certificate, many in his village are not able to. "The Revenue Department Officers in charge of issuing the certificates still ask Irulas to prove their ethnicity by snaring rats and snakes. If anyone has taken up agriculture or are farm labourer, they are subjected to questions like 'You are not short, dark, curly-haired, or depend on forest. How do we believe you are aborigines (Pazhankudiyinar)?' We are asked why we wear modern clothes. Do they expect us to live in dark ages. We cannot progress like the rest?" he wonders.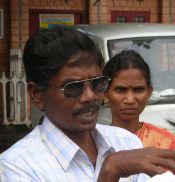 I Jayabalan coordinates work at Sarpam Thozhilalar Sangam, an NGO of Irulas. Pic: Krithika Ramalingam.
The lack of community certificate means the portals of higher education are closed to the Irulas. "Living on subsistence wages, many among us cannot afford even the minimal fee collected in middle and higher secondary schools. The school drop out rates are quite high," says I Jayabalan, the Thiruvallur district coordinator for Sarpam Thozhilalar Sangam, an NGO of Irulas. Sarpam was started to organise Irulas involved in unorganised sector and has been functional in Thiruvallur, Vellore, Cuddalore, and in parts of Kanchipuram. The NGO is funded by the Bharathi Trust, which works like an umbrella NGO coordinating the various units of Sarpam.
Shackled by illiteracy, many Irulas continue to work in bondage in the state. Madhavi is one of the tribal women who was born into, lived for two decades in and married Nagaraj in bondage till she was rescued two years ago. "My earliest memories are of a seven year old, working in the rice mill helping my parents in processing rice that was grown nearby. When agriculture failed in Thiruvallur, we processed rice imported from Andhra Pradesh. I have never been to school or been outside the premises of the mill, till I was rescued (by Sarpam and Tamil Nadu Bonded Labourers Rescue and Rehabilitation Department)," says the 22-year-old woman.
Madhavi does not know what was the quantum of loan her father had obtained from the mill owners. But many like Ellamma and Mariamma (from Palavakkam) say their families had obtained advance of Rs.1000 for their 'coming-of-age' rites when they were children and worked a lifetime to pay off that loan. Today, the threesome is a part of Sarpam and have taken up the cause of rescued bonded labourers.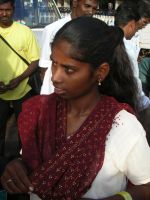 Madhavi, a former bonded Irula, was rescued two years ago by Sarpam. Pic: Krithika Ramalingam.
Mariamma says that though nearly 600 families were rescued in 2004 in Thiruvallur district, only 250 have received government compensation. "Revenue officials had told us there is a temporary fun shortage but little has changed since. Without work or recourse to compensation, many are again on the verge of getting trapped in exploitative labour," says Mariamma.
As a follow-up to the rescue operations, the Irulas have been demanding that the Government deliver on its promise of transferring rights to two cents of natham poromboke land, for housing and as small land-holding. Natham poromboke land is communal land over which there is no other claimant other than government. It is usually allocated to village panchayats for housing purposes.
New expectations
It is in their struggle to obtain land rights and housing that the community is looking to the newly-elected Irula leaders of eight village panchayats in Thiruvallur, three in Cuddalore and four in Vellore districts. As village panchayat leaders they believe they can expedite housing schemes for tribes, create infrastructure, start schools and ensure smooth issue of community certificate.
R Kandan, Vadakkunallur Panchayat President, has trained his sight on this issue: houses under the Indira Awas Yojana for around 250 tribal families living in 6 hamlets in the panchayat. And others like D Babu of Mannelur Panchayat are exploring possibilities of obtaining loans from the Tamil Nadu Adi Dravida and Tribal welfare department for employment.
The community and Sarpam are increasingly becoming vociferous and is now looking at grassroots democracy as a means to uplift. K Krishnan, president of Sarpam, is confident that access to healthcare, good nutrition, education and employment can be ensured through the election of Irulas in rural local bodies. "Panchayats have been vested with power to start anganwadis where there is a population of 25 children. Often tribal villages get left behind. Blockades in implementing Antyodaya Anna Yojana or other schemes that address food security can be eased by the panchayats," he said.
It is to this end that Sarpam Sangams in each district and the umbrella Bharthi Trust are working now. What is to follow is a training for the elected leaders in the provisions of Tamil Nadu Panchayat Rules. Says Siddamma of Bharathi Trust that 2006, local body elections has been a shot in the arm for the movement to ensure equitable development for the community and as a check to ensure that the special component fund for Tribal welfare is used efficiently. With this start, the community and its NGO partners see the next five years as a foundation for greater political participation.