It was a budget that had been anticipated with very high expectations. In the end however, Finance Minister Arun Jaitley's maiden budget turned out to be a staid one, attracting neither effusive praise nor vehement criticism.
The Finance Minister stressed on the criticality of lowering inflation, unemployment, and infrastructural and governance deficit at the start of his long, detailed articulation that included many micro-level and sector-specific provisions. But there were no radical, big-ticket announcements and the overall thrust was more or less on predictable lines.
A key expectation from corporate quarters was unmet as he kept the rules of retrospective taxation unchanged. However he assured investors that the issue would be dealt with very cautiously. It was clarified that all fresh cases arising out of the retrospective amendments of 2012 in respect of indirect transfers and coming to the notice of the Assessing Officers will be scrutinized by a High Level Committee to be constituted by the CBDT before any action is initiated in such cases.
While transition to the Goods and Services Tax regime did find a mention in his speech, there was no specific roadmap laid out for the same.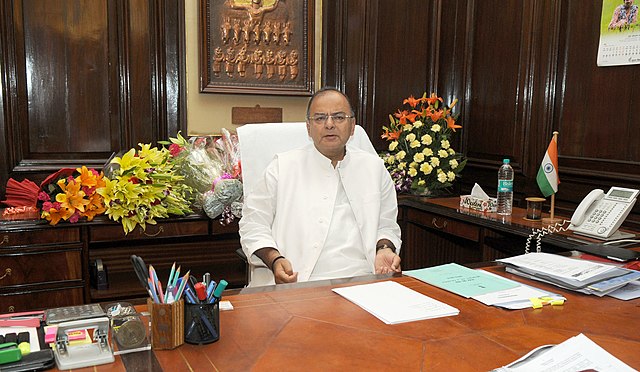 Pic: pib.nic.in
Some of the key provisions in Jaitley's budget are as follows:
Macro-data
Acknowledging that the target set by his predecessor in terms of fiscal deficit reduction (to 4.1 per cent of GDP) was a challenging one, Jaitley stuck to the same. The longer term targets for the same would be a fiscal deficit of 3.6 per cent for 2015-16 and 3 per cent for 2016-17.
Revenue deficit for 2014-15 was pegged at 2.9 per cent of GDP.
Allocation of Rs 575,000 crore towards plan expenditure marks an increase of 26.9 per cent over actuals for 2013-14.
Non-plan Expenditure for the financial year is estimated at Rs. 12,19,892 crore.
Direct Taxes
Basic exemption limit on Income Taxes was increased from Rs 2 lakh to Rs 2.5 lakh (Rs 3 lakh for senior citizens).
The cap on long-term investments under Section 80C of the Income Tax Act was raised from Rs 1 lakh to Rs 1.50 lakh.
The deduction on interest paid on housing loan was increased from Rs. 1.5 lakh to Rs. 2 lakh.
On the Direct Tax Code (DTC), Jaitley said that the government would appraise the comments received from stakeholders. It will review the DTC in its present shape and take a view in the whole matter.
Defence and Internal Security
A sum of Rs 1,000 crore was set aside to meet this year's requirement towards upholding the policy of "One Rank, One Pension" for officers of the Armed Forces.
The capital outlay for Defence was increased by Rs 5,000 crore over the amount provided for in the Interim Budget presented in February 2014. This includes a sum of Rs 1,000 crore for accelerating the development of Railways in the border areas.
Rs 100 crore was allocated for the establishment of a War Memorial and Museum.
Another Rs 100 crore has been provided for setting up a Technology Development Fund to provide resources to public and private sector companies to support research and development of defence systems.
A sum of Rs 3000 crore has been allocated towards modernisation of the state police forces. Rs 50 crore has been proposed to be set aside for construction of a befitting National Police Memorial.
Agriculture
To mitigate price volatility in the agriculture produce, a sum of Rs 500 crore was set aside for establishing a Price Stabilization Fund.
The Minister proposed that five lakh joint farming groups of "Bhoomi Heen Kisan" (landless farmers) be financed through NABARD in the current financial year.
The Central Government will work closely with the State Governments to get them to re-orient their respective APMC Acts and to provide for establishment of private market yards/ private markets.
The government will establish two institutions of excellence in Assam and Jharkhand with a mandate of agricultural research with an initial sum of`100 crore in the current financial year. In addition, an amount of Rs 100 crores would be set aside for setting up an "Agri-Tech Infrastructure Fund".
An initial allocation of Rs 200 crore has been set aside for establishment of Agriculture Universities in Andhra Pradesh and Rajasthan and Horticulture Universities in Telangana and Haryana.
Foreign Direct Investment
In the words of the FM, the policy of the government was to promote Foreign Direct Investment (FDI) selectively in sectors where it helps the larger interest of the Indian Economy. Accordingly,
the composite cap of FDI in defence manufacturing was raised from 26 per cent to 49 per cent with full Indian management and control through the FIPB route;
the composite cap in the Insurance sector was also increased from 26 per cent to 49 per cent
the requirement of the built up area and capital conditions for FDI in development of smart cities was reduced from 50,000 square metres to 20,000 square metres and from USD 10 million to USD 5 million respectively, with a three-year post completion lock in.
Women
An outlay of Rs 50 crores will be spent by Ministry of Road Transport & Highways on pilot testing a scheme on "Safety for Women on Public Road Transport".
A sum of Rs 150 crores will also be spent by Ministry of Home Affairs on a scheme to increase the safety of women in large cities.
"Crisis Management Centres" in all the districts of NCT of Delhi, in all government and private hospitals are proposed to be set up. The funding will be provided from the Nirbhaya Fund.
The Rs 100-crore Beti Bachao, Beti Padhao Yojana was launched as a focused scheme to help generate awareness and also help improve the efficiency of delivery of welfare services meant for women.
Education and Research
To fill the gap in elementary education an amount of Rs. 28,635 crore was allocated for the Sarva Shiksha Abhiyan and Rs. 4,966 crore for Rashtriya Madhyamik Shiksha Abhiyan.
A School Assessment Programme was proposed to be initiated at a cost of Rs. 30 crore, and the Pandit Madan Mohan Malviya New Teachers' Training Programme was announced with an initial allocation of Rs. 500 crore.
In the field of higher education, the Government proposes to set up the Jai Prakash Narayan National Centre for Excellence in Humanities in Madhya Pradesh.
Also, five more IITs in Jammu, Chhatisgarh, Goa, Andhra Pradesh and Kerala will be set up, besides five IIMs in Himachal Pradesh, Punjab, Bihar, Odisha and Maharashtra.
Education loans proposed for higher studies were proposed to be simplified.
A programme titled 'Upgradation of Traditional Skills in Arts, Resources and Goods" would be launched for enhancing skills and training in ancestral arts for development of minorities.
Urban development and mobility
Under the Pooled Municipal Debt Obligation Facility, the government will focus on infrastructure, public transport, solid waste disposal, sewerage treatment and drinking water.
The Budgetary provision for the facility has been enhanced from Rs 5000 crores to Rs 50,000 crores with extension of the facility by five years up to March 31, 2019.
A sum of Rs 4,000 crores is proposed to be allocated to the National Housing Bank with a view to increase the flow of cheaper credit for affordable housing to the urban poor/EWS/LIG segment.
Jaitley proposed to add inclusion of slum development in the list of Corporate Social Responsibility (CSR) activities to encourage the private sector to contribute more.
A sum of Rs. 100 crore was allocated for metro projects in Lucknow and Ahmedabad.
Other important announcements
An allocation of Rs. 500 crore has been proposed for the launch of ultra mega solar power projects in Rajasthan, Gujarat, Tamil Nadu and Ladakh in J&K.
A sum of Rs. 400 crore was allocated towards launching a scheme for solar power-driven agricultural pump sets and water pumping stations.
A Financial Inclusion Mission will be launched from 15 August this year in a time-bound manner to provide all households in the country with banking services.
An amount of Rs 3600 crore has been earmarked under the National Rural Drinking Water Programme for providing safe drinking water in approximately 20,000 habitations affected by various forms of contamination.
An amount of Rs.200 crores has been allocated to support the Gujarat government in its initiative of erection of Statue of Unity.
An allocation of Rs1000 crore, over and above the amount provided for in the interim budget, has been proposed for expediting rail connectivity with the north east of the country.