Mumbai, August 22, (WFS) - An internationally trained fashion designer meets a truck company owner and marries him, then spends her time putting his shoes in their proper place and bonding with the dhobi (washerman) - 'Chalte Chalte'.
A teenybopper fasts on karva chauth (a festival observed by married women for their husband's long life) for her boyfriend, to entice him away from the career-oriented independent 'other woman' - 'Ishq Vishq'.
In Bollywood, the more things change the more they remain the same. In most films produced in Mumbai, the outward gloss has changed - costumes are more glamorous, songs are glitzier, locations are foreign -but the women are the same as in the early days of Indian cinema. In some films, they are worse off.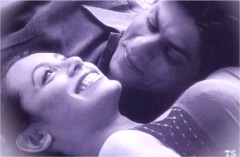 The eternal debate on whether films reflect life or life imitates films can be resolved by looking at the current portrayal of urban Indian women in Bollywood films. Despite the fact that about 26 per cent women in urban and rural India work (India Census 2001), the films ignore this reality. For years, Indian women have made their mark as bureaucrats, surgeons, writers, pilots, businesswomen, bankers and astronauts. But none of these achievements are reflected in Hindi films.
Instead, our films are increasingly depicting heroines only as homemakers, albeit educated ones. At the most, they are 'allowed' professions like doctors, teachers and journalists. But in general, the heroines are college-going teenyboppers who settle down to matrimony by the end of the film.
Why is the career woman missing from Hindi films today? Where are the women who want to reach the top? Where are the strong women in Hindi cinema?
In the 1950s, rebel filmmakers like K A Abbas, Bimal Roy and Guru Dutt did portray strong women characters in their films. Their women (even if illiterate and homebound) had a voice of their own and were shown striving to establish their identity.
Of course, they were by no means typical of the Bollywood of the '50s. During this time, Professor A B Bose of Lucknow University did a content analysis of 60 Hindi feature films, at a time when films like 'Aag', 'Awara', 'Baazi', 'Daag', 'Jaal', 'Anarkali', 'Devdas', 'Insaniyat', 'Kala Pani' and 'Sadhana' were produced. He found that most films dealt with the unmarried and educated young men and women of the upper and middle classes living in cities. In roughly half the films, the hero had no occupation; in almost two-thirds of the films, the heroine had no occupation.
If a similar analysis were to be done of films in the last decade, the results would be very different. In most of the films, the hero has an occupation (usually a dynamic one) while the heroines have almost none or their work is not important to them once they meet their hero.
In the 1960s, more heroines started appearing as doctors, dedicated teachers or social workers. In the 1970s, more Hindi films started portraying working women from the lower and middle classes. Several leading actresses essayed a variety of professions - Jaya Bachchan was a knife sharpener in 'Zanjeer' and a singer in 'Abhimaan'. Hema Malini was a village tonga (horse carriage) driver in 'Sholay' and the general manager of a company in 'Trishul'. Rakhee played corporate secretary in 'Trishul' and a doctor in 'Kala Pathar'. One of the successful directors of this time, Basu Chatterji, often portrayed his heroines as working women - as in 'Choti Si Baat'.
In the 1980s, Bollywood actresses displayed a penchant to play cops - Rekha in 'Phool Bane Angare', Hema Malini in 'Andha Kanoon' and Dimple Kapadia in 'Zakhmi Aurat'. These roles were not played in a vacuum. This was the time when more women reported instances of sexual abuse and violence across the country. By the late '70s and early '80s, heroines were not only shown as working women - often as sole breadwinners in the family - but also as women who fought several social battles through their work.
In the 1990s, however, women appeared to lose the space they had created for themselves. As films became glossier and more hi-tech, the heroes took centrestage and the heroines became mere appendages - they were there mainly to provide the glamour. Their presence did nothing to move the story forward.
The more India became global the more our films regressed. Some of the hits of the last few years (post-liberalisation) show a decided nostalgia for a traditional way of life when women kept the home and men earned the bread. While Madhuri Dixit stole hearts in one of the biggest hits of the '90s, 'Hum Apke Hai Kaun', she also established the trend of heroines who would never put their own dreams ahead of the aspirations and desires of their family or men. The caring homemaker was back.
Indian women have progressed but Bollywood film scripts apparently remain constrained by the preferences of men.

Recent films like 'Kabhi Khushi Kabhi Gum', 'Kuch Kuch Hota Hai', 'Dil To Pagal Hai', 'Biwi No.1', all have women as decorative pieces and docile homemakers. In none of these films made by contemporary young filmmakers do the women have a career - though the ones who lose in love do. In 'Dil To Pagal Hai', Karisma Kapoor is a dancer who loses out to Madhuri Dixit, whose main aim in life is to look for her life partner. Sushmita Sen is a model in 'Biwi No.1' but then she is also a homebreaker, and the forgiving homemaker wife, Karisma Kapoor, 'wins' back her man.
Even 'Dil Chahta Hai', a cult film for Generation X, made by a young director, has stuck to the traditional role for its female leads. While the three male characters have identities apart from their romantic ones, the females don't seem to. Only one character (Dimple Kapadia) is shown to have a career but then she does not have a happy ending while the man who loves her (Akshay Khanna) finds a 'normal' girlfriend.
Among the directors of these films, there are several who have studied abroad and whose lifestyle is influenced by the west. They have imbibed the gloss and glitter of Hollywood films but consciously tried to preach a return to traditional Indian values and conservatism, and they have done this through their women characters.
Kareena Kapoor says of her character in the recently released 'Main Prem Ki Diwani Hoon': "She is a girl of today, like me. She knows her mind and knows what she wants. At the same time, she has traditional values. She is a modern desi (typically Indian) girl. She is the kind of girl every man would want as his wife."
So, why have the sensibilities remained the same even though the approach has been modernised? According to such filmmakers, it is the audience that continues to demand such stereotyping. Obviously, the audience here is largely male.
In an interview, top actor Shahrukh Khan says: "It is pointless to compare our films with those of the west because our society has its own limitations. Certain ideas will be unacceptable to our audience.... We don't see women as powerful entities. Even today, most heroes will tell you 'I want a homely wife who will take care of my kids and look after the house'. Only when women progress will the scripts progress too."
The fact is that Indian women have progressed but film scripts have remained the same in terms of the heroine.