Is sex 'work'? Or is it an intimate relationship between persons who are emotionally tied to each other and bound by ethical conventions? Can sex be a 'service' provided for a fee? If so, what kind of interface should there be between 'sex providers' and society - the 'end-user' of the 'service'?
The play My Mother, The Gharwali, Her Maalak, His Wife, (70 minutes) staged recently at Ranga Shankara, Bangalore, did not directly address this debate. (Ranga Shankara is a state-of-the-art theatre space that facilitates innovative theatre productions from India and abroad.) It simply showcased a day in the life of people who sell sex for a living. They sell because men come to buy their service. "We never invited men to come to our galli. They come," they said.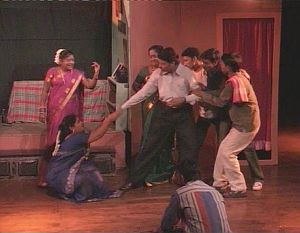 A scene from My Mother, The Gharwali, Her Maalak, His Wife. Pic: Point of View, Mumbai.
How did they reach the galli? Who were they before they came here? Would they like to leave? These questions are beyond the purview of this setting. We are introduced to the elements of galli life. There's a constant fear of police raids and eviction from the frail tenements. There are games of deceit being played out by 'lovers' and 'regular customers.' Yet, there is song, dance and laughter bubbling in the air. Tears, jokes and earnings are shared. Movies are watched and discussed. Children are nurtured and protected, to the extent possible. The community lives and demands to be heard in its own voice.
The play is no piece of fiction. Scripted (in Marathi and Kannada originally) and performed by Veshya Anyay Mukti Parishad (VAMP), a collective of women in prostitution from Sangli in Maharashtra, the Hindi play was directed by Sushama Deshpande. It was produced by NGOs Sangram (Sangli) and Point of View (Mumbai). "It is an attempt to portray the reality of women in prostitution without the extremes of vice and victimhood." said Meena Seshu of Sangram.
In the play, Leena is a woman in prostitution. Her rickshaw-puller lover woos her with promises of fidelity and marriage. She parts with a large sum of money to keep him in the same town. She hardly knows she may never see him again.
Leena's daughter lives across the road. She tells us she knows why her mother doesn't allow her to stay with her. "She wants to keep me away from her dhanda." Leena's daughter lies about her family in school. She writes essays on Meri Maa in which her mother is a tailor and makes breakfast for the family. "Not because I am ashamed of what my mother does, but because people are ashamed of what my mother does," she says. Word gets around anyway and she has to constantly change her school.
The Gharwali is an intimidating woman with a gentle core. She runs the brothel. She is called 'mother' by all the women but is ridiculed behind her back. She uses her contacts to bail out 'her' women and their children from the difficult situations they fall into.

The Maalak is a man, a regular customer, committed to one woman in the brothel, possibly even the Gharwali. The Maalak in the play sends his son to engineering college with money coming in from the brothel. He hotly defends his extra-marital relationship to his wife who confronts him over a late night dinner.
The Hijras, a Paanpattiwala, the jasmine seller, the constables (who switch camps according to situations) and a lawyer are friends of the community of women, youth and children living on the galli. The Dholkiwallah is always at hand for a round of song and dance, complete with a slow motion dream sequence.
Conceived by Bishakha Datta, Meena Seshu and Divya Bhatia, the play draws attention to the violence of stigma and segregation from society and its institutions. It defends the right of a community to be accepted as human and in need of the same rights and facilities as any other social group.
"We are dhandewalis acting as ourselves. We are not saying prostitution is a rosy profession. There are bad things in this too, like in other social institutions including marriage," said Kamlabai Pani, a member of the cast, during the interaction session that followed the play. Some women in prostitution have their own perspective on married women. They pity the choicelessness of some married women who in return for social acceptance as "Mrs. …", take on the 'thankless' position of 'wife', suffer oppression, and have no money or power in all areas of their married lives.
Sushama Deshpande spoke of the theatre workshops that trained the cast for the play. "They learnt Hindi and participated with great enthusiasm." She described how difficult it was to get the young men in the cast to use swear words during the play. "They connect to the women around them as their mothers and aunts. The play required them to verbally abuse them. As children, they have been exposed to a highly sexualised environment. Their schooling is incomplete because the stain of stigma will not leave them."
"What you have shown in the play is 100 per cent true," said a member from a collective of women in prostitution from Bangalore. "Deceitful males are responsible for our getting into this field and even when we are in it, they deceive us further. We should punish these men," suggested another lady in the audience. Anjana, (Sharada in the play) a member of the cast replied, "So many men come and go, who all will we punish? Isn't it time we got smarter?"
The groups behind the play
Point of View
20 A, Gopal Mansion
Near Panthaky Parsi Agiary
Guru Nanak Road, Bandra (W)
Mumbai - 400 050
Tel: +91 22 65727252
pointofview AT vsnl.com
Sampada Gramin Mahila Sanstha
(SANGRAM), Arohan, Ghanshyam Nagar
Madhavnagar Road
Sangli - 416416
Tel: +91 233 2312191/2311644
sangram.vamp AT gmail.com
Veshya Anyay Mukti Parishad (VAMP)
Arohan, Ghanshyam Nagar
Madhavnagar Road
Sangli - 416416
Tel: +91 233 2312191/2311644
sangram.vamp at gmail.com

A smiling, young girl from the audience said, "I am a street sex worker. I am proud of the performance put up by all of you. Naavu bali aagideevi. (We have been sacrificed) Our lives are beyond repair now. We don't have any other choice. I got a distinction in pre-university but I cannot do any other job now. Wherever I apply, people seem to know my history. I don't even try anymore. I'm very proud that my colleagues have put up such a play."
Deepak Modi, a member from the cast said, "I am the son of a sex worker. What we have shown about children being thrown out of class because of their background is true. We could not continue school properly. We want to help other children in our galli."
Responding to a query on whether new girls brought into the brothel have ever been reintegrated, a senior cast member, Bhimawwa Gollar, replied, "Sometimes young girls come to our doorstep because a man she trusted cheated her. We send these girls to the remand home or NGO shelter. If any woman asks to join us we ask for her 'certificate' to check her age." Meena Seshu further clarified that the term 'sex worker' could only be applied to women above 18 and that their organisation does not condone or support child sexual abuse.
The play was an unselfconscious portrayal of people in 'sex-work' by people in 'sex work'. The play did not seek to address the grey areas that come with the question of 'choice'. It left many surrounding issues untouched. For example, it is not clear if organisations supporting the idea of 'sex as work' are working on prevention of trafficking - an organised crime that facilitates the supply of women and girls into brothels all over the world. Many questions were thrown up at the end of the play, though the message was conveyed strongly.