The scorching summer is here, and everybody likes to have a chilled drink. Instead of the artificial soft drinks, what if cool and fresh tender coconut water is available by the roadside?
For the first time in India, an enterprise of selling instantly chilled tender coconut water has started in Hyderabad. Fruit Hut Beverages is selling tender coconut water under the brand name Coco Fresco through 20 mobile carts operating at different centres of the city.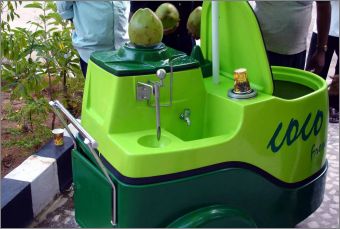 A close up of the 'work area'. Pic: Fruit Hut Beverages.
Moments after the customer approaches the cart, the vendor pours tender coconut juice into a funnel-like part of the cart. It comes out through a steel tap located below. Irrespective of the quantity of juice a nut has, customer gets 250 ml in a glass, in chilled form. A hundred nuts can be kept in the 'belly' of the cart.
This is the brainchild of two young MBA graduates, Swaroop Chandan and Goutham Kumar. "At home, we prefer soft drinks kept in the fridge. But unfortunately, we haven't developed a method to serve such a noble drink like fresh and cool tender coconut water. We were on the look-out for such a possibility since a year. While searching in net, we got a few ideas," recalls Chandan. Those ideas were later developed into this reality.
A key aspect of the system is that electricity is not required to cool the juice. The fresh juice runs from the funnel through a twisted coil below. The end of this coil is fitted to the tap. Food grade stainless steel is used in all these parts. Ice is kept outside the steel coil. As such, ice is not mixed with the juice. It takes only few seconds for the juice to reach the tap from the funnel by way of gravity. In this process, it gets instantly cooled. One filling of ice is suffice to cool about 200 glasses.
A key aspect of the system is that electricity is not required to cool the juice. Ice cubes are placed around the cooling steel coil.


• Tender coconuts enter offices
• New biogas plant makes waves

Everyday, sweet juice is poured into the steel coil. How do they maintain hygiene? "Oh, yes, we have taken care of that," Chandan explains. "In fact, these units are detachable. We have two such units for each cart. Every night, we detach it and take it to our centre. Next morning, the staff brings a unit that is already kept there, well washed and dried."
While tender coconuts sold by usual push carts are priced at Rs.8 in Hyderabad, Coco Fresco is Rs.10. There are many value additions. It's ready to drink, has more quantity and is always cool. In Hyderabad's high-tech city called Cyberabad, four carts are functioning. Sanjeev Reddy Nagar, Madhavpur, Gatchi Bouli, Ameerpet are the other centres in the city. It hasn't reached the other half of the twin-cities - Secunderabad. Coco Fresco's business is at the moment centered around a 10 km-radius of their godowns. Fruit Hut has two godowns.
"Youth, that too IT employees are our major consumers. People belonging to middle and upper middle classes," points out Chandan. According to him, generally tender coconuts have only 180 to 200 ml of water inside. Generally, it takes slightly more than one nut to fill the 250 ml glass.
At the Computer Science Corporation (CSC) in Raheja IT Park, two carts are operating. Here it is in-house vending. The arrangement is that CSC doesn't charge any fee; instead Coco Fresco has to sell for Rs.9 instead of Rs.10.
"At most of the places, we are selling an average of 200 glasses a day. On very few occasions it raises to 300. But, now, it's peak season. You will have these sales at most centres. We have to wait and watch as to how the sales remain in off-season," says Chandan, expressing anxiety. Luckily for them, the rainy season is short and late in Hyderabad.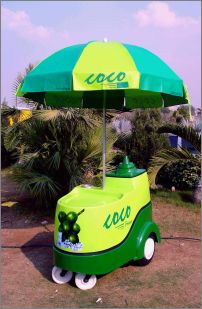 The Mobile Cart. Pic: Fruit Hut Beverages.
Once settled, these youngsters have plans to diversify. They intend to serve minimally processed tender coconuts. In minimal processing, the outer husk of the nuts is trimmed to facilitate easier handling. After this, it is dipped in preservative solution and wrapped with cling film. These treatments retain the white color of the peeled nut and extends its shelf life. As such, minimally processed tender coconuts are ideal for taking home. (See earlier story on a Bangalore firm doing this)
The initial investment for Fruit Hut Beverages was Rs.10 lakh. The Coconut Development Board has committed a subsidy of Rs.2.5 lakhs towards the cost of the carts.
Fruit Hut is buying its tender coconuts from farmers groups of East and West Godavari districts. They deliver the nuts at the godowns twice a week. Chandan is tight-lipped about the price.
This enterprise could well be replicated in all our major cities. Already there are enquiries from cities like Vijayawada and Vizag in A.P. "Small numbers would be difficult. If there is confirmed order for more than 5 carts, we can provide them. One cart would cost around Rs.25,000," says Chandan.