For thousands of poor and downtrodden families living on embankments, relief camps, and slum areas in Assam, buying a pair of clothes or winter garments are luxuries that they cannot afford. In sharp contrast, for thousands of families in Guwahati city and other urban areas as well as well-off families in rural areas, every time they buy a new pair of clothes or new winter garments they do not feel like using the old ones. They, however, happily give away the old clothes to those needy, who knock their doors and ask for used clothes either for themselves or for their children.
Keeping this untapped resource in mind the Xavier's Foundation in Guwahati has opened a clothes bank, similar to the ones running elsewhere the country, to undertake cloth charity for thousands of poor and needy people in Assam and other northeastern states.
For a start, the Xavier's Foundation has started collection of clothes in different localities of Guwahati. It plans to install drop boxes shortly in busy areas including commercial hubs, shopping malls and financial institutions so that people willing to donate clothes to the Clothes Bank will be able to drop their used clothes whenever they visit these places. The Clothes Bank was formally inaugurated in Guwahati on December 2 by popular Assamese film actor Kopil Bora. Former Assam Chief Secretary Haren Das received a packet of clothes on behalf of Xavier's Foundation from Examination Controller of Krishna Kanta Handique State Open University Dr. P B Lahkar at the launching of the Clothes Bank to mark the symbolic beginning of clothes collection drive. The Foundation has appointed a team of volunteer and employee for the purpose.
After collection, the collected clothes will be properly washed, mended and segregated into different packets for children and adults. Apart from the dresses, other cloth materials including blankest, bed covers will also be collected and suitably converted into smaller blankets or bed-sheets to cater to the requirement of children in need.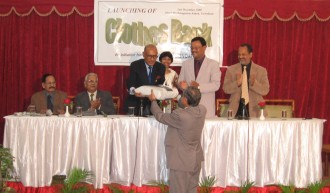 Former Assam Chief Secretary H N Das receiving a packet of clothes on behalf of the Clothes Bank from KKH State Open University's Examination Controller Dr. P B Lahkar at the launch of the Clothes Bankint Guwahati on December 2.
The Foundation has estimated that on an average one cluster of 20 households generate up to 500 sets of reusable clothes in a year. With little repairing and redesigning these clothes can easily be converted into nice looking and attractive pair of dresses and can be provided to the needy in a dignified manner.
The poverty situation in the state reveals that large number of poor people are living in acute misery. According to statistics tabled on the floor of the Assam assembly in December 2007, there are 12 lakh Below Poverty Line (BPL) card holders in the state. the average annual income of these BPL families is only Rs.1250 a month, which clearly reveals acute poverty condition in which they survive. There are over 400,000 homeless families in the state.
Ravaging annual floods and erosion caused by river Brahmaputra and its tributaries have made a sizeable 64,000 families to live on embankments in acute poverty and without all basic human amenities including housing facility, livelihood support, health, education and others. The state has as many as 149 flood and erosion prone rivers. Chief minister of Assam Tarun Gogoi in a press conference told reporters in September this year that between 1954 and 2007, the state has lost 4,25,932 hectares of its land due to erosion, which amounts to a size of a district.
After collection, the collected clothes will be properly washed, mended and segregated into different packets for children and adults.


• Turning old into gold

The state also has a large number of internally displaced persons living in relief camps for more than a decade without any livelihood support and proper housing. These people were displaced from their orginal habitats due to series of ethnic clashes in different pockets. For instance, during a series of clashes in 1993, 1996 and 1998, between the Bodos - the single largest plains tribe in Assam - and the religious minority community and Between Bodos and Adivasis altogether 3,14,000 people were displaced in lower Assam's Kokrajhar district. Of them 65,000 people still live in relief camps in sub-human condition.
Those who returned home have to face similar livelihood risks in their villages, as the state government has no scheme to rehabilitate conflict induced displaced people. The clashes between the Bodos and immigrant Muslim settlers in early part of October this year, displaced more than 200,000 people from their original places and thousands are yet to return home. Apart from food and social security, clothing is a big issue for these people, particularly during winters.
In the initial years of their displacement, clothes were provided to some of the displaced families by various organizations. Similarly, help do come in the form of distribution of clothes, medicine, food items among the flood affected people but this happens only during the flood period and such charity is done in a systematic and sustained manner. While many families, particularly those affected by erosion, are forced to live in makeshift camps for months and sometimes years together such one time charity fail to provide relief. These families have to wait for elections to come to get only one blanket and sometimes mosquito nets distributed among by the candidates of some parties seeking votes. This is more common in tea-garden areas as garden workers and their families live in penury.
Another group that could benefit from clothes distribution is those formerly employed with the tea industry. The state has 780 tea-gardens with a workforce of over 5 lakhs. With the liberalisation of Indian economy that was introduced in the earlier part of the 90s, the tea industry has been suffering form several critical issues resulting in huge number of joblessness. At least 70 plantations in Assam have been closed down since the late 1990s, with almost a 100,000 people being rendered jobless.
Hence Xavier's Foundation wants their Clothes Bank to run in a professional and systematic manner so that it can cater to the constant need of clothing among these underprivileged people, and not restrict the activity to a one-time charity. The foundation also plans to involve the panchyats, NGOs and various charity organisation to reach out to the maximum number of needy people.