Beginning April 20 and until May 10, India will be at the polls. This time, the nationwide general election (Lok Sabha) is being held simultaneously with several state assembly elections. A massive 675 million citizens are the electorate for an exercise that is projected to cost over Rs.1000 crores.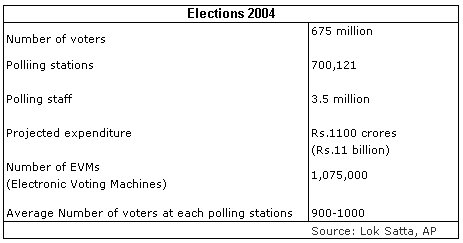 But this election is different for another reason and a historic one. This is the first national and also the largest election exercise in the country that is being fought under the new election disclosure rules instituted in 2003. Candidates for Parliament and State Assemblies are required to submit sworn affidavits along with their nomination papers giving information about their criminal, financial, and educational backgrounds. Nationwide, citizens who want to know more about their candidates before casting their ballot now have a better opportunity to get this information. The disclosure rules were the result of a Public Interest Litigation filed by the Association for Democratic Reforms (ADR) in Delhi High Court in December 1999 and culminated in a Supreme Court ruling in 2003.
Operationilizing the law, the Election Commission of India made it mandatory for every candidate to make these disclosures in a systematic format on a sworn affidavit at the time of filing his/her nomination papers. As per the new rules, lying on oath or giving false information or concealing information invites a prison term and also a fine. Returning Officers are required to display copies of these affidavits on their notice board and members of the media as well as the general public may acquire these copies by paying standard photocopying charges. During this cycle, some state Election Commissions are placing copies of these affidavits on their websites.
In series of combined activities, civil society groups and eminent citizens in several states have formed election watch committees to aggregate, analyse and summarise the information about candidates from the affidavits. This information is currently being made available to the media for widespread dissemination.
The two tables below will give India Together readers an overview of what is emerging from the states where election watch groups are analyzing disclosures. Everyone of the states cited in the tables has active citizen watch committees. The committees have more detailed information about the candidates' criminal and financial records. What is presented here is a summary of some of the date that the committees have submitted to India Together.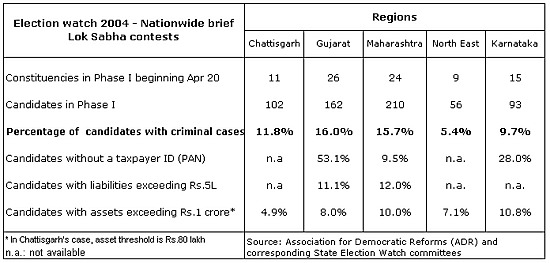 (North East - Meghalaya, Mizoram and Assam)
Going by the disclosures, in many states criminal charges are pending against a notable percentage of candidates. These range from murder (Section 302 of IPC), attempt to murder, dacoity, robbery, rioting armed with deadly weapon, to extortion, criminal intimidation and death threats, criminal conspiracy, prevent public servants from discharging their duties, cheating (Section 420 of IPC), etc.
The Gujarat Election Watch Committee's compilations show that the state's two major political parties (BJP and Congress) have 13 candidates with pending criminal cases between them. The Karnataka Election Watch Committee numbers for the 15 constituencies going to the polls in the state's Phase 1 show that 9 Lok Sabha candidates in the state have criminal records. The BJP has 3, the Congress, JD(S) and JD(U) have one each. In Chattisgarh it is an independent candidate, Bharat Bhushan Pandey who tops the list with six cases filed against him since 1991. And so forth.
The disclosures analyses are also indicating that around 50% of candidates with criminal records are not fielded by major political parties. They are candidates from minor parties or independents. Taking into account that some of the independent candidates with poor records may have been those who quit major parties because they did not get tickets, this is still a reminder that the problem of criminalization is not restricted to the major political parties alone.
For more information on candidates in your constituency, their disclosures, partywise data for your state, and state assembly candidate information, get in touch with the corresponding election watch committees.