In December, Newson Marak, a Garo tribal from Jeera village of Krishnai block in Goalpara district of lower Assam produced around 25,000 cocoons of Muga (Antheraea Assama), the state's unique golden silk. He earned Rs.25,000 - double what he earned in February last year. A traditional silkworm grower in one of the state's richest silk cocoon producing pockets, Marak has a plantation of 1500 Som (Persea Bombycina) trees, the food plant of the Muga silkworm, covering an area of 1.25 hectares. He reared commercial Muga silkworms in February, August and October 2008 and produced over around 66,000 cocoons. In 2007 he produced around 65,000 Muga cocoons.
Marak is happy that price per cocoon has increased by about 100 percent this winter. The rising price is partly attributed to high demand for Muga silk in the state with relatively low production, and partly to the initiative of the Department of Sericulture to fix the sale price of cocoons and free the growers from the clutches of middlemen, who previously made off with most of the profits from the trade.
Enthusiastic over his increase in income, Marak is now planning to go in for Muga seed production simultaneously, as every kilogram of quality seed of Muga silkworm will fetch him an additional income of Rs.6000. He has successfully completed two training camps to learn about scientific rearing of silkworms, organised by the Department. Head of a five-member family, which entirely relies on sericulture for living, Marak also produces Eri (Samia Ricinii Cynthia) silk cocoons, another indigenous silk variety, which too fetches him some money.
Marak's story is that of an individual silk grower, but others are profiting through group efforts. Another tribal silk grower, Dinesh Chandra Rabha of the Rabha tribe, another colourful plains tribe of Assam, produces Muga cocoons as a member of a Self Help Group (SHG). The Sunnery Self Help Group of which Rabha is a member produced 65,000 Muga cocoons in November 2008. Rabha is a school teacher, and for him sericulture is a secondary source of income.
Cluster plantation
Both Marak and Rabha are beneficiaries of a "cluster plantation" scheme, initiated by the state government in 2005-06 and 2006-07 to ensure increased production of silk cocoons. Various activities of the production process are clustered together in traditionally sericulture-rich pockets, and these are then tasked out to different families in the cluster, which together constitute the full chain of production. Financial and other support is also available to the families depending on the roles they play in the chain.
The department identified 350 traditional silk-growers in the block and provided them financial assistance, training and the necessary tools for quality seed production. Of these, 200 families were identified for commercial cropping, 100 as seed cocoon growers and 25 for setting up of scientific grainage. Each cropping family was given Rs.8000 per acre for food plantation for commercial rearing of silk cocoon, while the seed cocoon growers have been given tools including microscope, nets, desks and others. The Department allocated Rs.25,000 per family for those selected to construct grainages. For 2007-08 the Department selected another 290 families for Eri and Muga silk cultivation in Lakhipur block, under the cluster plantation scheme.
The objectives of the scheme include increasing raw silk production in the state, generating employment in rural pockets as well as upgradation of the silk industry in the state. The department has covered 10 districts so far; during 2008-09 another 11 districts are being added to the schemed, and these will create an additional 24 cluster plantations of Eri, Muga and Mulberry silkworms. The sericulture department has nearly 400 silkworm seed production farms, grainages and centres in different silk growing pockets. A number of other departments have extended technical and financial support in the implementation of various developmental programmes for development of Eri and Muga silk industry in the state.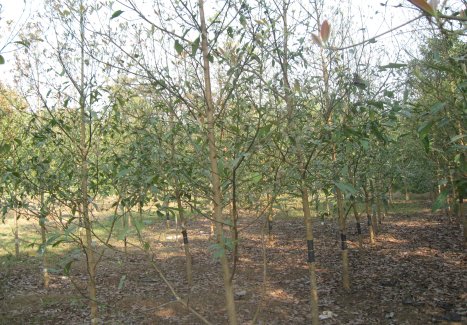 New plantations rise up in Krishnai block in Goalpara district.
(Picture by the Ratna Bharali Talukdar)
Interestingly, the tribal people with their rich heritage of rearing silkworms - both Eri and Muga - do not themselves wear or weave silk clothes, but the pupae of both varieties of silkworm form a delicacy of tribal cuisine in the north-eastern region. Tribal silk-growers also earn some money additionally by selling the pupae. After extraction of the pupae from the cocoons through a drying process, businessmen procure the cocoon-shells to supply to major silk-weaving pockets in the state, such as Sualkuchi, Bijaynagar and Palasbari in Kamrup district. These businessmen buy the cocoons either at the doorstep of the growers or in village markets where tribal people bring them for sale.
Official support
The Director of the Department of Sericulture P K Goswami tells India Together that with its rich tradition of rearing silkworm, Assam contributes almost 90 per cent of Muga silk and 65 per cent of Eri silk production in the country. He claims that the number of families associated with sericulture in the state increased from 1.85 lakhs in 2006 to 2.39 lakhs in September, 2008. This, he said, has been possible due to constant push of the department by way of providing financial assistance, training and awareness campaigns. The Department has also succeeded in freeing the silk growers from the clutches of the middlemen by fixing market price of per thousand cocoons, the Director says.
While Muga food plantations require continuous nourishment, in case of Eri, the food plants grow in abundance in the entire state.


• Saving six yards of magic

The Eri silkworm is the easiest of the three silk varieties to produce, as the worms are grown indoors and not very sensitive to temperature or humidity, unlike the Muga worms. Humidity is especially a problem, and the monsoon limits Muga production to two or three commercial harvests a year, whereas Eri can be harvested up to six times. Eri is also genetically more diverse, and resistant to outbreaks of disease, whereas Muga is not. Moreover, food plants for Eri are abundantly available in the state, unlike Muga which needs continuous nourishment to be provided by the growers.
As a result, Eri contributes 87 percent of the entire silk production in the state, while Muga accounts for 12 per cent and the contribution of mulberry is only one per cent. During 2008 the per-thousand cocoon price of Muga went up to Rs.1100 from Rs.500 in 2007. Eri cocoons ranged between Rs.250 and Rs.300 per thousand. Women are actively involved in sericulture, accounting for two-thirds of those employed in the industry.
The intervention programmes of the Department of Sericulture have helped raise production of Eri cocoons from 585 million tonnes (MT) in 1995-96 to 1046 MT in 2006-07. The Muga yarn production during this period, however, has been modest, from 85 MT to 98 MT in 2005-06. The production, in fact, declined to 96 MT in 2006-07, but the department is working to correct this, and has set a target 100 MT of Muga yarn production for 2008-09.
The area under food plantation of silk worm has increased from 12,580 acres to 17,939 acres in Muga, and from 14,236 acres to 18,620 acres in Eri between 2001-02 and 2006-07 (the large differences in productivity for the two varieties are explained by the factors listed above). The workforce in the industry has also grown robustly, with 43 per cent more people now employed in Eri cultivation and processing.
Strengths and weaknesses
According to the final report of a Marketing Study of Muga and Eri Silk Industry in Assam, conducted by Central Silk Board (CSB) under the Ministry of textiles, the state has about 3000 commercial looms engaged in Muga fabric production, which is about 12 per cent of the total silk looms. The report prepared in February 2008 states that despite the shortage of yarn, the Muga weaving ventures is increasing due to entrepreneurship development programme and income generation. It also reveals that considering the present production of yarn and its utilization, there is shortage of about 40-50 MT yarns.
The study, conducted by a team of experts of the CSB headed by P K Das, a scientist of Muga Silkworm Seed Organisation of CSB, Guwahati, has identified the strengths of the traditional silk industry to be abundance of food plants, favourable agro-climatic condition, presence of large network of development agencies for supporting, and recognition of Geographical Indication (GI) to Muga silk of Assam in respect of raw silk yarns and threads for textile use.
The weakness of the industry identified in the study are inconsistent supply of raw materials due to low productivity, vagaries of nature, poor absorption of technology, unorganized market, absence of storage facility, absence of formal and informal credit flow to the silk sector as well as absence of market orientation and trade awareness among others.
To purity of the silk, the Central Silk Board has introduced the Silk Mark for pure silk products made from both Eri and Muga.


• Saving six yards of magic

As a result, notwithstanding the recent positive interventions by the Department of Sericulture, its officials themselves admit more needs to be done. Their first objective has to be to ensure that families traditionally skilled in growing silkworms do not leave the trade. A large number of traditional silk growers have shifted from Muga food plantation to other commercial cash crops including tea and rubber. While in Upper Assam large numbers of such families have turned into small tea growers, in Lower Assam many have opted for rubber cultivation. Officials of the department also admit that while insurance cover for the risk of crop failure is available, it is not adequate.
"In such a situation, only a constant push for human resource development of sericulture-associated families, establishing an organised market base, innovation and introduction of new technologies, and diverse products targeting national and international consumers can ensure the sustenance of the raw-silk heritage in the state," says Paban Dutta, Deputy Director of the Department.
Ensuring authenticity
The golden Muga silk, despite being the pride of Assam is adulterated to a large extent due to high demand and shortage of sufficient silk yarn. The adulteration is done by mixing Muga yarn with local and Chinese Tasar silk or Tasar-like silk polyester during weaving, thereby camouflaging the products as that of original Muga. Similar adulteration also takes place with Eri silk products.
To check such illicit practices and to protect the purity of the silk, the Central Silk Board under the Ministry of Textiles has introduced the Silk Mark for pure silk products, since 2005 separately for Eri and Muga weaving products. Mamata Sharma, a senior official of the CSB says that there are around 80 authorised users of the Silk Mark in the northeastern states. Muga silk has also received official 'Geographical Indication' status during the year 2007 under the Geographical Indications of Goods (Registration and Protection) Act, 1999; it is first commodity from Assam to get this protection against fake substitutes.