The drums pound away in the kuppam (fishing settlement). A lively street play by one of Chennai's foremost cultural troupes, Koothupatarai, is in progress a short distance from the city. Borrowing from mythology and folklore, the troupe seeks to entertain as well as to dwell on issues that have come to the forefront since the December 2004 tsunami killed more than 10,000 persons in India. According to a report by the NGO Oxfam, 'The Tsunami's Impact on Women', released in early 2005, more women and children died in the worst affected areas, like Nagapattinam in Tamilnadu. In Nagapattinam, 2,406 women died compared with 1,883 men.

One explanation for women dying in larger numbers is that many men were out fishing at sea, where the waves passed over the waters relatively calmly, while the women were on the shores waiting for the catch. Besides, many women died because of their caring role in society - trying to protect children and the elderly. More significantly, women died because traditional taboos prevent them from entering the sea in this highly patriarchal society of meenavars (fishing community). Many women simply do not know how to swim!
Today, the message the Koothupatarai troupe gives is: "Little girls, you must learn how to swim if you live by the sea."
All over Tamilnadu (TN), concerned individuals and civil society groups are trying to redress not just existing gender inequities, but new aspects of inequities that have become accentuated by the tsunami tragedy. For instance, the disaster has exposed the sheer physical helplessness and dependency of women on men.
Recalls Fharzana Deesawalla, a volunteer who toured Nagapattinam with the Lifeline Rigid Hospital on January 13, 2005, "One woman was totally shattered emotionally. She had been swept away and was clinging precariously to a tree branch near a cliff. When she begged two young men to help her, they coolly demanded she first remove her taali (a necklace set in gold, which is a symbol of marriage) and give it to them. Even at that time, they wanted to exploit her helplessness."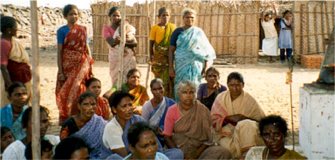 Women at the Indira Gandhi Kuppam in Tiruvalu were shut out of compensation because they are not members of the Fishing Society.
The traumatised women are also bearing the brunt of social and economic repercussions. Dr P Manorama, a Chennai-based doctor who worked in the village of Purukuppam in the badly affected district of Cuddalore, says women are both insecure and fearful.
Invoking a community spirit is helping them to some extent. For instance, a woman who had lost her husband and three children was roped in to organise sports and recreation activities for orphans and young children who had lost a sibling or two. In many rehabilitation programmes, widows are being put in charge of looking after orphaned children, says Manorama.
Besides providing emotional succour, there is also a need to counsel the women in economic matters and to empower them. "The sudden inflow of money - with about Rs 100,000 (US $1=Rs 44) given as relief by the government - means that women are under a lot of pressure by relatives who want to dominate them or take away their money. We have to work with them and explain why they should deposit it in a bank," adds Manorama.
Among the men, the inflow of cash relief has led to a steep rise in alcoholism. "The alcohol intake tripled - especially when they were not going back to sea. We are doing a baseline study of the families. It should come as an eye-opener to the government that distributed cash without proper thought," says Manorama.
Says V Mahalakshmi, one of the psycho-social coordinators for the NGO ActionAid, "The fishing community in TN is one of the most hardy in India but it is also prone to (individuals) committing suicide...They are lavish spenders and do not have a culture of saving. Many women have told me sarcastically that what the government has given in terms of money will go back to the government (referring to the government-controlled liquor outlets in the state)." It is the women who are bearing the brunt of this rise in alcoholism and alcohol abuse.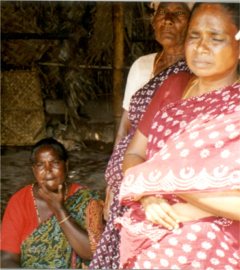 Pushpa in her makeshift shelter
In temporary shelters, women have had to cope with problems of privacy related to their daily needs. Says Pushpa, a fish vendor who now stays with her son, daughter-in-law and children in a 6 ft X 6 ft shelter at Kargilnagar, Chennai. "We women face a huge problem because there are no proper toilets. We often have to use the surrounding marshy grounds. When it rained some days ago, water pooled around, making it (unsafe and) unsanitary. There were even snakes coming out of their burrows."
Pushpa is also agitated because of her lack of economic empowerment. She is a fish vendor who now has to spend Rs 20 daily to come from the shelter to the Kasimeddu kuppam, where she buys and then sells the fish.
Mahalakshmi says that despite being a vital link in the chain, women are perceived only as the service sector and many of them have not been compensated. Women wait on the shores for the catch, clean the fish, buy and sell, and dry the remaining supplies. The strong sense of dependency has only increased after the tsunami. "What can we do if the men do not fish?" is their refrain.
In many cases, widows and destitute women have been left out of the relief programmes because the powerful Fishing Societies are the turf of men, and the strong gender bias becomes evident. The men also dominate the panchayats (village councils), which decide on relief and rehabilitation measures.
At the Indira Gandhi kuppam in Tiruvalu, about 12 widows who used to buy and sell fish have suffered because of the disruption in market supplies. They have been told they are not entitled to any compensation because they are not members of the Fishing Society.
Saroja, one of the women at the kuppam says that because they are daily wage earners, they find it difficult to get loans and have to approach private moneylenders, who have exceptionally high rates of interest and oppressive systems of recovery. In another instance, the Society gave a woman a cheque for Rs 10,000, but it was made out in the name of her dead husband. The problem has been compounded because self-help groups (SHGs) - where they existed - have been in a state of disarray. The TN Women's Development Corporation is seeking to bring about some amelioration by initiating eco-development schemes.
Concerned NGOs and institutions are now looking at tsunami rehabilitation as a way of restructuring society by bridging the gender divide and changing attitudes. The Social and Legal Trust (SALT), an organisation based in Kovalam, Kancheepuram district, has been trying to build sanghas or SHGs among the coastal communities for the past five years. In Semancherry an effort was made to distribute 1,000 kg of fishing nets (to replace those damaged) through SHGs but the fishing community did not cooperate. SALT is hoping that rigid attitudes will erode after a series of meetings on social awareness by the SHGs.
Meanwhile, the Disaster Mitigation Institute of Ahmedabad (Gujarat), whose team is in Chennai, has begun training women in alternative means of livelihood, like making coir, incense and candles, tailoring, and making thatch used to build their homes.
The Dalit Mannurimai Kootamaippu (Dalit Land Rights Movement) in Villupuram district has had some success in addressing the gender divide. On International Woman's Day (March 8), the fishing panchayat of Anumnathai allowed meenavar women to participate in the proceedings. Efforts are also on to facilitate the formation of a women's collective to engage in fishing and purchase. (Women's Feature Service)