The lush green paddy fields and the sunflower and maize patches on either side of the road leading to Shridharagadde of Bellary district hardly bespeak the tragic aftermath lay in all its brutality just a few miles away.
As our vehicle trundled along the rutty road and inched closer to the village, torn clothes swept away by the floods and stuck on the thorny bushes by the roadside mutely pointed a finger at a greater misery we were about to witness.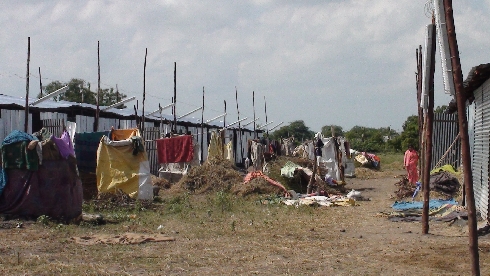 A row of sheds in Shridharagadde of Siruguppa taluk in Bellary district. Pic: Savita Hiremath.
Even before we turned towards the sheds, a frail Rangamma in her 60s dragging a bundle of thorny bushes for fencing her brother's cotton field rushed at us pleading for help. "My house is gone. I work in my brother's fields. These cattle jump over the fence and destroy the cotton. I can chase them during daytime, but I can't do so in the night. I need to sleep. My eyes burn if I don't. Please do something."
The rhetoric of 'rehabilitation'
Once Rangamma poured her heart out, she led us to her shack. That's when I began to realise where all this rhetoric about 'rehabilitation' has led the victims to and wonder if 'normalcy' would be a part of their lives, ever.
In her early 90s, Rangamma's neighbour Hanumanthamma can hardly move around her shed. She lay on donated blankets with a few belongings around her. Still too stunned to realise the heavy blow fallen upon her, she narrates how she lost her 'petari' (a wooden trunk) in which she had kept all her valuables and how she was rescued by her villagemen in a raft.
One stroll around the 230 sheds and I could sniff more tragedies skulking around. Somshekhar Gowda of the neighbouring Hachcholli says: "They have erected each shed with just 8-10 tin sheets with a few wooden posts supporting it. Strong winds are enough of bring down the entire row. Those who survived the floods might now die in these sheds."
A 10'x10' hellhole
Prof T R Chandrashekhar of Hampi Kannada University, who led a team of seven members to study the nature and consequences of floods from women's perspective, is appalled at the sheer callousness that has worked its way through all the aspects of the rehabilitation process. His team met Hungund tahsildar Jayashree J and complained about the absence of basic amenities including bathroom and toilets. "She told us that it was not a question of funds or space but that they never felt it was necessary (to build bathrooms and toilets). This is the attitude of the bureaucracy."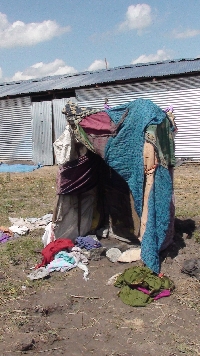 Since the officials didn't include bathrooms as part of the relief operations, this one put up by the victims themselves serves at least 4-5 families. Pic: Savita Hiremath.
The administration's chilling disregard to the victims' plight has found a convenient excuse in the urgency at which it had to ensure relief. The results are tinpot efforts and arbitrary decisions. A case in point is roping in the local contractors and setting a deadline to erect a certain number of sheds on an evened-out land leased out from a local landlord. The result is unliveable shacks.
When it rains, water rushes in and the 10'X10' shed turns into a hellhole. These sheds do not have a bathroom, let alone a toilet. The people themselves have put up a tiny bathroom (if one could call it so) right in front of their respective sheds with rags slung around wooden posts. Salty, impotable water runs through three taps installed in the area. People have to trek up to the river to fetch drinking water.
Nights get particularly harder with the area plunging into darkness as there is no power supply to the streetlights. A few kerosene lanterns bring this harried lot back to life. Wintry winds blow through the gap between the roof and the sheets acting as walls. Chilling winds also sweep beneath and rattle the loosely tied tin sheet acting as a door.
Ubalesh, 25, with a big pot of water on his right shoulder, narrates ruefully that they "are constantly under pressure from the land-owner". "He tells us what to do and what not to do. When rainwater enters the shed, we have no place to sleep. We requested them to raise it by a foot but nobody cares."
'Stuffed into sheds like cattle'
Ramesh, member of Bijapura Shoshithara Abhivriddhi Vedike (a newly constituted forum to fight discrimination against flood-hit Dalits), regrets how 500 families are forced to live in 110 sheds near Bijapur following the demolition of a Dalit-dominated slum by the district administration. "Nearly 4-5 families are living in one shed. We are being stuffed into these sheds like cattle. We have no privacy. No life. One short circuit and we will all perish. There is no solace outside as it gets really hot here and there are no trees, no shade. No grocery shops either."
For once, the government statistics do not belie the reality. Claiming "swift relief action and massive reconstruction" in its report "Unprecedented Floods" - dated December 6, the Karnataka government says 34,821 sheds have been set up to shelter 3 lakh families. That means nearly nine families are living in one shed and if each family has a minimum of five members, it is roughly 45 members including elderly people, women, and children. No wonder the victims have hit the streets.
Not ready to move out
It may take a year or more before 'rehabilitation' is completed. However, Malleshappa Hugar of Hiresindhogi in Koppal district is sceptical about the quality of the housing, especially because of the involvement of contractors. "They (contractors) have swindled enough money and built some shoddy ones. Now they are saying we will get houses worth Rs 1 lakh. I am sure they will build a house with 25,000 rupees and keep the rest for themselves."
Reluctant to be shifted out of their village, Malleshappa and his neighbours argue that the government has chosen a wrong spot for rehabilitation. The price of the land was the deciding factor more than anything else. "For years, we were squeezed dry by the Hirehalla checkdam (near Koppal) that kept flooding our fields. I was never sure that I would bring a few sacks of rice home. Now this village accountant and secretary are sucking our blood. They want us to shift but who will go and live in a place without any facilities? We had spent lakhs of rupees on our houses and they are now saying we should be happy with such dwellings. We will die here but won't move an inch."
When reasoned that the government cannot build houses of their previous worth, Malleshappa says: "We know they cannot. But does that mean we have to move into any house? Don't we know the level of corruption going on here?"
Koppal tahsildar P N Lokesh argues that they are resisting the change because of their "emotional attachment" to the village and that things would gradually fall in place.
But what officials like Lokesh refuse to realise is that the lives of these people were very much strung around these emotions and the same saw them through for generations. Clichés come to their rescue as they rattle off the usual "life-is-about-moving-on" one-liners. It may suit those who do not know what it means to lose everything. It doesn't work with those who know what it means to have houses submerged, fertile fields stripped, cattle dead, and the dear ones turned to starve. The victims' demand is simple: their own participation in designing the future with minimal interference by the administration.
And therein lies the rub.