Brothers Jagadeesan and Vinodh Kumar are 13 and 9, respectively. Today, they can find their dead brother Anburaja only in the photos display of the unidentified dead, at the Vailankanni Missing Persons Information Centre, Nagapattinam. Jagadeesan points to photo number 168 (VIII), his brother, with little emotion in his face. His sister Jagadeeswari and their mother Selva Rani are still untraceable. Stone-faced, he says he has little hope of finding either of them alive now that his brother's body has been unearthed.
D Sakthivel of Keechankuppam village, abutting Nagapattinam town has been searching for his mother D Chinnathayi with her fishermen society's identification card. He shows it hopefully to anyone from voluntary organisations at the relief camps. "If only I know where she has been buried, I can perform the last rites at the grave site for my peace of mind."
Today, these are the faces of Nagapattinam, finding and burying their dead, coming to terms with the material loss, going about picking up the pieces of their lives. To help them are the government, non-governmental organisations, Armed Forces, and even educational institutions. But going hand-in-hand with the overwhelming humanitarian aid pouring in are the problems of casteism, uneven distribution of aid, and red tapism that is not helping the grieving.
Ask P Ganapathy, he will tell you his saga of trying to find his only son Karuppaiah. At 8.30 am Ganapathy has come to the office of the Superintendent of Police with a photo of his missing son to search for matches. He has been running from pillar to post since December 27, trying to locate his son or his body.
When he wanted to file a missing persons complaint, the police asked him to start at his hometown of Maringapettai in Karaikudi, Pudukottai district, a four-hour bus ride away. He filed one. With a copy of that, he had to go to the police station in Vailanganni from where he believes his son has gone missing, to file another complaint. But there has been no response from the administration.
Ganapathy finally hit the district collectorate where he found the E-milan counter. Run by Chennai's prestigious Anna University and Excellent Software Corporation, the software E-milan is aimed at finding missing persons in Kumbh Mela and Ajmer Urs. The E-milan counter has volunteers who digitise the information about the missing and the found. (For details of lost and found persons from the Tsunami, visit http://www.helpmilan.info).
Rashid Ahmed, software engineer with ESC, says they have not had as much luck with only two among the 2,000 officially missing being found through the service, because of the huge death toll and continuing discovery of decomposed bodies.
With the data there lacking, Ganapathy was finally directed to office of Superintendent of Police, where I met him. "At the times of disaster those worried about the welfare of the loved ones will be left high and dry if the district administration is going to stick to rules," he rues. But he has to wait his turn to find out about his son.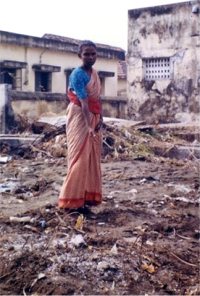 K Anjalai of MGR Nagar points to a patch of land where she says her three-year-old son was found dead and buried.
Hardly 10 minutes walk from the SP's office is a forlorn Thambi Thurai park filled with residents from MGR Nagar, which was devastated by the Tsunamis. The 30-something K Anjalai is only willing to show you the pictures of her once complete family. Her three-year-old son Manikandan is dead and buried where he was found as his remains had decomposed. They have no place in any of the relief camps run by the government because they are Hindu Athiyam recyclers, tribal nomads from Andhra Pradesh. The oppressed among the oppressed.
The district administration is trying to get the displaced back to their homes. But when the recyclers met the Revenue Department officials to get their solatium, they were told it would materialise only if they returned to MGR Nagar, where their deads and others have been buried. "How can we walk on the graves of our kin. Once we were beggars; now we eke out a living recycling waste products. But we are treated inhumanly even by the dalits themselves. We did not even go to the relief camps after both dalits and Meenava chettiars told us we were not welcome," says V Pichai, leader of their 120-strong community panchayat.
As did the families of other dalits from Chokkanathan Koil Street, now staying in an unofficial camp in Chinmaya Mission High School. Their fisherfolk neighbours from Pattinamcheri, with whom they had lived peacefully earlier, are now jealous of the relief material reaching them. The fishermen are mainly chettiars, with a smattering of other communities.
"We did not lose as many lives as the fishermen. But our homes are now a wreck. We were pushed out of the queues for food, relief material, an even drinking water. But when two of our youth were hit, we set camp on our own," says Bama Rajazhagan. The 87 dalit families living on Chokkanathan Koil Street are now on their own soliciting food and relief material and distributing the collection equitably amongst themselves.
Most of the dalits work in the Casuarina forest neighbouring their settlement. They say they got away with mainly material loss because the community forest acted as a barrier. But with schools scheduled to open Monday, they will have to return to their devastated homes. But with the fishermen already blockading their relief, the CK Street dalits fear the temporary settlements may not materialise either, for, according to the powerful fishermen lobby, the dalits have not lost as much.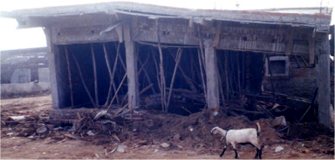 This construction on Akkaraipettai will never be completed. Its foundation has been ripped out by the tsunami and the columns are precariously perched.
But not all is gloomy with Nagapattinam; district machinery, voluntary organisations, and the army has lent support to rebuilding efforts.
On the worst hit Akkaraipettai beach, P Arunagiri directs a truck as it backs into a small clearing area created in what used to be the fish landing centre, on the shore of Vellaiyaru River. Rubble and scrap metal are all that stands in the brick, mortar and concrete site. The site engineer and his team from Diamond Construction, which had contracted to build the centre, have already started clean up work to start reconstruction immediately.
Despite the discouraging devastation in front of them, the company has decided to honour its contract to re-build the landing centre. "One aspect is that there are three months in the contract and we have to honour it. But we also have been asked to look at the aspect of quickly providing infrastructure to rehabilitate the fishermen," says Arunagiri.
Ten paces in-land is another group trading instructions loudly over the stutter of a misfiring engine. V Chandran of Akkarapettai was bent double over a motor. Men in combat fatigues from the Madras Engineering Group and Centres are trying to repair his motor so that he can take his fibre-hulled boat into the sea soon enough. Between December 27 and January 7, when I met them, the 26-man team had made repairs to 15 motors. Some distance from there, a causeway was being built to facilitate two-way access to Akkarapettai and adjoining hamlets.
Major Siva Subramaniam says the army has been assessing the damage and if the repair cost is less than Rs.1,000, completing the restoration. "When the costs are much higher, the army is trying to create linkages between the fishermen and voluntary organisations so that the fishermen will get back to their trade immediately," says the Major.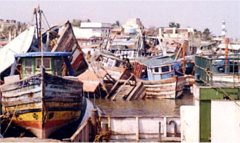 Mounds of debris from the boats that have piled up on each other, near the Nagapattinam Port on Vellaiyar River.
Major Subramaniam's team leader Brigadier Jose Manavalan is talking about using Army's expertise in creating temporary shelters in forward areas to relocate thousands displaced from the villages. Starting Monday, he has set himself a target of five days. "Once they are relocated close to their homes and the sea, the fishermen are more likely to return to their livelihoods." With the army behind them, the fishermen of Akkaraipettai have already run two experimental sorties into the sea.
Go further into the village, away from the beachhead; a Rapid Action Force team is involved in cleaning those of the homes that are liveable. Sub-Inspector Rajinder Singh and 120 of his colleagues are elbows deep in the muck left behind by the receding waters at the home of Amsavalli Murugayyan. Their masks and surgical gloves only protection from rotting flotsam and jetsam. And from amidst the ruin, they unearth her savings of Rs. 5,000. Though she has lost her first daughter, Navaneetha, she is happy for the recovered money. She will use it to replace the education material her second born, Dharani, had lost so that she could return to her private school immediately.
And then I meet Dr V Sumathy, a doctor from a Public Health Centre in Tiruchi village. She has put together a ramshackle clinic from the veranda of a flooded house, doling out medicines for injuries of the mind and the body. The liberal sprinkling of bleaching powder along the every street under water has controlled the spread of diseases. Medicines are yet only for the mild abrasions that resulted from people falling down mid-flight from the waters and some preventive tetanus toxoid and measles vaccine.
Nagapattinam is changing every day to cope with rehabilitation. It has a new collector as of 10 January. There are daily meets of the 150-odd NGOs camping there to co-ordinate the relief effort.
EARLIER

"More than contagious disease, there is a need to address post-traumatic stress syndrome seen very commonly after such disasters. Outbreaks may happen only when the displaced return home to poor sanitation or lack of toilets." The Village Health Nurses have already started another campaign: to stop open defecation on the beach. Three basic messages of boiling water, use of toilet and sanitation are being repeated to every patient who visits the clinic for medicines.
But Nagapattinam is a district that is changing every day to cope with rehabilitation. It has a new collector as of Monday. There are daily meets of the 150-odd NGOs camping there to co-ordinate the relief effort. The Defence Research and Development Organisation has brought in its pilot mobile desalination plant and moves it periodically between the worst hit villages. The natural hard water of the region is made free of nuclear, biological and chemical impurities in 5 minutes, to quench the thirst of those returning home. Schools have reopened to play therapy for the children who have lost parent(s), siblings and friends.
And every day, Nagapattinam is inching closer to normalcy.