Phoolan Devi, once a dreaded dacoit, laid down her arms and transformed herself, even entering politics. But the past caught up with her; she died a violent death in August 2001, gunned down in front of her house in Delhi less than a kilometre from Parliament House. A life of violence, forced or circumstantial or voluntary, ended violently.
But sometimes one can really leave the past behind. Nigel Akkara is one such exception - proof that life can be turned around if there is a will and there is a way. The will was there inside him, simmering without his knowledge, waiting to come out with the touch of a magic wand. The magic wand came in the name and style of famous danseuse, choreographer and culture-and-dance therapist Alakananda Roy who began conducting dance workshops for jail inmates, separately for men and women. This had the solid backing of the very progressive Inspector General of Police B D Sharma.
Akkara recalls his first steps into this new world. "I was extremely reluctant to take part in the workshop. But maa (Alokananda Roy) insisted that I stand behind the group and just watch," he says. "I was still a social recluse within the prison and was fighting six of the 18 cases I was charged with myself. But when it was time to present a performance called Beyond Borders at the Rabindra Sadan auditorium, I could not back out any more because I was already learning Kalaripayatt and Dandiya from maa."
Initially, Sharma would not give him permission to perform outside the prison gates but Roy assured him that Akkara would not betray her trust. "The deafening applause at the end of the show, the empty seats in the theatre after the last member of the audience had left, made me break down and cry for the first time in my memory. I think that marked the turning point in my life," Akkara elaborates.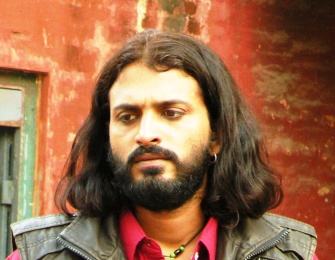 Talking to Akkara, I did not feel I was speaking to a man whose life had been steeped in crime since the age of 15.

Culture therapy involves training prison inmates in different performing arts that form an integral part of Indian culture - music, theatre, dance, recitation, painting, sculpture and sports through production-oriented workshops, with the help of mainstream resource persons and trainers. This is aimed at rehabilitation and reformation of the inmates so that they find it easier to get into the mainstream when they are released. For those who are sentenced to life as Nigel was, it becomes a creative outlet for social networking, a remedy for bouts of depression and violence within the prison bars.
Public performances are subsequent to this therapy to invest the inmates with a sense of human dignity and also to make them develop a different perspective on life. For mainstream society, it is a way of sensitising them about the potential these inmates have even within captivity.
Beyond Borders was followed by a performance of Rabindranath Tagore's dance drama Valmiki Pratibha, written in 1881. Ironically, the story of Valmiki is something Nigel can identify with quite closely. Valmiki was originally named Dosshu Ratnakar, and was a dreaded dacoit who changed his life after a cathartic incident, and became the Rishi Valmiki credited with composing the Ramayana. "I have played Valmiki for approximately 50 performances with other jail inmates across West Bengal, Mumbai and Pune and have not missed a single performance till now. In Mumbai, we were 87, including security personnel, who went for the show." Akkara says.
He was released in 2009, and acquitted of all 18 charges to become a free man. "You cannot imagine the torture I went through in 'interrogation' that went on for 87 hours, in police custody, the most brutal treatment any human being can be made to suffer. They pulled off my nails one by one, they broke my fingers and my legs till I could hardly walk. But instead of crying, the treatment made me more aggressive, more violent, more angry," he says.
Akkara is 32, tall, dark and handsome with gentle but deep eyes. His long hair falls around his shoulders, with a beard which now looks tended to. He is gentle and soft-spoken, and does not really like to dwell on his past. Talking to him, I did not feel I was speaking to a man whose life had been steeped in crime since the age of 15. Today, he is a completely reformed man, and the early years of crime, as well as the nine years in prison, are both behind him.
"Three things led me into the crime world: greed, the ambition to be superior, and aggression. I had them all. I used to watch rich students come to college and splurge on things I wanted to have. Those instincts drove me to become a criminal," he says. The first offence was committed at 15, when he entered a barber's shop to get a shave, got into a rage and left a dead body behind. "Strange but I did not feel the slightest remorse at what I had done. I felt powerful and in control and enjoyed this feeling which spurred me on to bigger crimes," he recalls.
The physical energy earlier spent in excelling at football, volleyball and rugby and in being an active cadet of the NCC now found an outlet in crime and violence. At 16, he formed his own gang. By 17, he was being chased by the Kolkata Police. By the time he was 22, just out of St. Xavier's College with a degree in accountancy, he had been arrested. "I lived two lives, one during the day and the other during the night and did not allow the two to clash. I had absolutely no moral compunctions about my crimes, and one thing led to another till I found I was not the invincible person I thought I was," he says.
A documentary called The Jail was made on the metamorphosis that happened in his life through the dedicated efforts of Alakananda Roy; the film won awards at the Golden Gate Awards, the Strasbourg International Documentary Festival and the International Short Film Festival of India.
Does he believe in God, I ask. "I did not when I was sucked into my world of crime. I did not when I was in prison. When I came out of prison, I began to pray fervently. I would read the Bible (he is a Keralite Christian) and the Suras from the Koran, and on Saturdays, I would keep the Shani Vrata. Today, I have come to believe that God resides inside me, not out there, and I concentrate on meditation," he says promptly.
Roy has her own side of this story to tell. She explains how her very first visit to the Presidency Jail changed her idea about prison. Contrary to what she expected, the place presented clean and tranquil. The warmth of the inmates touched her. Seeing young male prisoners "walking aimlessly", she thought "one of them could very well have been by own son". And that's how she conceived of dance therapy for them. The jails in India are large pools of human resource with an abundance of human potential, talent and will that just needs to be tapped into. Culture therapy can help with this."
Convincing the male prisoners was not easy. "Initially, we were wary," says Akkara. "I thought 'who is this crazy woman trying to teach us dance? To be honest, I did not like her." So at first, there were only 10 students who went to Roy's class, much against their wishes. But slowly, they began to open up. "And soon, we had more than 40 inmates in our class," says Roy.
There were 18 charges against Nigel that includes extortion, kidnapping and murder. "I was so violent, wild and out of control that I had to be shifted from Alipore Correctional Home to a solitary cell at the Presidency Correctional Home where I spent three years from 2004-2007, and was brought back to Alipore again," he admits.
After his release, he founded an NGO called TouchWorld for the rehabilitation and reform of prisoners and their families. He also runs a Kolkata Facilities Management that provides security services, pest control and housekeeping services. "I employ both ex-convicts and civilians and ask my clients if they have any objection if I sent in an ex-convict to them. If they say 'no' I send one and if they say 'yes', I don't. I have a staff of around 20, with a back-up of 30 more. The money is important but more important is for them to feel that they can now lead a normal life and can come back into the mainstream," he adds.
He even got a Government tender to supply cleaning staff to the Regional Institute of Correctional Administration at Dum Dum. He followed up his college education by taking a Masters' Diploma in Human Rights after his release. The final feather in a cap that has room for many more, is that he is acting as the protagonist in a Bengali film Muktodhara, which is based partly on his life in prison. The dance drama Valmiki is used as a constant refrain in the film to draw parallels with Valmiki and prisoners who have reformed.