It has not been an easy win for the Congress led United Progressive Alliance into the 2009 Lok Sabha. It must now capitalize its victory to do what the country badly needs: good governance, stability and economic growth. Fortunately, it can now easily push ahead reforms and make tough decisions as it no more will be a victim to coalition politics and pressures from mismatched ideological partners like it was in the last term. It can now say no to narrow minded party centered demands keeping national interest above everything else. Dr Manmohan Singh no more has to worry about the struggle for survival from day to day.
One of the first things to do is to prudently learn some lessons that the electorate dished out. It wants action, not rhetoric. It wants positive vision, not negative character assassination. It wants change. It wants good governance. It got attracted to the politics of aspiration. Campaigns that bordered on hatred, communalism, grievances, negativism, prejudice and revenge all bit the dust. Voters were unforgiving with political parties that said their leaders were in the running for Prime Minister when they did not even have a dozen seats. The youth which formed a major part of the electorate were apparently not carrying the burdens of the past and are interested in governance, development and change. They are all looking for a better quality of life.
Ostensibly, Dr Manmohan Singh means business. Within hours of the UPA trouncing the polls, he asked officials in the PMO to prepare a blueprint for "quick action" that would be translated in the first quarter of his reign. It is likely to deal with countering employment generation, infrastructure creation and expansion of existing social sector programmes.
Some of the challenges that need immediate attention are:
A new deal for the poor
The gap between rich and poor is widening. Anti poverty programmes must get the precedence they deserve. Poverty alleviation has to go further than it has in the last fifty years. Micro credit ventures, soft loans to rural artisans, loans for the educated unemployed and more needs to be taken on a war footing. The Integrated Rural Development Project which on paper is one of the best in the world must be tweaked to fill in loopholes that aid corruption and manipulation.

Will women get a better deal? Pic: CARE.
Just like the NREGA which brought in millions of rupees to poor rural folk, the IRDP has tremendous potential to fight poverty. But programmes like the IRDP with its good intentions did not produce the desired results as it was caught in a vortex of corruption and bureaucracy. Surprisingly, Dr. Singh said last year that the biggest threat to India was Naxalites and they should be put down with a heavy hand. For an economist of his standing to say that was shocking. While the area under the control of Naxalites is increasing in mainland India, the government has not been able to fathom why it is growing. In the hinterland of India there are plenty of reasons for the Naxalites to thrive as they battle injustice, exploitation at the hands of landlords and money lenders and abject poverty. How such a reality has escaped those who want to banish the movement with an iron hand, is beyond explanation. The well to do will not pick guns.
Improve primary and secondary education
The Human Resources Development Ministry must get down to reforming India's antiquated and outdated educational system. It has to have a contemporary flavour and be practical oriented so that skill sets of students can be developed and nurtured. That is the only way to develop the human capital of India's youth.
Create jobs
There is gloom in the employment sector today with millions of educated graduates and professional waiting in the wings. While it is true that many of them are unemployable as their education has been half-baked, the fact remains that the government needs to look at how it can create quick job opportunities both in rural and urban India. Labour reforms will have to be brought about courageously looking at the long term prospect of being able to compete with other countries like Malaysia, China, Pakistan, Sri Lanka and Bangladesh.
Improve health facilities
India spends just one per cent of its Gross Domestic Product on health. It beats all logic.


• Elections 2009: grand success
• 2004 verdict recollection: not stunning

Health is a major area that needs urgent attention. The National Urban Health Mission has been stillborn. It needs to be revived as it ambitiously aims to provide accessible and affordable primary healthcare to the poor and homeless urban population. It is definitely one of the world's largest programmes: It aims to improve the health of 22 crore Indians living in the slums of 429 cities. The spread of polio, Tuberculosis, diabetes, cardiovascular diseases, malnutrition and obesity in urban pockets, numerous health related illness triggered by lifestyle and pollution, cancer and many other ailments are posing a great danger to the health of the nation.
India spends just one per cent of its Gross Domestic Product on health. It beats all logic. Families are seeing their health bills soar and a health policy has to be quickly implemented to arrest the growing spread of illness. Health facilities in rural areas are still pathetic and primary health centres which were planned to ensure quick delivery of health services has remained a dream. State governments must be motivated and aided to mop up resources to deliver basic health facilities. Kerala is a good example to look at. India needs nearly six lakh doctors, 10 lakh nurses and two lakh dental surgeons. The 11th Plan had envisaged 60 new medical colleges and 225 nursing colleges. But, nothing has moved on the plan. In India, investments to build the country's healthcare and education are very critical as India is projected to become the world's most populous country by 2035. It must be a healthy country.
Agrarian reforms
Local issues are really national ones. Many MPs may argue that they based their election campaign on local issues like water, electricity and roads. Are not all these three national issues? Are farmers committing suicide in a pocket in Maharashtra and Andhra Pradesh really not national issues as farmers all over India are having a tough time making both ends meet, selling their produce, finding water to farm and the right kind of information that will make their farms bloom. Agrarian reforms have to be brought in as soon as possible.
India needs another green revolution but it has to be without harmful environmentally damaging methods like excessive use of chemical fertilizers and pesticides. Agriculture is now caught in the pincer of a genetic collapse. Monoculture has replaced inter-cropping pushing aside the scientific logic it had. Hybrids are being allowed to take over in a reckless way. Aggressive marketing has brought in pesticides and chemical fertilizers to push costs and destroy soil. Destructive trade practices, poor remuneration for indigenous food grain and cereals are adding to the problem.
There is enough of traditional knowledge available in India on how to once again reenergize our fields, improve the water table and produce a bountiful crop. All this cannot come in one crop season, but a beginning has to be made for the snowballing effect to start. India is largely an agricultural economy and we need to see it with greater respect. If India has been able to deflect the effects of global recession to a large extent, it is mainly because of our agricultural economy. Can one see the wrinkles of recession in the hinterlands of Haryana and Punjab?
Protecting the environment
While no one argues that change and development is needed for India to surge ahead, one crucial reality is that it has to be made sustainable. Otherwise, there is going to be irreparable damage. Rapid economic growth is going to put pressure on the environment. There is no argument that India's environment is in jeopardy. India must learn from the reckless way that China went about its economic growth. The ill effects of degrading the environment are there for all to see in China today. It would take just a few months to destroy a river, for instance, but it would take decades to nurse it back to health.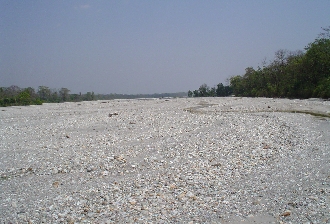 The environment needs to get attention. Pic: Rita Dey.
India has lost half of its forests. Its unique biodiversity is being systematically destroyed. Rivers like the Yamuna and Ganga are dying. They have to be rejuvenated and converted back to being a lifeline again. India will also have to take the leadership atleast in this part of the world in tackling climate change As India marches on the economic expressway, it cannot afford to brush aside ecological problems as the price we will ultimately pay is something we cannot even imagine today.
Given the rapid rate at which the industrial sector is growing overall, there is also a need to not only set up new capacity that is energy efficient, but also retrofit existing processes and equipment with energy efficient devices and technologies. It is an opportunity, which we can ill afford to lose.
Develop infrastructure
For accelerating growth, infrastructure projects need to be pushed through and streamlined. There are lessons to be learnt from earlier incidents like Nandigram where converting fertile land that produced two crops a year may not be the best option. Also, farmers have to be made stakeholders if their land is going to sprout gold. India should encourage public private partnership in infrastructure as it is too large a task for any government to do it alone. Nor does it have the funds to keep it going. The private sector must be encouraged to become agents of change. India's cell phone revolution could not have happened without private participation.
Beef up security
There are one lakh vacancies of police personnel hanging loose today. These will have to be filled. VIP security is firmly in place and in many cases overdone. Political leaders today demand for security as it has become a status symbol. It cannot be at the expense of the tax payer who needs to have his life secured. The Home Ministry hopes to fill these posts in another year's time. Also on the cards are setting up of a national intelligence grid and integrated national security database. It also needs to get moving on the National Identity Card Project.
Help to stabilise the region
This is not going to be easy. Neighbours of India are all desperately tackling one crisis after another. Nepal is in the throes of being a derailed democracy, Pakistan is a state under siege of militants, Sri Lanka has a huge humanitarian crisis to handle with millions of sick and wounded refugees. India has to push and aid the war ravaged country into working out a serious rehabilitation programme and ensure that Tamil aspirations are not swept aside as it would again trigger off militancy. The military junta in Myanmar is not yielding to cries of democracy. Bangladesh is recovering from cracks in its security forces. Afghanistan is in turmoil reeling under the burden of keeping peace and rebuilding its country apart from dealing with a resurgent Taliban. With the exception of Bhutan, India has all its neighbours courting trouble.
It is not going to be an easy ride for the next five years. But this government has a golden chance to change the face of India, something that no government had in the recent past. It will be foolish to throw this away.