With rising frequency, television news channels and the print media are reporting hospital and nursing home windows being smashed by patients' families, or doctors and paramedical staff being beaten up for 'negligence' leading to the death of a patient. These are only the tip of the iceberg - below the surface lurks a much larger issue - patients' and families' dissatisfaction with the medical profession's standards for transparent conduct.
It is not uncommon to find patients' families complaining that their doctor is keeping them in the dark about a diagnosis or prognosis. The doctors, they say, order blood tests and pathological investigations without making themselves clear about what these tests are for and what they could lead to . whether they are to shed more light on the patient's condition or, to change the line of treatment, or for a more precise diagnosis. A sense of frustration at the lack of information pervades families in virtually every hospital and clinic. The doctor walking away from anxious relatives with nothing more than a pat on the shoulder - and sometimes only a shrug - is a standard frame in TV serials and film scenes in hospitals.
Over the years, countless incidents around the country have drawn attention to the problems of medical negligence, and related cover-up of information to deny patients' families knowledge of what happened in medical centres. Here are a few illustrative examples.
In October 1989, Zairunnisa Parekh died at the Jaslok Hospital, Mumbai, of peritonitis. Her husband Yusuf and son Mushtaq immediately began a case of negligence against the doctors stating that they were denied a copy of her medical records by the hospital.
Raghunath Raheja, whose wife Bhagwati Raheja died after a by-pass surgery at Mumbai's Nanavati Hospital also states that he was refused a copy of the medical records. Mushtaq Parekh insisted that that the attending doctors . Dr. Fardoon Soonawalla, Dr. Sailesh Raina and Dr. Shiresh Bhansali - had not informed him in advance of the danger and side effects of electric shock lthotripsy (ESWL) and catheterisation. She had been admitted for a 1-cm stone in her kidneys but the treatment proved to be worse than the disease. The patient's conditioned worsened after the treatment and she died 35 days after the lithotripsy.
In 1992, 26-year-old Venkatesh Iyer filed a petition in the Mumbai High Court seeking immediate payment of Rs.10 lakhs from Bombay Hospital, for urgent medical treatment overseas to rectify the severe damage done to him on account of negligent treatment by the hospital medical staff. The respondents were the medical director and superintendent and the head of the Radiation Therapy Department at the time, Dr. Arvind Kulkarni. According to the petition, Iyer's complications arose after Venkatesh was administered a second dose of radiation in one spot, causing the irradiated lower abdomen to burst open, leaving a gaping hole from which there was continuous leakage of mucus, blood and fecal matter as the intestine had ruptured through radiation.
On 11 July 2001, Sandhya Karmakar, 36, mother of a ten-year-old boy, died at the SSKM hospital in Calcutta. She had been admitted for an appendectomy on 26 June. The surgery went fine, but a surgical mop was left behind in her abdomen. Surgeon M L Shaha performed a second surgery to remedy the error on July 3 to take out the mop. Some leakage developed so there had to be a third surgery on July 7. It was later discovered that Dr. P K Das who had performed the appendectomy had left the entire post-operative process including suturing to his nursing staff at the operation theatre. The death certificate cited cardio-respiratory failure resulting from a post-operative case.
In these, and in many other cases, patients or their families inevitably had to seek intervention from courts and other agencies to actually discover what happened to the patient. Invariably, hospital deny any wrong-doing, and the onus is on the accuser to prove what actually happened - which he cannot without the information to do it, which is held by the accused institution or practitioner!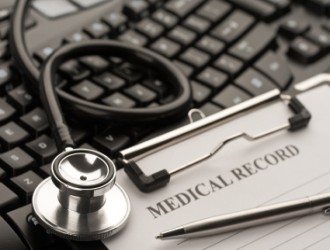 High illiteracy in the country also tilts the balance in favour of doctors who are aware of the limited means and more limited understanding of these weak men and women.

The unhelpful attitude of Indian doctors towards patients stems partly from the pedestal the medical fraternity is placed on by the common man. The patient and his family place their faith on the doctor. Withholding information or medical records from the patient and his family is one way of abusing and misusing this trust, and it can be done with impunity.
High illiteracy in the country also tilts the balance in favour of doctors who are aware of the limited means and more limited understanding of these weak men and women. Even the educated and better-off are vulnerable; withholding information is a strategy to stop the patient from approaching another doctor, thus being forced to spend his money - necessary or not - in the current facility.
Courts intervene, fix high damage costs
In 1995, the Supreme Court decision in Indian Medical Association vs. V P Shantha (1995)6 SCC 651, brought the medical profession within the ambit of 'service' as defined in the Consumer Protection Act, 1986. This defined the relationship between patients and medical professionals as contractual. The direct consequence of this is that medical services provided to patients (except those provided free or under a personal contract) must meet standards of service, failing which the service provider (e.g. hospital or doctor) can be penalised under the Act for deficiency of service.
In Dr. Suresh Gupta vs Govt of NCT of Delhi AIR 2004 SC 4091, it was held that where a patient dies due to negligent medical treatment of the doctor, the doctor can be made liable in civil law for paying compensation and damages in tort and at the same time, if the degree of negligence is so gross and his act was reckless as to endanger the life of the patient, he would also be made criminally liable for offence under Section 304 A of IPC.
In May 2009, the State Consumer Commission, New Delhi, directed Apollo Hospital to pay Rs. 5 lakhs as compensation to the kin of a patient who died in the hospital moments after he was brought in. Thirty one-year-old Pradip Kumar Saini, a father of two minor children, was admitted to Apollo Hospital on 16 June 2003 in a drowsy state. The medical examination revealed that he had no medical history and his condition was stable. The family was told that he would soon be discharged. Not once were they informed that the condition of the patient was deteriorating.
Presiding over the Commission, Justice J D Kapoor said that Apollo Hospital was guilty of negligence and deficiency in service for keeping the patient unattended for a few hours and for not making doctors available for immediate treatment.
How do you compensate a patient for a case when the hospital has goofed up or indulged in medical malpractice? Increasingly, courts are willing to award high damages, recognising that medical errors and malpractice can dramatically alter the life of a victim or his family. In the highest compensation ordered by an Indian court in a medical negligence case, a computer professional who found himself paralysed waist-down after a surgeon damaged his spinal chord during an operation to remove a tumour in the chest, was awarded Rs. 1 crore in damages by the Supreme Court in May 2009.
The victim, Prashant S Dhananka, had spiritedly argued his case from a wheelchair he has been confined to since the operation 19 years earlier. The compensation was less than the Rs. 7 crores he sought, but almost seven-fold higher than the Rs. 15 lakhs awarded by the Andhra Pradesh High Court. Dhananka, a senior manager with Infosys, took home a Rs.1.5 lakh package a month. During his arguments, he gave vivid details of the gross negligence he suffered at Nizam's Institute of Medical Scines (NIMS), Hyderabad, a semi-government institution rated one of the premier hospitals in the country.
In December 2009, the Delhi High Court awarded Rs.11 lakhs as compensation to a man who was crippled for life while admitted to Batra Hospital more than two decades ago. Justice Sunil Gaur asked the hospital to cough up the amount as damages to Ashish Kumar Majumdar and dismissed the appeal filed by the hospital against a verdict of the lower court, which had fixed damages at Rs.7 lakhs.
Majumdar was missing from the bed the night he was admitted. His sister noticed this and raised an alarm. The security guard found Majumdar lying on the ground floor. He suffered multiple fractures and was reduced to a paraplegic. In his suit Majumdar alleged that the hospital had failed to take reasonable care of him and due to its negligence, he had become a cripple for life.
Preventing errors and malpractice
These instances have also provided a boost to victims, giving them hope of proper compensation for the harm they've suffered. As incomes rise in the country, more and more patients are also able to afford the cost and tedium of litigation in the courts, and each judgment in their favour sets a precedent for many others.
While the fear of large punitive awards can serve as a deterrent to many hospitals and doctors, this is not a sufficient solution in the long run. What is needed is a better program of overseeing staff conduct in medical institutions, and a streamlined mechanism for continuously improving standards of medical care. A greater emphasis on patients' right to information about their condition and treatment would provide a big boost to this transformation.