Kerala is taking a new turn in its political journey with the recent developments in political murder cases. Keralites, often tagged as the most 'politically conscious' community that was the first in the country to vote a communist government to power, now stand disillusioned and disgusted at the political cross roads. The turn of events reiterated that politics today is all about power-play, manipulative discourses, money and muscle power. A considerable section of the party cadres who had either pledged their loyalty to the Congress-led United DemocraticFront, Bharatiya Janata Party (BJP) or (especially) the Communist party of India (Marxist) (CPI(M))-led Left Democratic Front now feel embittered and alienated.
Early last year, even before Keralites had recovered from the shock of the cold-blooded murder of T.P. Chandrashekaran, who broke away from CPI(M) to form Revolutionary Socialist Party, a district secretary of CPI(M ) had the audacity to declare at a public meeting that his party had killed its political foes. He even went further to describe three of such murders planned and executed by 'his party'. He is now facing trial for various murder cases.
The glorification of violence and the fascist attitude of leaders show the extent of abuse of political power and influence by parties who resort to inhuman means to achieve their ends. Generating fear-psychosis through intimidation and violence, muzzling the voice of dissent and establishing their authority over areas with more supporters are all methods adopted by the parties to stay ahead in the fray.

Another CPI(M) leader from Kannur, accused in the murder of Abdul Shukoor, a member of Indian Union Muslim League (IUML), was arrested and is on bail now. Two other district-level leaders of the party are also under arrest in connection with a number of political murder cases.
A bloody history
The political scene in the State that had voted the UDF and LDF coalitions to power alternatively in the recent decades is marred with violence.The epicenter of this grimy game is Kannur, the most volatile region with a notorious track record of political violence. Violence between political opponents has bloodied the streets of Kannur and nearby districts, known for their strong affiliation to the Communist movement, since the early 1970s. Earlier, the friction was between the CPI (M) and Congress, then the Communist Party of India (CPI); later, the BJP-RSS turned out to be its major opponents.
The entrance of other fundamentalist outfits like NDF, People's Democratic Party (PDP) and Socialist Democratic Party of India (SDPI) into the scene recently has complicated the multifaceted nature of this politics of violence. According to Kannur District police, 56 political murders were reported in the district in the last decade (January 1997 to March 2008) alone. Though the friction between the CPI(M) and BJP-RSS has been at the centre of this political bloodbath, the Congress, National Development Front(NDF - a Muslim fundamentalist outfit) and Social Democratic Party of India (SDPI)have also spewed enough venom.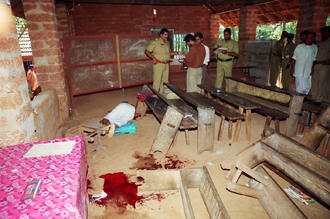 Murder of K T Jayakrishnan Master, hacked to death in front of his students in Kannur in December 1999. Pictures Credit: Madhuraj, Mathrubhumi
Leaders pass the buck when asked about the repetition of such violent episodes; G. Sathyaprakash, State Vice-President of Yuva Morcha says that the CPI (M) is responsible for this politics of hatred and violence. "I don't deny that the other parties are also guilty of perpetuating violence. The politics of violence promoted by CPI(M) has definitely influenced the cadres of other parties and even the RSS-BJP cadres have retaliated," he adds. T. Harindran, District Committee Member and former Panur Area Secretary of CPI(M), says that the recent arrest of party leaders in the murder cases were a part of the 'conspiracy' by political opponents to tarnish the image of the leaders. "These are deliberate attempts that are part of the campaign to weaken the party," he says.
Whatever leaders may say, the glorification of violence and the fascist attitude of leaders show the extent of abuse of political power and influence by parties who resort to inhuman means to achieve their ends. Generating fear-psychosis through intimidation and violence, muzzling the voice of dissent and establishing their authority over areas with more supporters are all methods adopted by the parties to stay ahead in the fray. "People have realized it is futile to expect anything out of these parties that have turned into a frenzy mob. It is not political ideologies that drive them anymore, instead their efforts are directed towards electoral victory, political gains and self-interests of the leaders," says S. Sathish, a teacher from Pappinisseri.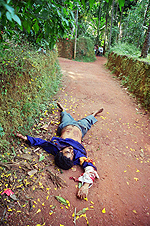 Manoj was killed as retaliation against the murder of K.T. Jayakrishnan. Pictures Credit: Madhuraj, Mathrubhumi
Party villages
Ayithara-Mambaram is a microcrosm of the district where 'party villages' or village pockets that are strongholds of CPI(M) or BJP-RSS still exist. A small bridge across a river divides the village, not just geographically but entire activities in the area on political lines. People from both sides of the bridge are weary of crossing over to the other side as one of the villages is a power bastion of BJP-RSS while the other side is the stronghold of CPI (M). Party cadres who are always on vigil check the whereabouts of anyone who dare to tread into their 'territory' marked by flags, party signs and posters of leaders on electricity posts, public wells and tree trunks.
The recent political developments have knocked down the walls of many of these party villages while new ones sprout amidst the power-scramble. The growing presence of Indian Union Muslim League (IUML) in many pockets of North Malabar points to the fact that the power bastions are simply getting modified and re-aligned. Myths and misrepresentations about the existence of such power pockets do rounds as the concept of 'party villages' turn into a symbol of political pre-eminence.
Sathyaprakash says that the party villages are a construct of the CPI(M). "Though there are areas with higher concentration of RSS-BJP followers, we do not terrorize or intimidate people like them," he claims. But Harindran refutes: "Criticisms about the existence of party villages are baseless. Earlier there were such allegations against the party, but not any more."
The peculiar socio-political construct of 'party village' is not just about marking political territories, but also about how a self-sufficient well-structured system is developed and promoted to ascertain the parties' grip, observes C.K. Vijayan, a journalist with the Mathrubhumi News channel. "The semi-feudal model, where party leaders have their final say in all affairs, comprises dedicated services including those offered by traditional physicians, local administrators, lawyers, bureaucrats and hospitals for the 'party's own men'," he says.
This parallel system that mocks at democracy becomes complete with the local leaders-goons-political nexus. This has made many villages in Kannur fertile grounds for the production of weapons (bombs of all kinds and knives specially designed to kill people) which has gained the notoriety of a 'thriving cottage industry'. It is no secret that the local leaders of these political parties are hand-in-gloves with gangs involved in illegal sand-mining, quarrying, real-estate and abkari deals. Parties that had earlier engaged with social issues now spend most of their energy, time and money for such destructive activities.

A hoarding condemning the murder of T.P. Chandrashekaran, leader of Revolutionary Socialist Party, at Onchiyam, Calicut, May 2012. Pictures Credit: Madhuraj, Mathrubhumi
A culture of violence
Mapping of these politically volatile areas in North Malabar indicates that they are comparatively remote and backward villages with fewer education, transport and infrastructure facilities. When compared to the districts in South Kerala, the entire northern region lags behind in growth and development indexes. Cultural critics and anthropologists observe that the 'fan following' and loyalty enjoyed by the party leaders in the region is a manifestation of the historic association of hero-worship and ritualistic killings - still prevalent in many parts of the region. Even after the advent of television and other telecommunication facilities, these associations are preserved in the 'rural psyche.' Blind following of party leaders and indifference towards violence have its roots in this cultural background.
"It is no surprise to find young boys involved in police cases in connection with party feuds in our area. Parents concerned over the safety of their children send them away for education or work to safeguard them from being involved in these 'messy' affairs," says S. Jyothi, a bank-employee from Kathirur.
Usually, it was the cadres at the lower rung who bore the brunt in the political tactics crafted by their leaders. However, with the ongoing court procedures of murder cases involving top leaders of CPI(M), the political scene in Kannur and nearby districts of the Malabar region may be witnessing a change. "People were terrorized by the party cadres and there was no way we could complain against their atrocities. But, now they have realized that no one can take the law into their hands and force everyone to obey them," says S. Sreelekha, a resident of Panur – a power bastion of CPI(M) where 13 political murders were reported in the last decade. People from such high risk areas like Kadirur, Chokli and Mahe, dominated by either CPI(M) or BJP, say that the party leaders who earlier meddled in all activities in the area have now loosened their grip.
The rise of fundamentalism
Senior political correspondent from Kannur, K.A. Anthony observes that the turn of events have led to the growth of fundamentalist elements like NDF. Quoting Research and Analyst Wing (RAW) and the Intelligence Bureau (IB) reports, Mr. Anthony says that in a reverse trend in areas that were earlier strongholds of CPI (M), the growing Popular Front of India and its political wing SDPI, have even threatened the supporters of the party to leave their villages.
Many feel that the alarming trend of communal polarization observed in the region is weakening the secular fabric strengthened through the years by communist movements. Political analysts observe that the LDF has lost its secular image as it openly joined hands with fundamentalist elements like PDP, Indian National League (INL) and NDF as part of its electoral tactics in the 2004 Lok Sabha elections. This, coupled with investigations that point to the terrorist links of the region with International organisations and channels of illegal money flow, draws attention to the lurking dangers.
Listening to conversations at street corners and tea shops that were once abuzz with political discussion proves that the ideological degradation and criminalization of political parties have increasingly deterred people from politics. Many people, especially local leaders, turned cautious when the topic of political killings came up and they did not want their identity to be revealed in the report.