"When the earthquake struck, I never thought we would be able to stand on our own feet and rebuild our lost homes. Now, with God's grace help has come and it is possible", says Mohammed Nazir, from Chakra village in Uri tehsil, Jammu and Kashmir. Nazir is one of the victims of the intense earthquake that struck India and Pakistan on 8th October 2005. The epicenter of the earthquake was near Muzaffarabad in Pakistan; in India, the most affected areas were in Jammu and Kashmir, particularly in Uri and Keran tehsils in Baramullah district and Tangdhar tehsil of Kupwara district.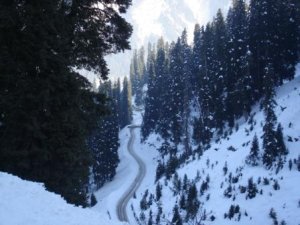 Picture: The access to Tangdhar
The villages in these areas suffered loss of life as well as property. The survivors have composed themselves and are trying to rebuild their homes. But the smiles on their faces cannot hide the despair and anxiety in their eyes. And how can it? Nazir's daughter was holding her infant son in her arms when a wall of her house fell on her and her baby. She could only barely manage to pull herself out of the debris. Her son remained crushed underneath. One cannot even begin to imagine grief of this magnitude, but for the people of Tangdhar and Uri this kind of experience during the earthquake is still very fresh in their memories.
Already a scene of political conflict, Jammu and Kashmir was unprepared for the scale of destruction that followed the earthquake; the tremor threw up great challenges for relief organizations and aid agencies to be able to plan their response. Both Uri and Tangdhar are regions close to the Line of Control (LOC) between India and Pakistan. So, when disaster struck, innovative strategies were needed to provide relief to the most needy people swiftly without compromising security operations.
Zareefa, Sudpura village
Zareefa is a young widow in Tangdhar, who is one of the beneficiaries of the prototype shelter. Her husband died while he was out cutting grass and a rock fell on him. She has three children, two daughters and one son, the eldest is a 12-year-old daughter. After her husband died, her family sent one son and one daughter to an orphanage, and the other daughter stays with her. Her husband's family has abandoned her, and her parents who live a far off village are looking after her food and shelter requirements.
When her house was destroyed, Zareefa had no support to reconstruct it. Being widowed, Zareefa was identified as a beneficiary for a prototype shelter. Today, though she is happy to have a shelter in her own name, and security of a home, she continues to be dependant on her parents for her food. As she says with a smile yet a worry on her face, "there are little livelihood options for women in this area. I don't have anyone to tell me what to do. I keep thinking of what I will do next, but can't see any way out."

One of the agencies engaged in the relief work in Kashmir is Oxfam (India) Trust. Oxfam began its response efforts almost immediately after the quake, with the first assessment of damage and relief needs conducted on October 10th 2005. By 13th October 2005, Oxfam had reached Baramullah and undertook the distribution of blankets and plastic sheets, with the help of local NGOs and other groups working in the region. Distributing blankets and sheets, or even tents, was not enough; with the harsh winter fast approaching, the urgent need was to find robust shelter for many people. Therefore from November 2005, Oxfam's work focused on providing temporary winterized emergency shelters to the affected people.
Once it was decided that Oxfam would focus on distributing shelters, it was important to arrive quickly at the best possible shelter package. According to Vrinda Dar, Project Coordinator, "A rapid visual survey was done in Uri and Tangdhar to see how houses are traditionally made and what their designs are, what construction materials and what kind of heating is used. The assessment team realized that villagers had recived a lot of tents but that it would not suffice to carry them through over the winter months. There was an immediate need for winterised shelters." It was further decided that the shelter package would be developed within the larger framework of 'retrieve and rebuild.' As Savio Carvalho, Programme Manager of Oxfam's Kashmir Earthquake Response Programme, points out, "the shelter kits help households to rebuild their homes. Oxfam has also provided tools to the villagers, which they can use to retrieve their belongings from the houses that have been destroyed in the earthquake. These belongings and other material like doors, window panes, wooden poles can be used in the construction of the shelter."
A model prototype shelter was designed with dimensions of 8 feet x 16 feet, for a family of five persons. The shelter package that was designed and which is being distributed to the beneficiary families had the following components: 23 CGI sheets (10ft x 3ft-24g); 10 CGI sheets (8ft x 3ft-24g); 16 plywood sheets; Non-woven flooring (10ft x 12ft); Foam sheet (10ft x 12ft); 1 tool kit (crow bar, shovel, chisel, saw, hammer, clamps, nails, rope, level pipe, tape, tin cutter); Sanitation Unit (toilet base, water tank). A model prototype was built in Srinagar to assess how much time and material would be required to put up the shelters. It was also assessed that assistance would be required from local carpenters to build these shelters in the villages.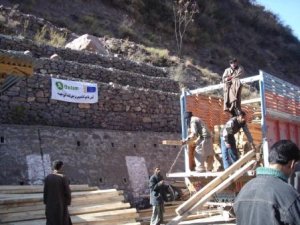 Picture: Distribution site at Uri
Assessments were carried out in a public and transparent manner in each village to select the beneficiary families for the shelter kits. At the same time, special criteria were adopted to recognise the vulnerable groups in both Uri and Tangdhar. The criteria included women-headed households, disabled people, orphans and old people who had no one to help rebuild their homes. In these cases, Oxfam has been supporting the construction of the shelters, where shelter engineers are regularly coordinating with carpenters and monitoring the construction.
While providing the shelter kits to the beneficiary families, the Oxfam team suggested the prototype design to them. However, the families were encouraged to adopt flexibility in the use of the material and modify the design of their houses. According to Zubin, who is coordinating the relief work for Oxfam in Tangdhar, "some people in the villages have not wanted to use the prototype design, and have wanted modifications of the roof and other components, to suit the local needs. Sometimes these modifications have resulted in good and better structures. People have added kitchens within the shelters"
Mohd. Shareef Sheikh, Chakra village
Mohd. Shareef Sheikh is a 60-year-old man recognised as a vulnerable person for whom Oxfam agreed to build a prototype shelter. He has a son who works in Uri, and his brother's daughter also lived with him. He did not have the capacity to rebuild his house on his own, since apart from being old, he also suffers from asthma. He had a house with 6 rooms, which was completely destroyed during the earthquake.
Shareef spent Rs.800 to bring the material from Red Bridge all the way up to on a pony. Since Chakra village is at an elevation, it is difficult to carry the CGI sheets, wooden poles and plywood up a steep climb. "There was no other way", he said. For many like him the space available in the prototype shelter model as a basic minimum requirement was not enough. He paid the carpenters additional money to include a kitchen and a bedroom space and use the material given in relief as well as that, which could be retrieved.
When asked if he will build a permanent house when the winter is over, he shook is head and was completely unsure. He said, "don't know when I will be able to do that. One feels aftershocks of the earthquake every second day. I wonder what will happen even if we do construct houses. This is a real fear."

In Uri, since the villagers were used to living in larger houses with more than one room, they combined the material of two or more shelter kits to build temporary houses. There were also instances when villagers modified the prototype design to build an attic, where they could store material for future use.
The relief work in Tangdhar and Uri adopted different strategies. This was critical as the socio-political environment, accessibility, levels of communication, limited time frame and terrain were different. Tangdhar is physically further away from Srinagar; the main town is located about 180 kilometers from the capital. However, the distance seems much longer than what the kilometers suggest as the road access to Tangdhar is tedious and through difficult terrain. Accessing these villages required the Oxfam team and the truck loads of material to travel 1.5 to 2 hours from Tangdhar town one way to the villages. The terrain makes the villages very inaccessible and the travel extremely risky.
Uri, on the other hand, is closer, about 100 kilometers from Srinagar. But the villages in Uri were spread out, unlike those in Tangdhar. Each of these villages had a number of hamlets and reaching them required anything from 15-minute to a 4-hour trek on foot. To enable distribution of the shelter kits, the team set up distribution points as close to the villages as possible. For villages that were very remote, material needed to get transferred to the closest hamlet, from where the villagers carried it themselves, or sometimes even with the help of ponies.
However, in both Tangdhar and Uri one common factor in the construction was the coming together of the entire village community for the construction of shelters. Families brought together their material to build larger shelters, and it was good to see them bounce back and rebuild lives with an inspiring resilience. People were noticeably proud of what they were building, and backed by a certain conviction.
But the task is far from complete. The next three to four months of winter will bring the most challenging conditions for the people of Uri and Tangdhar. Some villagers are worried. There are just not enough carpenters to help construct shelters. Health is also a worrisome issue, as winter will bring with it respiratory ailments. People here are used to harsh weather conditions and coping with issues related to living in inaccessible environs. But this winter, the context is different. It is soon after their earth shook them hard, and its impact continues to give them aftershocks - including psychological ones as they race against time to rebuild their lives - almost everyday.