Media Solidarity, a forum of artistes, cultural activists and intellectuals and other democratic minded organisations and individuals, called a press conference on 2 May to condemn the sudden decision by officials at Nandan (the State Government's film complex that also organizes the Kolkata Film Festival every year) to scrap all Indian Panorama films sent by the Directorate of Film Festivals Delhi, to be screened for the local audience at a festival.
Evidently, this was prompted by the response of the audience to a particular film being screened at the festival. Ladly Mukherjee's documentary Whose Land is It Anyway? was part of this 42-film package. The film was scheduled for screening for the 2:00 PM show on 26 April 26, the penultimate day of the festival. It was postponed to the 6.00 pm slot. Immediately after its screening, a section of the audience turned restive and began condemning the state government's industrialisation of Singur detailed in the film.
In response to this agitation, Nandan called off the entire festival by a Government Order. Further, Nilanjan Chattopadhyay, the Director of Nandan dashed off a fascimile to DFF the same evening, asking them to explain why the directorate had sent a film that "directly violates the ethical principles of centre-state relationship." The fax further states, "I am directed to state that it is highly objectionable to include such a controversial film in the Indian Panorama package ... I am further directed to inform you that all the screenings earmarked on 27 March, 2008, will remain suspended till a satisfactory reply is received from your office."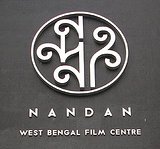 For those film-makers whose films were to be shown on the last day, the decision to stop the screening of the remaining films was an unfortunate fall-out. Adoor Gopalakrishnan's
Naalu Pennungal
was among these films, and the early closure of the festival denied cine buffs in the city the opportunity to catch this latest film from the maestro.

The communication did not reveal what was so 'objectionable', and who was objecting. In what way were these films so 'controversial', if the Central Board of Film Certification (CBFC) has already considered it fit for public exhibition? On this too, the letter was silent.
Nandan was clearly fumbling, presumably on orders from the government. The package of films was selected by eminent filmmakers like Arun Khopkar and Pankaj Butalia whose documentaries have been screened and awarded across the world. Well in advance of the festival itself, the DFF had sent the synopses of all IP films to Nandan. Whether the authorities there bothered to look through these before the festival began is not clear. They also neglected to mention what 'ethical principles' they were referring to. It is also noteworthy that the film was made in and about West Bengal, and had already been screened at IFFI Goa last year.
To briefly reiterate the content of the film, it details how and when the West Bengal Government handed the Tata Group a plot of 997 acres to establish an automobile factory. This would affect not only the peasant population of Singur itself, but also put at risk other families of working peasants who came there from neighbouring villages everyday, small tradesmen, shopkeepers, hawkers and everyone, amounting to a staggering figure of 50,000 affected persons. Only 800-1000 of these people would be employed in the Tata factory itself, the promoters themselves say. Has the government prepared alternative channels of employment for the 49,000 who would lose their livelihoods in the process? Ladly Mukherjee has raised these very pertinent and uncomfortable questions through visuals, comments and some authoritative opinions given by experts from different fields.
Through telling graphics, the film shows how, in 1977, the West Bengal Government had opened the doors to an agricultural renaissance in Singur. It dug 37 shallow tube wells and three heavy-duty tube wells to irrigate 15 acres of land. It also provided for water supply from the Damodar Valley Corporation. What then, the film asks, triggered this sudden about-face.
A pattern of censorship and harassment
Ladly Mukherjee who spoke to Neelam Kapoor, Director, DFF, on the phone, said, "they have replied to Nandan after they received the FAX from CEO, Nandan on April 30. DFF has reacted strongly stating that a film gets selected for the prestigious Indian Panorama by an eminent and independent panel of juries. Since all these films are censored, no objection can be raised against the selection whatsoever… DFF do not and cannot discriminate between film A and film B for any reason and IP is showcased as a whole package. It is most unfortunate that Nandan took such a step and cancelled the last days screening of IP films."
"We feel that the Nandan authority's decision to cancel the Panorama screenings is a direct attack on our freedom of expression, and a blatant transgression of basic democratic norms. It is thoroughly autocratic and dictatorial in nature. We strongly condemn this action and appeal to all of you to join us in protest," says Media Solidarity in a press release jointly signed by its members.
Related news: Counting of votes in the recent panchayat polls in 17 districts of West Bengal has just ended today (May 22). News reports indicate that the opposition Trinamool Congress party has defeated Left Front candidates in both Singur and Nandigram.

"Stopping a screening or arbitrarily withdrawing a film from Nandan is nothing new. In the recent past Nandan authorities have stopped the screening of Josy Josef's film on the hangman Nata Mullick,
A Day In The Life Of a Hangman
, and Suman Mukhopadhyay's
Herbert
, which won a National Award, without any prior notice or showing any valid reason. The state government's stand is not confined to stopping 'discordant' films from being screened in Nandan. Theatre groups and theatre workers, critical of and condemning the government's and the ruling party's atrocities in Singur and Nandigram are facing the outrage too, encountering direct as well as indirect hindrances in staging their plays in different parts of the state," said documentary maker Nilanjan Bhattacharya, member, Media Solidarity.
"The fascistic attacks of the CPI(M) have spread out from political intimidation into the realm of art and culture. All the cultural organisations actively involved in the anti-land grabbing movements are now being subjected to a variety of strong-arm tactics and intimidations from political and administrative quarters. Theatre groups are being denied access to government halls for their shows; last-moment cancellations even after monetary booking of halls, have become a regular feature. Shows in the districts are being cancelled as the authorities claim their inability to continue with the programme due to instructions from political quarters and administrative levels," say noted Dehi-based historians Sumit and Tanika Sarkar. "We feel the trampling of the freedom of speech and expression is in direct defiance of our basic Constitutional Right to Freedom. Yet the state government of Bengal seems to be pursuing this fascistic atrocity with persistent obstinacy," they add.
Sunanda Sanyal, an intellectual of renown, has written in to state, "We know what kind of culture buff the West Bengal Government Chief Minister Buddhadeb Bhattacharjee is. I am none myself. But I think you need not be one to be able to separate out the good, bad and indifferent. I have seen your work and have recommended Whose Land is It Anyway? to many of my friends including those who live abroad. It is a wonderful documentary on exactly what happened at Singur.