The lockdown due the pandemic last year left hundreds of millions of poor people in a desperate situation. Without even the small earnings by which they kept going from one wage cycle to the next, they could not afford even the most basic necessities, and overnight they became dependent on the kindness of others. That many such people did find help in society, when the state had failed them, is heart-warming (see Part I and Part II of this series), but there was also a more shameful side starkly revealed by the pandemic.
First, quite early on, I got thrown out of my home by the residents' association of the apartment building I live in. Perhaps they were driven by insecurity. I faced a wall of unreasonableness despite my assurances that while helping others, I would adhere to stringent safety protocols. I knew that what they were doing amounted to illegal harassment, but I also realised that this behaviour emanated from fear, so I chose not to confront it, but focused my limited energies on the relief work. It was infuriating, though, to see the same people who caused me to leave my home walk around our residential complex shortly afterwards with no masks or social distancing and with little worry about the pandemic.
Second, the unscrupulous opportunism displayed by many was ugly. I witnessed several politicians exercise their political muscle only to support and build favour with those they knew could be their vote-banks. Entire communities of migrants with no local voting power, and those who might not have supported a certain party were ruthlessly ignored, nay punished, by being left out of any relief that was provided in their neighbourhood. I saw this with sickening regularity during the surveys I conducted and was even advised, "Madam, why waste any resources on them? They are just migrants."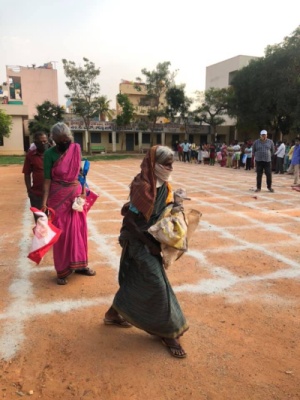 Picture: The intersection of many vulnerabilities - migrant, aged and female.
Third, I saw crushing loneliness, fear and distrust. Sajid was a construction worker from Bengal, sheltering in the under-construction house he was working in at Asha Township, Hennur. His last wage payment was on the 19 March 2020. The third time I served him with rations, he told me, "Didi, I feel so alone. Till you came, I felt like no one cared about me, that I didn't matter." Many of those I served voiced such feelings of abandonment, of their souls being eroded by having to trawl for dregs of sustenance.
Most of them had left their homes and worked hard jobs just to marginally improve the meagre lives they led, because that was the only opportunity to be had. My beloved city, Bangalore, has been built on the backs of these people. The lockdown first took away their incomes and therefore the only financial support they or their families back home had. Then, it threw them into a dark well of uncertainty with hardly any displays of humanity, thus breaking their spirit. Is it any surprise then that so many millions of them chose to walk thousands of miles home the minute the lockdown was lifted?
Fourth, the distributions were physically and emotionally grueling experiences. There were long hours of very hard labour, while exposed to the blazing sun and often torrential rain, all the while witness to deep sadness, fear, hopelessness and often subject to misdirected anger from those we served. Very often, we could not even carry out the survey-and-distribute model in several areas that had a dire need for rations because of a lack of capacity on the ground. We still committed to provide rations, made a rough estimate, loaded triple the amount estimated and parked our truck on an accessible street hoping we would have the resilience to be able to serve all that showed up. Sometimes, passing police helped with crowd control. Other times, we just tried very hard.
Finally, amongst several friends and family where I assumed I would find support and generosity, my plea for support was instead ignored or met with an almost defensive distrust. The scarcity mentality was so strong, it seemed to provide no cracks for any humanity to seep in. Many people, especially those who had the privilege of not having to alter their lifestyles during the lockdown while all around people's finances and lives dwindled, seemed to pacify themselves by believing that just by cocooning themselves in their homes and participating in lousy gimmickry promoted by uncaring politicians, they had become champions of humanity. They absolved themselves of any need to support their less blessed brethren. Why, many of the women I had met and served rations to worked as household staff for these people and were not even paid during the lockdown!
So, why did over 75,000 people show up desperate for the small amounts of succour we offered? Because, there was little to none to be had anywhere else. While some provision shops did open for business, most of the people we served were daily wage earners with no incomes. Again and again, we heard about jobs lost, evaporated incomes, growing debt and money pressures, and how there was no space for them in society.
If anything, the rations we distributed helped service unrelenting rent demands by freeing up their tiny, left over money. Ration shops did not open for a long time in most places and when they did, they were largely non-functional or delivered such low-grade food supplies that people got ill. Most people did not even have ration cards, i.e the ones who had migrated to the city (and had ration-cards in their native places), or the very poor.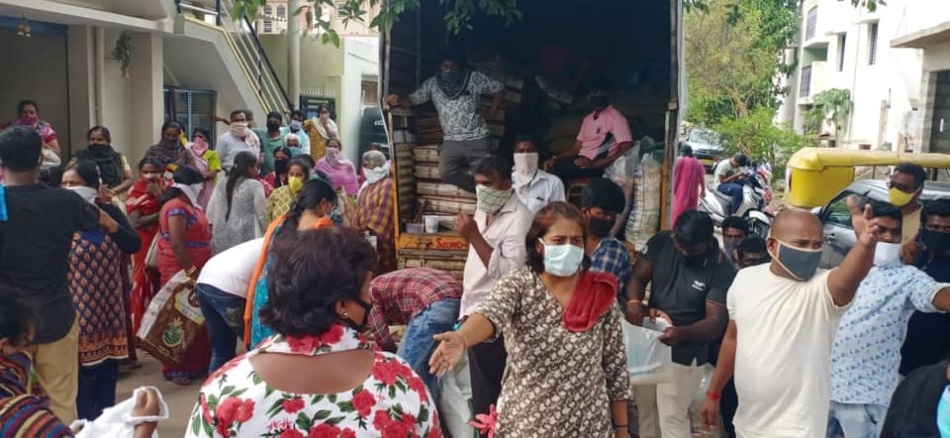 Against impossible odds, we tried to bring some method to the madness.
Help from the government was miserly at best. Apart from the gross inadequacy of the ration card system, the scanty will and reach of the government only exacerbated food insecurity. What was ironic was that despite officials within the Labour Department and the BBMP admitting they were largely unable to serve the vulnerable, the state government was making tall claims in courts about the same departments and ration shops ensuring nobody went hungry. This pattern of telling one thing in public and another in courts is very much alive today too.
The role of the government throughout was shocking to me - it repeatedly demonstrated actions being taken for attention and not intention. I am now certain that our governments do not care. Both Centre and State are motivated by the optics and sentiment of an event, not justice or equity for the people. There were efforts by some individuals within government - police as well as other officials - but these were nowhere near enough. The duty and morality we expect from those who represent and serve us was largely absent, and that was a cruel second blow to vulnerable people who were already reeling from the pandemic.
Such ugliness could easily have demoralised us, but we persisted, and for that we should thank the humanity and grace we saw in the few people who did help. The apathy of those near to me was heartbreaking, but amidst that darkness, some people showed me, as I was often reminded of and strengthened by my friend Deepak's words, that "the generosity of strangers is infinite."
The Spreading Hope bank account statement from that time stands testament to this with the innumerable donations made by absolute strangers which made up the bulk of the life-giving money we raised. Going even further, understanding the repetitive and relentless nature of hunger, several donors also made recurring donations, so we could not only keep increasing the number of people we fed, but also make sure that we could go back and serve them frequently.
The fact that Armugam and I were harassed almost every day by the police - including once when I was returning alone at midnight after 16 hours of ration distributions, I was stopped and my car was surrounded by a dozen men in uniform in an obnoxious display of power - was abundantly balanced by the immense empathy and effort put in by the random police people who approached me at distributions, told me about vulnerable communities they knew off, surveyed and organised these communities, and facilitated our relief work with them - without seeking any recognition or reward.
I may have been rendered homeless by the residential community I live in, but many others in my community reached out to me and generously supported me in various immeasurable ways – an older lady who had donated to the cause and is an expert quilter sent me a care package of beautifully hand-stitched masks for myself and my team to be safe; friends gave me shelter and enveloped me in daily doses of love, encouragement and comfort food; so many wonderful friends pitched in by donating and raising money, showing up to volunteer at distributions, shooting the most beautiful and poignant images for me to tell my story (thanks, Mahesh Shantaram).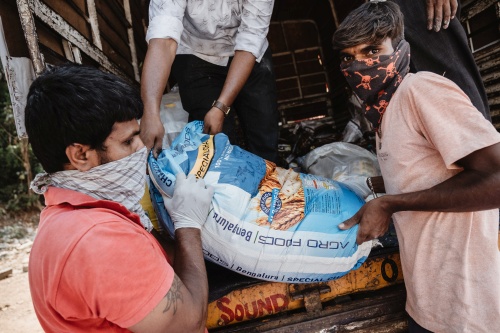 Shashi and Iqbal, who volunteered during distribution drive, carried hundreds of 25-kg sacks. (Photo credit: Mahesh Shantaram)

My family never once revealed the anxiety they undoubtedly felt while I mingled with hundreds of people daily in the in the middle of the lockdown; my dearest partner never complained that for his birthday that happened while I was in exile from home, he had to meet me on the street in a socially distanced manner so I could wish him with new mangoes of the season - all this love gave me the strength to show up and keep going.
When I was particularly overwhelmed by our collective cruelty and was convinced of the futility of all the relief work we had done, my wise friend Umeed helped me find clarity by saying, "There is no need to attach a past or a future to an act of kindness and empathy. It can exist in that moment for its own sake." I reached for and shared this often when my team or I felt flattened by the inhumanity around us.
The lockdown finally lifted on the 30th of May. Too many people to count saw their deepest fears come alive in these 69 days of desolation, loneliness, hunger, fear and abandonment, and continue to live those horrors. Last April, in a survey for a distribution at Devinagar, I met a family - Suma, Shiva and their two precious daughters Lakshmi and Gauri. Suma worked in a garment factory and Shiva was a driver. They had fulfilled their dream of sending their two bright-eyed girls to a good private school. Lakshmi and Gauri very proudly told me that they stood first in their respective grades. Through sheer hard work and steadfast aspiration, Suma and Shiva had made the long, uphill journey from the unsure rural lives their parents had led to a secure, lower middle-class one for their family. However, the lockdown cost them their jobs, savings and security, and thus in one fell swoop wiped out a generation of progress.
My friends Vishal Talreja and Anshu Gupta, leaders who have committed their lives to social change, say that this is one of the most evident consequences of the lockdown - all development efforts in the country have been set back by at least by a decade. Millions of people like Suma and Shiva, and especially little Lakshmi and Gauri, who were on the precipice of generational transformation in their standards of living have instead now been pushed back deep into the abyss.