Learning in motion
Vidnyanvahini takes the school to the students.



June 1999: There is no doubt that education in some of the institutions of India ranks among the best in the world, and this is wonderful. Education at the rural school level, however has suffered from gross neglect. In many rural areas education is very basic and does not often reach out to the children; many children do not feel compelled to attend since they do not understand the material and are sometimes not able to perceive how it would affect their lives. Well, in Maharashtra, Vidnyanavahini changed all that.
Thanks to Vidnyanavahini, thousands of rural children in Maharashtra have had the oppportunity to experience the joy of science, and the growth that comes with it. Vidnyanvahini's objective is to try to reduce the gap between urban and rural education as much as possible. The Mobile Science Laboratory (MSL) project of Vidnyanvahini was conceived to reach out to rural school children and to offer them the means of learning science through laboratory experiments.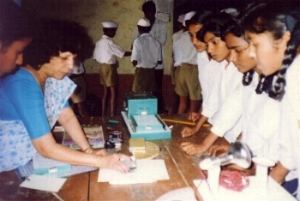 A science class in the laboratory
The MSL aims at providing rural school children with the opportunity to handle scientific apparatus and learn the basics of science through experiments. Awareness is created in the students of the relevance of science in their lives by discussing concepts such as cleanliness, hygiene, safe drinking water, and the environment. What's more, by explaining to them the science behind some seemingly curious results, Vidnyanavahini enables children not to fall victim to age-old superstitions. Educating adolescent children on human reproduction further bridges the gap between urban and rural education, spreading the message in rural communities that science can help solve the problems in their everyday lives as much as it does for the urbanites. MSL also organizes several workshops and training camps for science teachers in order to establish a dialogue with them through continuing education.
After receiving an enthusiastic welcome to a trial run in January 1995, the Vidnyanvahini's Dialogue and Action Group purchased a Tata Model 609 bus-chassis and had it furnished with laboratory and audio-visual equipment, countertops, cupboards, a water tank, and a generator. This vehicle, the MSL, was inaugurated on July 14, 1995 by the noted actress and social activist Shabana Azmi.
A natural question to ask is, which schools does the MSL visit ? Vidnyanvahini selects schools based on need, size, location, and local cooperation. In consultation with the school authorities, the MSL schedules two or more trips to about seventy-five schools per year. Typically, members of the Dialogue and Action Group of Vidnyanvahini together with the local science teachers interact with seventy to eighty students on a given day. The experiments are chosen primarily for 8th, 9th and 10th grade students. Supplementary information is provided through audio-visual aids, exhibits, lecture/demonstration and discussions. If necessary, a laboratory set is available for the tenth standard students on a loan basis to prepare for practical examinations. Headmasters of needy schools are encouraged to contact the Vidnyanvahini for a visit.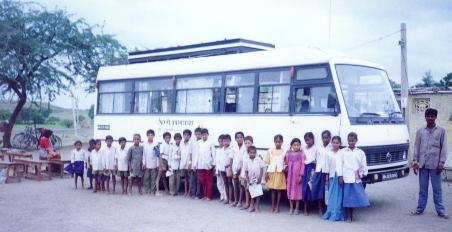 The mobile science laboratory with a sprinkling of the many children who are benefiting from these wheels of education.
The progress made by Vidnyanvahini demonstrates how much can be done by a concerned group of people. In its first year alone, MSL visited scores of remote schools in the districts of Pune, Nasik, Nagar, Solapur, Latur, Osmanabad, Sindhudurg, Raigad, Dhule and Satara, benefiting about 6,000 students. Thanks to Vidnyanvahini and its MSL, the students in secondary schools have the opportunity to learn science by performing experiments, thus giving them not only the thrill of "learning by doing" but also rendering the subject enjoyable and easy to understand. Vidnyanvahini emphasizes to students that in general, things should not be accepted as facts because they are stated in a book. Instead, they should be verified by observations and rational conclusions drawn from such observations.
Project such as the MSL can go a long way in nuturing a scientific attitude in children, make them less gullible regarding superstitions, while empowering them to improve the conditions in which they live and grow. The children can now strive for a better future after their basic education. If the Vidnyanvahini's MSL project appeals to you, there are many ways in which you can participate in it.
Luna Mercedes
Ashok Moghe
June 1999
Learn more about Vidnyanavahini, and find out how you can help