Rural Relations
Pradeep Lokhande "connects" the small towns



December 2001: Call him a walking talking encyclopaedia of rural India or just a lover of Indian villages. No matter how you describe him, the fact remains that Pradeep Lokhande has personally visited over 4,000 villages in India, recorded their populations, markets, education systems, consumer habits, and can rattle off these figures just like that.

That's creditable. But more so is the fact that he hasn't stopped at just travelling or documentation. He has used his travels to learn about the great digital divide between rural and urban India and is working towards taking computers to 28,000 village schools. Since February 2000, he has already installed 102 used computers, the first one being at the Mandardev village school in Maharashtra.
All this under the aegis of "Rural Relations", a rural consumer relations organisation that he runs in Pune. Its activities span 28,000 villages in Maharashtra, Gujarat, Madhya Pradesh, Rajasthan and Uttar Pradesh and giants like P&G and HLL have hired his services. It was during his market research and regular communication with the rural communities of students, teachers and parents that he began to understand the urgent need to eradicate computer illiteracy and inculcate a scientific temperament among rural children. He realised that a mere introduction to the computer - the epitome of a modern lifestyle - can do wonders for the confidence of these children.
"When these village children go to cities for employment or further study, they often get baffled at the sight of computers," says Lokhande. "One cannot imagine life without computers and yet such a large segment of our students have never even seen one, forget worked on one. It is possible that this can lead to a low self-confidence." Which is why, Lokhande's primary aim is to make rural children aware of a computer and its functions. "I want them to touch, try out and feel the PC," he says. Toward this end, Lokhande and his team have gone about collecting used computers from donors and gifting them to schools free of cost. The initial cost incurred by them is Rs. 1000 or so, and that comes out of Lokhande's pocket.
But the computers are not randomly distributed to just about anybody. The team first reviews the request from the school. It then checks if the school has (preferably) a student population of at least 200, at least one teacher who has received computer training at a government workshop and that the school does not already own a computer. It then provides the computer for its secondary students, believing that children in this age group are more open to new information.
The team works on the premise that after this initial introduction, the school will try and harness enough funds on its own to either upgrade the existing computer or then buy a new one and initiate computer education in the school. The current figures show that 37 of the 102 schools have been pushed into buying new computers or upgrading the systems by the students.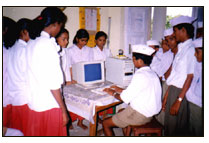 Rural Relations
7, Silver Heights,
Fatima Nagar, Pune - 411040.
Telephone 020 -6811526

Lokhande has a reason for the use of second-hand computers. He says, "Even at home, we see that nobody lets kids touch brand new items. They are kept as display items, and that's precisely what we don't want. Moreover the cost factor is crucial." About 10 % of the computers have come from a leading research organisation and the remaining from other private firms or individuals, whom he is especially grateful to. Unfortunately, the corporate industry has not been too generous in its support.

But lack of enthusiasm is not new to Lokhande. He remembers the launch of this project in 1998, when he had asked children from the rural schools he had visited to write letters and seek assistance from 28 public personalities. "These were luminaries from diverse fields like IT, media, business and even politics. I asked the kids to write to them and tell them that with the coming of the 21st century, they wished to be computer literate too and sought their support." Needless to add, he did not receive a single positive response. That was when he started off on his own, beginning with Mumbai and requesting citizens there to donate their used PCs.

"However, the response of the students is unbelievable. The day we take the computer to a school is a once-in-a-lifetime moment for many of them. The way their eyes light up makes it all worthwhile," says Lokhande, with visible emotion. This particular project has been detailed with the "non-resident villager" as his target. His reasoning is that each of us has our roots somewhere in some village and to honour those roots, we must come together and give something back to the rural societies.

For that matter, his entire rural relations outfit functions on a similar philosophy. In his objective to market concepts and not products, he begins by introducing subjects such as oral care and hygiene and then bringing in toothpastes and soaps. Following that, he ensures sustained communication with the villagers, continuously sending them health care and other tips and inviting their feedback. The result being that hundreds of letters pour into his office and the communication chain is never broken.

It's not surprising that Lokhande has been able to relate so well to the rural sector. He himself hails from Wai, a town about 140 kms from Pune. Having gone through the rigours of small-town life himself, he wishes to bring about a change, either through his profession of rural marketing or then through his vocation of community service.

Rasika Dhavse
December 2001

Rasika Dhavse is a freelance writer, living in Pune.