Toxic Corridors
The Paryavaran Suraksha Samiti works to combat the unchecked pollution in Gujarat's Golden Corridor.



September 2001: The Paryavaran Suraksha Samiti (PSS) did several investigations in December 2000 and April 2001 in the industrial estates around the towns of Ankleshwar and Vapi. The map below shows the industrial corridor, the three round spots indicating, from top to bottom, the towns of Nandesari, Ankleshwar and Vapi.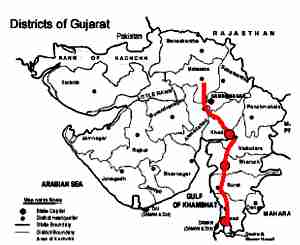 PSS was formed over four and half years ago to highlight attention to the indiscriminate industrialization, dumping of hazardous industries that were being phased out of Europe and the US, in Gujarat and all over India, and problems arising therefrom. Creating awareness among affected people about the threat to human health and environment from such chemicals, and organizing them to assert their right to decide in matters directly affecting them and their children's future have been our focus and priority. Environmental concerns are no more limited to protecting wildlife or exotic plant species in the Pacific Ocean or Antarctica but have all to do with people's life and livelihood, the very resources life depends on.
Members of PSS are also involved in working with tribals for a sustainable lifestyle, on alternative technology, Gandhian movement and networking with other organizations.
The golden corridor in Gujarat extends from Vapi in the south to Ahmedabad in the north. While this is a golden corridor from the point of view of the industry (because of good transport and communication infrastructure, large pool of cheap and unorganized labor availability), it is a dark and dangerous corridor for the people living near the industrial estates. There are over 50 industrial estates in this region, most house over a thousand industries (some being chemical estates) and many are spread over a thousand acres.
People living inside the industrial estates and in villages surrounding the estate cope with extreme amounts of air, water and soil pollution as well as bad health infrastructure. Monitoring and regulation by the Gujarat Pollution Control Board is practically non-existent and availability of information about the pollution or its 2 health effects on the residents is scarce and whatever there is, is not shared with the affected communities.
PSS has been conducting investigations in and surrounding industrial estates to find pollution hotspots and look at the effects this is having on communities living around these estates. A preliminary investigation in communities living around Ankleshwar in 1998 had found over 65 polluted groundwater sources. This led us to do more detailed (though not exhaustive) surveys in these communities.
During an investigation around Ankleshwar industrial estate in December 2000, we found over 120 polluted ground water sources affecting a population of over 100,000 in about 50 communities. This was by no means an exhaustive investigation. Many communities often had to use polluted water since no reasonable alternative source existed or it was too far. A similar investigation in Vapi in April 2001 found over 60 polluted sources affecting a population of over 30,000 people.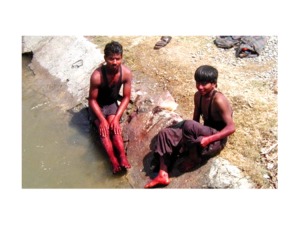 Picture: Casual labourers wash themselves in an irrigation canal after a day at a dye factory in Vapi industrial estate. Such labourers have routine complaints of nausia, skin rashes, burning sensation, digestive tract problems, respiratory tract problems and other longterm diseases. They are the Red Men of the Golden Corridor. .
Red, Blue, Yellow or Green effluents flowing in open channels is a common sight in both the estates. Even men and women colored red or dark blue or green are easy to find. Hazardous solid waste dumped on common lands surrounding the estate is the way to get rid of substantial quantities of such waste (even though both estates have lined landfills). Amla khadi (a rivulet flowing through the industrial estate) in Ankleshwar carries extremely toxic, often acidic, dark brown or black effluents around the year. Bil khadi (a rivulet flowing through the estate) in Vapi mostly carries dark red acidic effluents (but sometimes green or black as well) almost all around the year.
There have been some investigations and effluent analysis done by other agencies. Gujarat Pollution Control Board does basic tests but does not share them with affected people at all. There have been no extensive studies to characterize the effluent or to find what harmful pollutants exist in contaminated ground water.
Down To Earth magazine (one of the respected magazines on environmental issues in India) did an analysis of groundwater and found high amounts of mercury, lead and zinc. Adjacent table is directly reproduced from Vol. 8, No 7 August 31, 1999 magazine. [The referrred article.] As can be seen from the table, mercury in Ankleshwar groundwater is 118 and 176 times the WHO standards and in Vapi it is 96 times!
Dr. Avnesh Sharma's doctoral thesis "Environmental Impact Assessment Along the Effluent Channel from Baroda to Jambusar and At Its Confluence with Mahi Estuary at the Gulf of Cambay with Special Reference to Heavy Metals" has found that grains like maize, wheat, millet and vegetables like tomato, cabbage, green peas, bitter gourd, green chillies, drumsticks, cauliflower, egg plants contain twice to 60 times more heavy metals (like copper, chromium, cadmium, zinc, nickel, lead, iron etc) than non-contaminated ones in the control area.
Greenpeace has done two investigations of the area. They found a lot of persistent organic pollutants including some carcinogens in the effluents as well as sediments of rivers. [The full report, and the appendix.]
A 1994 survey of [only] seven largest of the more than 100 industrial development estates estimated annual hazardous waste production to be 220,381 tons per year and projected growth to be more than 3.5 million tons per year over the next 15 years. If the pollution control board can not deal with the existing 0.22 million tons of waste, a rise by 3.5 mn tons every year will cause unprecedented problems. And the time to act is now.
Paryavaran Suraksha Samiti
&nbsp&nbsp&nbsp&nbsp Kantidra, Post Pipadhara,
&nbsp&nbsp&nbsp&nbsp Via Rajpardi, District Bharuch,
&nbsp&nbsp&nbsp&nbsp Gujrat 393 115, India
&nbsp&nbsp&nbsp&nbsp pss@narmada.net.in


It is obvious from all these reports and the following pictures that the Gujarat Pollution Control Board does not do good monitoring and probably does not test for all pollutants as well.

As an effect of this pollution, people are suffering skin ailments, respiratory problems, headaches and we are sure that there are other related illnesses, which have not been noticed, as they have not been investigated.

A few more photographs from the Vapi investigation of April 2001 are available.

Michael Mazgaonkar
September 2001

Feedback: Tell us what you think of this article.