Real potential is with communities
This Magsaysay Award winner has been instrumental in rejuvenating the rivers of Alwar in Rajasthan. Yet, Rajendra Singh, in this interview by Shree Padre, says he is just a facilitator.


Rajasthan is no more a synonym for drought and water scarcity. The traditional water harvesting structures called johads built by the villagers have changed the face of Rajasthan's Alwar and neighbouring districts. River Ruparel started flowing perennially after three decades. It is among the five rivers of Alwar that has seen life after death, thanks to the committment and foresight of Rajendra Singh and his team Tarun Bharath Sangh, who were instrumental in mobilising communities to rejuvenate their own water resources. It was not an easy journey for the Magsaysay award winner Singh, who had to face troubles from all the fronts in his attempt to make these villages sustainable. The 'rain catcher' speaks about his mission in this interview by 'Centre for Alternative Agricultural Media' member and journalist Shree Padre. Singh had recently visited the Eechalahalla river rejuvenation project in Gadag, Karnataka.
---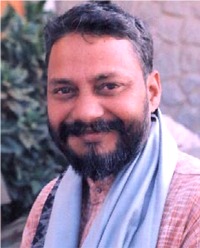 Anil Agarwal always maintained that the entire nation could be made drought free through community rainwater harvesting. What is your opinion?

His vision has become a reality in Rajasthan. In these 17 years we have made certain dry regions including Alwar, Jaipur, Savai Maadhopur, Karoli drought-free. Nature has maintained a balance between population density and rainfall in our country. Population density is low in Rajasthan and so is the level of rainfall. When we study the 'rain chart' since 100 years, we can find that the rainfall is balanced unevenly in Rajasthan. Five to six years of meager rainfall will follow two successive rainy seasons. When the cycle repeats like this, it becomes very useful if the rainwater is stored through proper ways.

It is very essential that we realize water as a limited resource. Though there is a balance between the rainfall and density of population, there is no balance in usage of water. Everybody wants more water. If we use water like a poor man's ghee, then no village or person will face the scarcity of water in India.

Is it possible for other villages in India to replicate your success in making Rajasthan drought-free?

Definitely. Not only in India, it is possible throughout Asia.

Your Jal-jameen-jungle (water-soil - forest) conservation campaign enhanced the confidence of the villagers in Rajasthan. Throughout the process, you limited yourself to inspire people and encouraged them to work for the cause. What is the idea behind this?

Our community is creative. It has the latent capacity to bring a social change. We woke up this sleeping knowledge bank and encouraged them to work. Tarun Bharath Sangh helped the villagers to rejuvenate their style of functioning. In Gopalpura, the first village, it took three years for us to get results. We could achieve the same in 45 villages in the next one year. It was made possible due to the active participation of the villagers. The formula for success was made known to those who are interested. The success stories of these villages influenced neighbouring villages to join hands and work towards another success.

This cannot be achieved through speeches. The society should feel the necessity for such a work. The methodology should be decided only after understanding the community's notion about soil and water. Unless and until we live with them, we don't understand their relationship with water resources and soil. It is very important to utilise the indigenous knowledge in any work. Tarun Bharath Sangh never used any outside help for water and forest conservation. A work becomes sustainable and replicable only when local knowledge is applied.

To grasp the customs and practices of Alwar you became a fellow villager and lived with them. There is a large gap between becoming one of them and showing so. Isn't it?

Our society is sensitive and also responsive. It observes your each step towards them. If you are trustworthy and reliable then they extend fullest support to you and move ahead with utmost commitment to their work.

When you started your mission you didn't had the aim or dream of rejuvenating the rivers. Had you ever thought of such a possibility?

Here I remember an incident. In 1993, when I was talking with Dhannaa Gujjar, a fellow villager, he said, "Bhai Rajinder, you are working for the cause of water. It fills mother earth's stomach. The day her stomach is full, water flows out into the rivers. She is very kind and never keeps water to herself. Whatever you provide her she gives back. This fills even our stomach and helps sustain our farming." The scientists who came subsequently and studied the process of river rejuvenation for three years also gave the same opinion!

You have contributed a wonderful skill to the nation. Now, at this juncture, it is natural for you to wish to move back to your family. If it happens so, what will be the future of those villages?

Years of slavery and negative forces in the society have made our society like handicapped. The villages struggle from lack of confidence. In this situation if someone becomes one of them and boosts their morale, society wakes up and works with a new hope. I became a sort of crutches for them. Crutches are needed till the community regains its strength and starts working independently. Now we have enough young enthusiasts who will sustain the new zeal.

When we see the West, those countries have fully exploited their natural resources by converting them to luxury items. This way, their natural resources are exhausted. It is not the case in our country. It is time for us to make use of our insights and our natural resources properly. This century is going to be ours.

From a man who has learnt to treat the diseases of a body, you have grown to the extent of treating the sickness of the country. How do you feel when you look back?

If I had continued to be an Ayurvedic doctor, I would have cured a few persons with the medicine. But now I am repairing the souls of people. I'm trying to broaden the minds and hearts of people around me. This will help the society to progress with confidence and responsibility. My second job has started giving good results.

(Concluded)
Shree Padre
March 2002


This interview on India Together is provided by the Center for Alternative Agriculture Media.