Thirst below sea level
Despite being enriched by two monsoons and four rivers, Kerala's Kuttanad region suffers from acute drinking water shortages. M Suchitra investigates.



November 2002 - It's God's Own Land, the Immodest Green of Arundhati Roy. The palm-fringed emerald islets are surrounded with vast expanses of waters. The picture perfect beauty makes Kuttanad the very essence of Kerala's backwater experience. It is a waterlogged stretch of about 110,000 hectares; and 50,000 ha of the region are even 60-220 centimetres below sea level. For the better part of the year, most of the land is submerged in water. It has the distinction of being one of the few areas in the world where farming is carried out below sea level. Four major rivers in the state - Pampa, Meenachil, Achankovil and Manimala - are discharged into the region. For about 1.8 million people of Kuttanad, it is water, water everywhere.
And yet, when it comes to drinking water, they need to wait for the calls that herald water supply twice a week, often at night. The water call sometimes comes on the telephone, too! The officials at Kuttanad water Supply Scheme located at 40 km away in Thiruvalla will give a ring to the panchayat president when water comes on pipe. He will pass it on to the houses where telephones are available. Men, women and children jump into their changaadams (tiny rowboats). Across the canal, they rush to the public water tap. When the tap runs dry, they pick up their pots, sometimes half full, and return home to resume their interrupted slumber. "We get piped water only twice a week, that too for an hour often at night," says Omana, one of the inhabitants. "Though surrounded with water, we live like sparrow-hawks; always looking out for drinking water."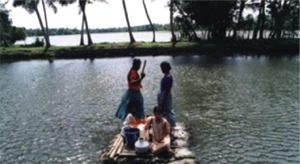 A boat ride will take you around the vast and beautiful stretches of backwaters. You will see women washing clothes, cleaning vessels, and collecting water for cooking and drinking-all from the same canal along with your boat speeds by. At places, toilets are let out into the same canals from which water for drinking and cooking is collected. Many households have toilets built with direct outlets into the canals and streams of the backwater system. You will be aghast to see villagers using the dark oily water polluted by the pesticides from the rice fields. Solid waste from medical colleges at Alappuzha and Kottayam, sewage from the municipalities of Kottayam, Thiruvalla, Changanassery and Alappuzha, the oil and faecal wastes from about 300 house boats which ply between Alappuzha and Kumarakam- all find a dumping place in the Vembanad Lake.
"We have developed immunity to all poisons", Kuttappayi, an inhabitant of the Kainakari village islet says cynically. "Even a cupful of pesticide would not kill us. Our daily intake of poison through water is much more than that." Kuttappayi's friend and co-villager Sabu echoes him: "We are so used to the highly polluted water that if we drink pure water we may get dysentery." Kainakari is only one of 54 villages in the backwaters of Kuttanadu in central Kerala that face acute water scarcity. Kainakari, with over 6,000 households and 30,000 people, does not have even one public tap to supply safe water. Although the state government had commissioned a huge overhead tank in 1989 spending Rs. 7000,000, (70 lakhs) the tank has not seen a drop of water since it was built.
According to surveys by the Centre for Water Resources Development and Management (CWRDM), Kozhikode, more than 80 per cent of the people in Kuttanad rely on the contaminated canal water for their daily water requirements. About 40 per cent of this number uses the water without boiling it first. Interestingly, there are people who actually prefer the canal water to piped water. Says Chandramati, a housewife from a not-so-well-off family in Arayiram Kara, Kainakari, "If food is cooked in piped water, it gets spoilt by midday, but if it is cooked in canal water, it lasts till the night."
Developmental interventions have, in fact, only worked to hurt Kuttanadu's fragile ecosystem. For instance, the Thannermukkan bund was constructed across the Vembanad Lake in 1975. The bund was constructed to obstruct saline water intrusion into paddy fields during the dry season, and thus bolster paddy cultivation. "The natural flushing in the entire Lower Kuttanadu affected by tidal movements has ceased and water levels in the upstream region have dropped," says Madhusoodana Kurup, a fisheries expert on the Indo-Dutch team that conducted a water balance study in Kuttanadu during 1988-90. The result is that the waterbody tends to become stagnant, leading to water pollution. Aquatic weeds have also grown to epidemic proportions.
The economic rationale of private owners of paddy fields therefore suggests that they convert their fields to non-agricultural purposes. They are not concerned about the ecological and environmental imbalances caused, the resultant societal loss of the economic functions of the wetland nor the economic value of the biodiversity of wetland ecosystems. The environmental and ecological crisis that Kerala faces is so acute that about two-thirds of the state's population does not have access to safe drinking water. Kerala, one of the wettest regions in India, gets an average rainfall of about 300 millimetres of rain spread over a six- or seven-month period. Despite this heavy rainfall, an acute drinking water shortage is felt even in the lower areas.
During the last three decades, as many as 30 committees have studied the problems of Kuttanad and submitted their reports to the State Government. But so far no effective measures have been taken by the authorities. "All these committees comprised experts from various fields, but not a single person who really knows the peculiarities of Kuttanad," complains Prof John Mathai, an environmentalist who lives in Melppadam an area of Upper Kuttanad. According to him, Kuttanad is always illogically compared to Holland, which is also situated below sea level. "Those who formulate various projects for Kuttanad seem to think that what is feasible in Holland is feasible in Kuttanad too! This is nonsense. Climate, vegetation, the way the rivers flow--everything is different."
Although exclusive water supply projects, like the Kuttanadu Water Supply Scheme, have been implemented, they have failed to meet the needs of the area. Water is treated and stored in tanks in Thiruvalla and Changanassery 25-40 km away from Kuttanad, and is first supplied to the residents of these towns. With the towns growing in size and population, there is an increased demand in water. Result: the crunch on Kuttanadu worsens. And tubewells are no solution either. The groundwater in Kuttanadu is far too acidic.
Even a few years back, most inhabitants relied on the natural ponds and tanks maintained by each household for potable water, and the canals running by the side were used for bathing and washing. However, new roads and the large scale reclamation of paddy fields for construction purposes have led to the blockage of canals at several places. Viswambharan Nair, a retired village officer in Kaavaalam, believes that matters were compounded by the arrival of the Kerala Water Authority's supply taps. "People neglected or abandoned the ponds hoping that tap water would be available through the year," he says. Father Thomas Peelianickal, vicar of Fathima Matha Church in Pulikunnu, believes that rainwater harvesting is the only possible solution to the drinking water scarcity in the area. "People think drinking water is a commodity that should be supplied by the government. This attitude should change first," says Father Peelianickal.
During the Sabarimala pilgrimage season, some four million people cross the river Pamba to reach the hill shrine, and the river turns into a cesspool of human waste, raw sewage, and domestic and commercial garbage. Because of open defecation by the pilgrims from outside Kerala on the river banks and the vicinities for miles together, the fecal matter gets swept into the river water. "True, some temporary steps are taken to provide basic sanitary facilities to the pilgrims. But, all the wastes generated reach the river which finally gets into the Kuttanad water system,'' complains N K Sukumaran Nair, General Secretary, Pamba Smarakshana Samiti, an NGO which has been instrumental in getting the Pampa included in the National River Conservation Programme (NRCP). According to Kerala State Pollution Control Board statistics, the coliform bacteria count in 100 millilitres (ml) of water in the Pampa at Sabarimala is 200,000. When the river reaches Edathwa in Kuttanadu, the count is 48,700.
No wonder then, outbreaks of epidemics like rat fever and diarrhoea have seen an alarming increase. According to statistics available with the district medical officer, Alappuzha, 18 persons died of wheel's disease till October in 2002. The count for 2001 was 23. The total number of those suffering from diarrhoea in 2001 was 19,570. Statistics at the Alappuzha Medical College show an increase in filariasis, schistosomiasis, typhoid, jaundice, intestinal cancer, gastroenteritis and cholera. Says R Visakhan, president of the Kainakari panchayat, "A few months back, ministers came visiting because of a cholera epidemic. After the epidemic passed, no one bothered at all. There is no attempt to address the root cause: the scarcity of drinking water." Over the past 10 years, diarrhoeal diseases resulting from inadequate water and sanitation have killed over 5000 in Kuttanad.
Kuttanad is a testimony to misplaced and impractical developmental schemes. The backwaters itself are vanishing due to encroachment. The Vembanad Lake has been reduced to one-third of its size, with 65 per cent reclaimed by the government or people. Only 23 per cent of the backwaters remain in Kerala and part of this is under bunds and barriers. Fish species get extinct in bunds, as there is no way for them to come out to breed. The land of rivers and eternal monsoons is currently drinking water out of tankers. Now, the demand for water is constant and thirsty people are willing to pay as much as they are willing to live. In the lowest income groups, people pay a wholly disproportionate share of their income to locally run private water companies. (Quest Features and Footage)
M Suchitra
November 2002
The Kerala State Pollution Control Board may be reached at Plamoodu Junction, Pattom Palace P.O, Thiruvananthapuram, Kerala 695004, Telephone: 0471 438150. Pampa Samrakshana Samiti may be reached at Kozhenchery PO, Pathanamthitta Dt, Kerala.