Every alternate day, for as long as I can remember, a vendor selling vegetables loaded on a handcart parked himself in our neighbourhood in Mumbai. He would push that cart several kilometres from the wholesale market and arrive in our neighbourhood early in the morning. In a few hours, his handcart would be emptied of its load as he made his return trip.
Many people bought small quantities of fresh vegetables from him. Few knew his name. Yet, when he spoke, you could tell he was a 'North Indian'. And if you asked, he told you he was from Jaunpur in Uttar Pradesh. This nameless vendor provided fresh vegetables at reasonable prices to a middle class neighbourhood. He also delivered the goods to your home, free of charge. If you didn't have enough change to pay him, he would readily agree to wait until the next day. If you complained about the quality of something you had bought the previous time, he could immediately replace it, free of charge.
Gone
Our friendly neighbourhood vegetable vendor has disappeared. Without a trace. No one is able to tell me what happened to him. I ask the man who sells bananas. He also comes every day by taxi with a basket load of bananas. In a few hours, his basket is empty. But he doesn't know what happened to the vegetable vendor.
But we do know what happened. There are two possibilities. He could be one of the many 'North Indians' who is now too frightened to live in Mumbai after the launch of the anti-outsider tirade by Raj Thackeray and his Maharashtra Navnirman Sena. Even if they did not attack him directly, he would have seen the images of hawkers being attacked, their goods splayed on the street.
Another reason could be economic. A new retail store has opened in the area selling fresh vegetables at marginally lower prices than what the vegetable vendor charged. So, even though his vegetables were decidedly fresher than those sold in the store, and people had an old relationship with him, the majority graduated to the novelty of going to the store and buying vegetables wrapped in plastic. The store used economies of scale to lower prices. The neighbourhood vendor could not compete. He tried by coming an hour earlier. He tried by reducing the amount of vegetables he brought on his cart to cut his losses. In the end, he gave up and disappeared.
I narrate this story, which will have echoes in most other cities across India, because it tells us of the largest number of people who are losing jobs and livelihood. The media runs front page stories when airline staff are laid off. We hear about redundancies in the private sector. Raj Thackeray sends his MNS cadre to beat up Biharis trying for jobs in the railways.
The people who are paying the price for the changes in the economy and the slowing down of the growth rate are people like this vegetable vendor. While the spurt in retail in perishables has destroyed the livelihood of thousands of men and women who survived on their daily sale of fruits and vegetables, the slowdown has resulted in closing down thousands of small manufacturing units that were a part of the informal economy.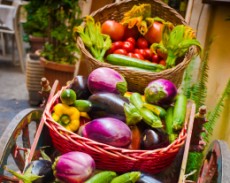 The spurt in retail in perishables has destroyed the livelihood of thousands of men and women who survived on their daily sale of fruits and vegetables.

Yet, these people remain invisible. Economic problems always mean stock exchange news, or news of some big factories closing down or stopping production for a few days. But what will happen to people who did not have security in their employment, could never dream of a salaried job, but survived nonetheless on their wits and by providing a much needed service? Who is counting these losses? Is anyone even bothered? The tragic part of the agitation launched by Raj Thackeray is not just that it is irrelevant - he is only bothered about the minuscule minority of Maharashtrians who are seeking jobs in the formal sector - but that it is obscuring the real crisis that is facing millions of people in our cities.
A seven-city study of street vendors by Sharit K. Bhowmik for the National Alliance of Street Vendors of India (NASVI), done several years ago, gave a human face to a section of our citizenry that we see everyday but who remain faceless. The study established that Mumbai has the largest number of hawkers, at that time around 200,000, followed by Kolkata, Ahmedabad and Patna.
Meagre earnings
It revealed that the majority of hawkers, particularly those selling perishables, earned no more than Rs.50 to 100 per day. With this, they had to bribe the police to allow them to sell, if they did not have a license, and the municipality for so-called 'cleaning charges'. In addition, they had to pay daily transportation charges by train or sometimes even by taxi to the spot where they sold their goods.
Many of the vendors, including the women, were people who had either worked in factories or in formal employment earlier and faced redundancies or had members of their families losing secure jobs, thereby forcing at least one member of the family to becoming a vendor.
Today, this same vulnerable group of urban dwellers faces additional threats.. One is from large retail that can undersell them on most goods including perishables. And the second, specific to Mumbai, is the rise of sectarian politics exemplified by Raj Thackeray, whose targets are the most vulnerable, people who ask nothing of the State and who have managed to survive and provide a necessary service to the people of the city.
These 'North Indian' vendors, who are as much a part of Mumbai as any other resident, now fear to protest or speak out about their loss of livelihood because of Thackeray's campaign. Thus, while the economy has strangled their livelihood, a politician has muffled their voice. And the media and the policymakers are looking the other way.