Chittirai Tirunal, better known as Tamil New Year Day, is a holiday in the state of Tamil Nadu. On 14 April this year, the streets of the temple town of Madurai were adorned with lights and gaiety to mark the new year celebrations. Flower sellers outside the Meenakshi Sundershwarar Temple did brisk business as people decked up in their best attire moved swiftly towards the temple to seek the blessings of god.
A few streets away from the temple, at a distance of about two kilometers, a group of people from the transgender community presented a different picture. Sitting in a house located in the vicinity of commercial buildings, in a small room measuring around 60 sqft, Bharathi Kannamma, 53, was busy giving an interview to a magazine. In the same room, wedged between a TV table, a cot, a fridge and an almirah, three others were discussing politics and the election. Kannamma is an independent contestant from the Madurai parliamentary constituency this year, and is hoping to become the first transgender MP in the country.
"Only a transgender can understand and speak of 'trans' issues. No men or women in the parliament have tried to address our concerns so far. It is time we come out of the closet to contest elections and push for better laws to prevent gender discrimination," said Kannamma.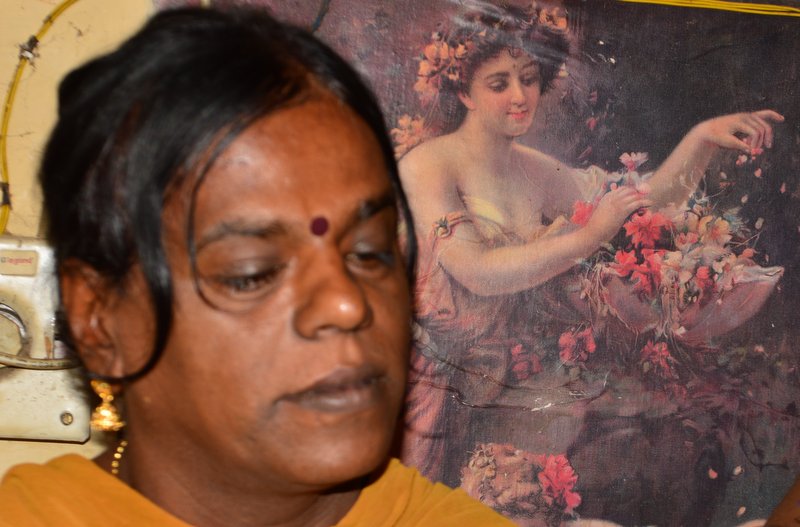 If elected, she would be the fourth transgender MP in the world, next only to New Zealander Georgina Beyer, Italian Vladimir Luxuria and Polish MP Anna Grodzka.
There are at least four transgender contestants in this general election of 2014. Apart from Kannamma, Uttam Senapati is contesting from the Nagpur parliamentary constituency in Maharashtra, Sonam Kinnar is contesting against Rahul Gandhi in Amethi, and Baseer Kinnar against Modi in Varanasi. Though some of these decisions to contest have come late, the contenders still hope to dent the vote bank of leading candidates, if not actually win the seats. Not supported by any political parties, all are contesting as independent candidates.
Challenges past and present
It certainly has been a long journey as transgenders are often targets of discrimination and harassment in the eyes of society and in government departments and are neglected by even their parents. It was only after her mother's death in 2004 that she came out to reveal her true gender identity, Kannamma says.
"For years I felt like a woman. But with no family support, I could not 'come out' revealing my true gender identity and I remained Alaguraj in the eyes of society," Kannamma said. Alaguraj was the name she donned until she completely transformed herself into a woman and changed her name to Bharathi Kannamma.
Since 2004, she has engaged herself in social work and assisted a few people (including transgenders) to set up a tailoring business. She was an advisor in an NGO that urged transgender sex workers to use condoms and has been engaged in advocacy to sensitise police staff about gender issues. Kannamma proudly claims to have assisted 16 transgenders who have since joined the Tamil Nadu Home Guard team.
All transgender candidates in this election are banking on their social work, and are aware of the challenges they face contesting against the political bigwigs. Their lesser popularity, limited money for campaigning, the limited time to mobilise people for campaigns, and of course, the threat from major political contestants are some of the challenges which they have to face.
"I have received threat calls and have been asked to withdraw the nomination. But why should I? People are on my side and I will contest no matter what. We have no family. So we have no reason to be corrupt and feel threatened," said Sonam Kinnar of Amethi Constituency.
Sonam enjoys the strong support of Gulshan Bindoo of Faizabad, a hijra who contested in the Ayodhya Assembly Constituency in 2012 and led to the defeat of the Bharatiya Janata Party (BJP) for the first time since the Babri Masjid was demolished on 6 December, 1992. Though Bindoo did not win, she secured around 22,000 votes (11.45 per cent) eating into the vote bank of BJP, whose candidate lost to the Samajwadi Party by a margin of 5000 votes.
Citing the lack of development in the respective regions, the candidates this year promise to bring about a change by addressing the issues of water scarcity, unemployment, reservation for jobs and housing for BPL families, if elected. They also hope to capitalise on the dissatisfaction of people against the sitting MPs that has been corroborated by a recent survey conducted by Bangalore-based organization Daksh and the Association for Democratic Reforms (ADR).
In the above survey, which asked respondents to rate the performance of their MPs on various issues concerning the constituency, the people of Madurai, Amethi, Nagpur and Varanasi, rated the respective sitting MPs – M. K. Alagiri, Rahul Gandhi, Vilas Baburao Muttemwar and MurliManohar Joshi – below average.
On a scale of 1-10, these MPs were rated as below:
| | | | | |
| --- | --- | --- | --- | --- |
| Constituency | State | MP | Trustworthiness of MP | Constituency Average score (on various issues) |
| Amethi | UP | Rahul Gandhi | 2.8 | 4.4 |
| Madurai | Tamil Nadu | M. K. Alagiri | 5.2 | 5.1 |
| Nagpur | Maharashtra | Vilas Baburao Muttemwar | 4.3 | 4 |
| Varanasi | UP | MurliManohar Joshi | 3.7 | 4.4 |
Thus all transgender candidates have chosen high profile contests, but while it may be easier for them to leverage the simmering discontent in these constituencies, living up to the promises and addressing people's issues will not be an easy task. The Daksh-ADR survey shows that voters here have been grappling with a host of governance and administration-related problems, as the scores of importance attached to these issues show. (See charts below)
People vary in their opinions on whether transgender candidates, who have little or no political experience,would be able to make an impact and address their issues. "I never knew she was contesting. It was only when she came for campaigning today that I got to know. I wish her luck, but I wonder if she can win in this DMK stronghold," said Shamshuddin, a 54-year-old voter near Kannamma's house.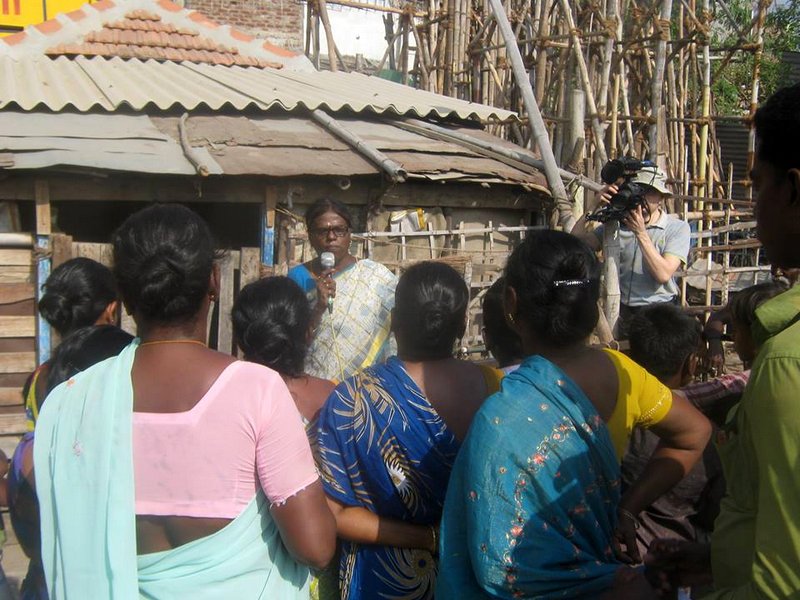 Their candidature is not taken seriously by the other parties, too. "They are contesting to gain popularity. In no case will they be able to win or dent the vote bank of Congress or any major political party," Ajay Rai of the Congress in Varanasi said.
Electoral participation
This is the first time that transgenders are contesting parliamentary elections after the Election Commission in 2009 allowed them to be recognized as "others" in the gender column, though they have contested in the urban local body elections, mayoral elections and even in the assembly elections of various states.
Given the social stigma and injustice meted out to them, their participation as an electorate has, however, remained abysmal. According to the Election Commission data, as of February 14, there were 28,341 voters registered under the "Others" category.
| | |
| --- | --- |
| State | Others |
| Andhra Pradesh | 4,421 |
| Bihar | 1,881 |
| Chattisgarh | 17 |
| Gujarat | 288 |
| Himachal Pradesh | 2 |
| Jharkhand | 26 |
| Karnataka | 8,453** |
| Madhya Pradesh | 1,053 |
| Maharashtra | 270 |
| NCT OF Delhi | 638 |
| Odisha | 1,108 |
| Puducherry | 12 |
| Rajasthan | 21 |
| Tamil Nadu | 2,996 |
| Uttar Pradesh | 6,630 |
| Uttarakhand | 12 |
| West Bengal | 513 |
| Total | 28,341 |
Note: For other States/UTs the record shows zero
** According to the Chief Electoral Office, in Karnataka there were only 3233 voters under "others" category. They clarified that 8,453 as mentioned by The Election Commission of India was an erroneous entry
But in the recently held assembly elections, the polling percentage of voters in the "others" category ranged between 2-6 per cent, except in Delhi where it was 25 per cent.
"People often make fun and tease us when we come out. The government should create a friendly environment and make us feel secure. Unless the perception of people change, one cannot expect large scale participation from us in the electoral process," says Akkai Padmashali, a member of the Karnataka Sexual Minorities Forum.
| | | | |
| --- | --- | --- | --- |
| State | Year of election | Total voters under "Others" | Poll % |
| Karnataka | 2013 | 2100 | 2 |
| Madhya Pradesh | 2013 | 1088 | 6 |
| Delhi | 2013 | 550 | 26 |
| Tamil Nadu | 2011 | 1996 | 5 |
| Uttar Pradesh' | 2012 | 3975 | 2 |
*Source: Election Commission of India
A couple of developments bring some hope for greater integration of transgender people into the mainstream, however.
Recently, even as elections were on, the Supreme Court in its order dated 15 April directed the Centre and the State Governments to not only provide for official recognition of gender neutral people as the "third gender" but also to treat them as socially and educationally backward classes of citizens and extend all kinds of reservation available consequently for admission in educational institutions and public appointments.
While Kannamma feels that this order will have little impact during this election, she said, "recognising hijras as 'third gender' will certainly alter the perception of people about us and many of them will support us in the coming days. It will also bring in more transgenders to contest in elections."
Soon after the ruling, the Amethi transgender candidate, Kinnar demanded reservation for the third gender in the Lok Sabha. "Like they have reservation for SC/ST, we would like to have two seats reserved in the Lok Sabha and two at least in the state assemblies," Kinnar said.
Another potential influencer could be the order of the Supreme Court on 3 April that considered the plea for an open court hearing on curative petitions filed by gay rights activists against its earlier verdict criminalising homosexuality. Curative petition is the last judicial resort to get a verdict overturned.
Voters in several parts of the country have already been vocal in their questioning of political stances on this issue. The Supreme Court had in its judgement in 2013 struck down the Delhi High Court Order decriminalising homosexuality. While political parties are divided over the issue, transgender voters in Bangalore decided to vote against the Bharatiya Janata Party, after it 'unambiguously' endorsed the re-criminalisation of gay sex.
Similarly, in Mumbai, a group of LGBT members held a meeting with the Aam Aadmi Party to question why they had neglected to take a stand on the issue in their manifesto.
"To repeal Sec 377 of the IPC is one of our prime demands. While the LGBT voters are divided between the Congress and the AAP here in Bangalore, BJP is not an option at all amongst us," said Dilfaraz, a transgender voter in Bangalore.
How all these related developments play out in this and in future elections would be something to watch out for.