Conservation skeptics often dismiss the importance of tiger conservation under the ruse that it gets too much media coverage. They also say that too much significance is attached to mammals at the cost of other endangered fauna. Nevertheless its significance cannot be undermined, for among other things, the Royal Bengal Tiger presides over territory meant for a vast faunal diversity. Mammals are the youngest in the evolution of species, thus there is a whole spectrum of faunal diversity below them, some of which are its prey base.
The sheer canvas of biodiversity and forests that these fauna are spread out on, commands for the tiger the vanguard position in terms of conservation value. The tiger is the sentinel of the Indian monsoons' catchment area. This is also why the Sariska slaughter of 22 tigers in 2004–05 was a shock.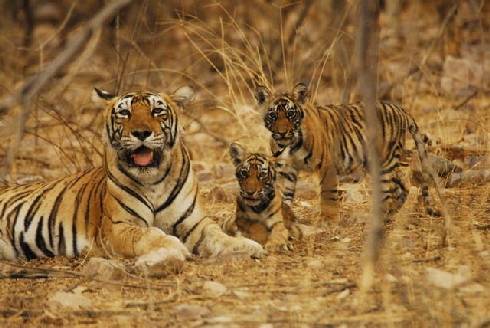 Machali the tigress with her cubs. Tigers breed frequently but their mortality is equally high, which calls for good management of an adult tiger's range. File pic: Rajasthan Forest Department.
The tiger's home range spreads from the tropical wet evergreen rainforests in the Western Ghats right across the Deccan Plateau to the lower Himalayas, shrub forests in the desert state of Rajasthan in India to the great wastes of Siberia apart from Indonesia, parts of Thailand and China. In this vast area the tiger presides over a diverse prey base that spans across mammals, birds, fishes and reptiles crustaceans, insects, butterflies, etc., all of which are endangered too.
The tiger demands conservation because it shields the habitat for its prey base. In the Periyar Tiger Reserve, there are nesting sites for the highly endangered but very few fresh water otters left in India. Periyar Tiger Reserve happens to be the only Protected Area for a breeding site for the otters. Fresh water otters have virtually disappeared from the North Indian wetlands courtesy poaching. They are found to be breeding in the dry deciduous forests of the Kaveri riparian ecosystem in and around Southern Karnataka and northwestern Tamilnadu but they do not enjoy much protection in these riparian ecosystems without the administration of PA networks. Thus Periyar TR is the only PA for the fresh water otter nests.

More than 67 types of butterflies throng the tiger terrain in India. Being extremely sensitive creatures, the slightest change in the environment affects them adversely. Pic: Malini Shankar.
Nowhere else in the world can a shark thrive with the Royal Bengal Tiger and its prey base in the same habitat.
Apart from invertebrates like reef sharks and the Gangetic Dolphin, the tiger protects in its terrain everything from the Red Panda to the King Cobra, the Rock python to the Great Indian Hornbill, all 5 types of vultures to the Great Indian Desert Wolf, Nilgiri Tahr to the Black Panther, rhinoceros to a good 12 varieties of deer endemic to India, Wild Dog to jackals, The Great Indian Gaur to the Himalayan Yak, crocodiles - Gharial, mugger and estuarine crocodiles - a whole spectrum of apes and amphibians and a whole lot more.
Reverse the order and you can fathom the depth of loss of habitat that pyramid species like the tigers, leopards, lions, snow leopards, Panthers, king cobras, pythons, are suffering from. Otters, mongoose, Giant Malabar Squirrel, Bears, Gaur, deer, jungle cats like the Civet cats, are all endangered largely thanks to the habitat loss.

Tiger reserves are thus the maternity wards for endangered Indian wildlife.
"As the poachers continue to erase the jungles of its stripes, our tigers growl in anger at us, at a system that has repeatedly failed to address the grave concerns our jungles are facing, at those who ignore the signs of an impending disaster that is waiting to happen. From tiger pelts to ivory, from timber to Sandal wood, from unplanned rail tracks to illegal mining, from swindling funds to human encroachments, humans continue to dig graves in these shapes and sizes for our tigers, our elephants and all those magnificent creatures we once called wild", says a sentimental Pablo Tachil, wildlife crime inspector in Bangalore.
The tiger and ecosystems
A related reason tiger conservation is so critical is that the tiger's range comprises of many types of ecosystems.
Forests, ranging from shrub forests, to dry deciduous forests, moist deciduous forests, rainforests, savannah landscapes, wetlands, Shola ecosystems, mangrove forests, sub-montane forests, riparian ecosystems and pine forests belong to the tiger's real estate in the Indian sub continent alone. Climate change has induced the tiger to scale new heights literally: but it means ill for the Royal Bengal tiger, at home in the tropics.
The typical food of the Royal Bengal Tiger includes ungulates (e.g. deer) of the tropics. Higher reaches are warming up, but there might not be enough food for the tiger there. It can lead to territorial fights for prey base and terrain in higher reaches; besides there might not be an adequate management perspective to forest conservation in higher reaches. Scientists are watching with increased nervousness as to what might be the fallout of this new anthropogenic conflict on wildlife and tiger behaviour.
Dr Y V Jhala, the main author of the "Status of Tigers, Co Predators and Prey in India 2008" – the wildlife census undertaken by the Wildlife Institute of India - offers an explanation for how anthropogenic conflict takes a toll on tiger conservation. Conflict was quantified 'in terms of tree cutting, lopping, livestock dung trails, road development, dams and other indices of human development' and 'calibrated against the density of forests where tiger presence was documented'. "Both these data when analysed along with tiger occupancy and density have shown that tigers occupy areas where human impacts are minimum; also high tiger densities are achieved only in areas with low human disturbances.
Tiger reserves host a whole spectrum of wildlife including mammals, birds, reptiles, fishes, crustaceans, butterflies, insects, etc. 67 types of butterflies alone flourish in India's tiger reserves.
Mammals: Royal Bengal Tiger, Leopard, Black Panther, Elephants, Caracal, Rusty Spotted Cat, Jungle Cat, Four-horned Antelope, Sambhar, Spotted Deer, Wild Boar, Sloth Bear, Blue Bull, Jackal, Hyena Chital, Sambhar, Hog Deer, Barking Deer, Mouse deer, Wild Boar, Common Langur And Rhesus Monkey, Caracal, Wild Boar, Jackal, Hyena, Common Langur, Common fox, Swamp deer, Rhinoceros, Chital, Black Buck, Chinese Pangolin, Hispid hare, Capped Langur, Golden Langur, Assamese Macaque, Fishing Cat, Leopard Cat, Rhesus Monkey, Rhesus Macaque, Large Indian Civet, Small Indian Civet, Common Palm Civet, Himalayan Palm Civet, Chinese Badger, Yellow bellied Weasel, Common Otter, Indian Pangolin, Bearded Sheath-tailed Bat, Fulvous Fruit Bat, Short nosed Fruit Bat, Greater Yellow Bat, Three Stripped Palm Squirrel, Five Stripped Palm Squirrel, Malayan giant squirrel, Bay Bamboo Rat, Little Indian Field Mouse, Slow Loris, Hoolock gibbon, Serow, Binturong, Wild dog, Flying squirrel. Golden Cat, Binturong, Common Mongoose, Small Indian Mongoose, Dhole, Indian Fox, Red Fox, Himalayan Black Bear, Lesse Cats, Hispid Hare, Indian Hare, Chinkara, Porcupine, Barasingha , Barking deer, Chousingha or four horned antelope, Nilgai or Blue bull, Wild dog, Flying Squirrel, Black buck, Dhole, Wolf, Brown Mongoose, Indian pangolin, Malayan giant Squirrel, Flying Squirrel, Wild Pig and more.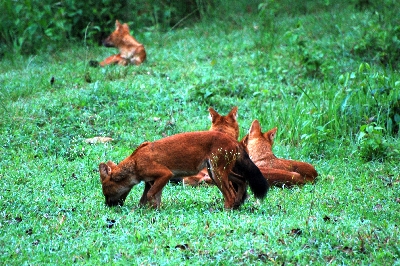 Alongwith the tiger and the leopard, the wild dog is the next most feared predator in the Indian jungles. Balancing the food chain and maintaining the predator prey ratio is the ecological significance of the wild dog. Pic: Malini Shankar.
Birds: Amongst the birds mention may be made of Peacock, Pea fowl, Jungle Fowl, Partridges, Kaleej, Crow, Vulture, Parakeets, Laughing Thrush, Orioles, King Fishers, Drongo, Doves, Woodpeckers, Ducks, Teals, Storks, Cormorants and Seagulls, Bengal Florican, Himalayan yellow Throated Martin, White winged wood duck, Great Pied Hornbill, Wreathed Hornbill, Rufous Necked Hornbill, Black Stork, Ibis Bill, Large Whistling Teal, Common Merganser, King Vulture, Long Billed Ring Plover, Khallej Pheasant, Hill Myna, Pin tailed green Pigeon, Himalayan pied Kingfisher, Three Toed kingfisher, Fairly Blue Bird Yellow Throated Materna, Malabar Grey hornbill, Oriental bay owl, Broad tailed Grass warbler, Osprey (a fish eating bird), Great Pied hornbill, Great Indian Hornbill.
Reptiles: Indian Marsh Crocodiles Or Mugger, Shrew, Long snouted crocodile, Gharials, Estuarine Crocodile, King Cobra, Common Krait, Cobra, Russell's viper, Rattle snake, Python and Monitor Lizard Regal python, Pit Viper, Russell's Viper, Banded Krait, Python, Rat Snake, Assam Roof Turtle, Malayan Box Turtle, Keeled Box turtle, Asian Leaf Turtle, Narrow Headed soft Shelled Turtle, Indian soft Shelled Turtle, Ground Turtle, Hawks Bill Turtle, Common Skink, Indian Monitor, Fan Throated Lizard and Indian Garden Lizard in the Kanha and Bandhavgarh Tiger Reserves have been devoured by tigers and their cubs as established by a film. Giant Danio, Common Rasbora, Mud Perches, Brown Snakehead and Green Snakehead, Ceylon mouth frog, Nilgiri Martin belong to the reptilian family.
Fishes/Aquatic fauna: Mahaseer, Kalimuchi, Kalabasu, Chilwa and Goonch. Horse shoe Crabs, Golden Mahaseer, Short gilled Mahaseer, Silghoria River Terrapin (Batagur baska), the Gangetic Dolphin, Otter are among the aquatic fauna. Infact the Sunderbans offers estuarine habitat for both the sharks and the tigers!
The good news is that India's total tiger habitat has risen to roughly 45,000 sq.kms from 37,761 sq.kms with the addition of eight new Tiger reserves: Anamalai Parambikulam (Tamilnadu–Kerala 1410 sq.kms), Udhanthi Sitanadi: (Chhattisgarh, 1580 sq.kms), Satkoshia (Orissa, 988.30 sq.kms), Kaziranga (Assam, 625.58 sq.kms), Achanakmar (Chhattisgarh 963.274 sq.kms), Dandeli Anshi (Karnataka, 875.84 sq.kms), Sanjay Dubri (MP, 831.25 sq.kms) and Mudumulai (Tamilnadu, 321 sq.kms).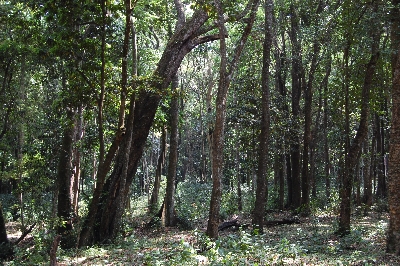 The undergrowth in the forests support a myriad fauna. Sunlight barely reaches the forest floor in these amphitheatres of natural history. Pic: Malini Shankar.
"Inviolate space for the tiger is made available with the extra tiger reserves which is required for tiger sociology", says Dr Rajesh Gopal, Member Secretary of the National Tiger Conservation Authority. Tiger sociology is term used to refer to mating behaviour, genetic pattern, predator prey ratio and so forth. A minimum of 20 adult breeding tigers are necessary across an area of around 800 – 1000 square kilometres of inviolate forests for tigers to sustain their numbers, forest cover and catchment area for the indispensible Indian monsoons.
In sum, both for species it protects and the ecosystems it inhabits, the tiger is the sentinel of the ecological destiny of the whole Indian subcontinent. The least we can do is to recognise and assist the enormous responsibility that the Royal Bengal Tiger bears on its fragile shoulders in an even more fragile hearth.