The State of Jharkhand, that mineral rich southern part of the former State of Bihar, which was hived off into a separate State in 2000, has become famous recently for the achievements of Mahendra Singh Dhoni, the Indian cricket captain who seems to be on a permanent winning streak.
But Dhoni is not the only remarkable individual from this State. In the wake of the 26/11 terror attack on Mumbai, when the media was understandably concentrating on developments surrounding that tragic incident, a woman from Jharkhand was honoured at a ceremony in New Delhi. This went virtually unnoticed. She is not part of the glitterati, the "beautiful people" who seem to dominate our television screens these days. She will not be invited to television chat shows to give a sound byte. She will not feature on the front pages of our magazines and newspapers.
Yet, this exceptional 44-year-old tribal woman, a journalist and an activist, could probably teach even Mahendra Singh Dhoni a lesson or two about how to fight back even when you are down and everyone expects you to lose.
Worthy recipient
Dayamani Barla was chosen for the Chingari Award for Women Against Corporate Crime 2008. The award itself is remarkable because it has been instituted by two women who took on one of the biggest corporations in the world, Union Carbide in 1984 after one of the worst industrial disasters killed thousands of people in Bhopal. Rasheeda Bee and Champa Devi Shukla won the Goldman Environmental Prize in 2004 for their work in Bhopal to get justice for the victims. Instead of using the sizeable award money for their needs as they could have given that they were victims of the gas disaster, they decided to invest it in a trust that would recognise each year a woman struggling on the same issues as them.
In Dayamani Barla they have found a worthy recipient for the award. Like Rasheeda Bee and Champa Devi, Dayamani knows the cost of fighting against the powerful. Born in a village in Gumla district of Jharkhand to a landless family, Dayamani's father was forced to give up his house to usurious moneylenders when she was still young. Her mother had to find work as a domestic in Ranchi and Dayamani had to work to supplement the family income from the age of nine. But she also continued to study, and worked to support her family by giving tuitions and typing, at the rate of Rs.1 per hour. Many children under such circumstances would have given up education. But Dayamani persisted and cleared not just high school but even university. She did her Masters in Commerce from Ranchi University and went on to be an award-winning journalist and author. She was clear from the start that she wanted to use her pen to give a voice to those who are otherwise not heard.
There are many lessons one can learn from the struggles and lives of women like Dayamani. Currently, she is leading the fight against Arcelor-Mittal's plans to set up a giant steel plant in Jharkhand. Why should she oppose industry that will create jobs in her State? Because she believes that the price that the tribals pay when they are displaced from their lands cannot be compensated through a few jobs or money. "Natural resources to us are not merely means of livelihood but our identity, dignity, autonomy and culture have been built on them for generations," she is reported as saying. She believes that the location of such a huge plant will adversely affect the forests and water sources in the region.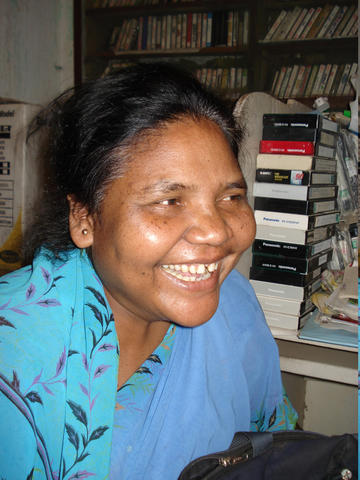 She believes that the price that the tribals pay when they are displaced from their lands cannot be compensated through a few jobs or money. (Picture source: aidindia.org).

Dayamani honed her skills for such a struggle when she joined the tribal groups opposing the Koel Karo dam in the 1990s. The dam would have submerged 66,000 acres and displaced 135,000 tribal families from their lands. Because of their determined struggle, the plans to build the dam were finally shelved.
Relevant journalism
As a journalist, she has used her pen to write about not just the injustices meted out to tribals resisting efforts to displace them, but also to expose the corruption in several government-run schemes like the National Rural Employment Guarantee Scheme. Here fake muster rolls allow contractors to claim money on behalf of the poor. Only vigilance by local groups or by the media can ensure that the scheme actually serves the purpose for which it was designed. Through her writing, primarily in the newspaper Prabhat Khabar, Dayamani has set a standard for the kind of relevant journalism that is rare at a time when celebrity and sensation dominate all media.
In Jharkhand as in other tribal dominated States, while State governments are busy signing deals with industries and mining companies to barter away tribal lands, the local people are organising resistance to these projects. The winners and losers in these struggles could well shape the future of economics and politics in this country. These battles represent an opportunity to devise a process of development that is inclusive, that is environmentally benign, that acknowledges the rights of people who have cared for the forests and the rivers, and that ensures that even if there is industrial development, it is not at the cost of these irreplaceable natural resources and vulnerable lives.
So as 2008 ends, I would like to salute women like Dayamani, for reminding us that there are other ways to "develop" and that it is possible to fight peacefully but with determination for your convictions.