Nirmala Choudhary did not quite plan to become a social worker. Unlettered, married at 13, and the mother of five children, she was in fact one of the first to bolt her doors when NGOs arrived at the Vishwanath Pur village of Mishrik block of Sitapur district. Recalling that ten years later today, however, she laughs, pointing to so many doors that have been shut in her face, as she has campaigned to let girls go to schools in a district where the literacy rate is an abominable 49 per cent. In the process of putting girls through schools, Choudhary herself cleared her class five exams, and leap-frogged into the '1000 Women for Nobel' list in 2005.
"My work gave me the opportunity to understand myself better", she says. Choudhary is an active fieldworker with Mahila Samakhya, the government-sponsored programme launched in 1988 to educate and empower rural women across 9 states. Being a harbinger of transformation is not the easiest thing in an environment that resists change and actively promotes the status quo. Choudhary learned this the hard way, when her own family came down on her for her reformist leanings. "I had police complaints lodged against me that I was instigating fighting within the community, the panchayat routinely condemned me while the village women ticked me off for corrupting their girls. Being a mother of four girls I was forever afraid that something might be done to them. There were real threats of violence from my own caste, and the upper castes. My husband wanted to leave me", she remembers.
But Choudhary persisted. Today as she goes about resolving disputes, imparting advice and encouraging girls to be enthusiastic about their studies you realize that every bit of the respect she is accorded has been won after a long fight.
"Social work is an empowering work option", offers V N Mishra, Head, Department of Social Work, Lucknow University. "But like in any other work situation, women are doubly disadvantaged because of their sex and the environment in which they are placed. Moreover the work itself is unstructured and completely people-centric, and involves a lot of traveling. Also, it is somewhat daunting to say that one is a social worker and be taken seriously; our society perceives this as something dispensable, for women to do in their free time. There are also hardened images. A woman as a social worker is either a rabble-rouser or a Page Three aspirant. It is difficult to imagine her as a serious professional."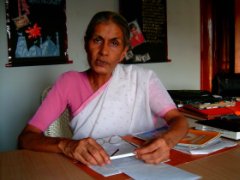 The quantum of hurdles set in the path of women is relative to the kind of work being done. Those projects which strike at the social structure are resisted more actively than those which aim at capacity building. Professor Rooprekha Verma, (picture: right) a former Vice Chancellor of the Lucknow University, and secretary of Saajhi Duniya, an organization that battles violence against women, says the former are viewed as acts of rebellion. "Women are never looked upon as normal citizens and veer between the bechari and the Phoolan Devi image. There are problems as soon as they take stands that are uncomfortable for many."
But as Verma points out, there are issues which women can handle better, ironically, by virtue of the very frailties that make them vulnerable. "Women victims are more comfortable talking to women. Even men who work on women's issues, seek the help of women's activists."
At times the social structure itself makes it imperative for women to take up an issue. Pushpa Valmiki, founder of Adharshila, a 1995-established organization that works with manual scavengers, avers that 95 per cent of manual scavenging is done by women, hence it is an issue that affects them more deeply. Valmiki herself was born into a family of manual scavengers, and despite her masters degree found herself at the receiving end of discrimination and harassment. "The community can be pulled up only when its women become articulate. In my years as a teacher, I would often come across comments to the effect that those of my community were genetically disposed to remain at the bottom of the social heap. Through our Dalit Mahila Mukti Manch, which has a membership of 10,000 in Lakhimpur Kheri and Sitapur, we are working towards instilling women with the confidence to demand social, economic, political ascendancy and respect".
Sonia Singh (27) who spent four years as a social worker, discovered another unpleasant aspect of her chosen sector. Singh's work was to run alternative learning centers and teaching rag pickers at a railway platform. The latter came at great personal risk, with the railway police shooing off the kids and their teacher at the smallest pretext. But while the risks were tolerable, Singh was disappointed that many social workers placed a greater premium on visibility than on genuine work. "People think women are more pliable. That they can be arm twisted into giving away credit. But hogging the media space was not an issue till I realized that the constant interference, the emphasis on reporting to the seniors, and the endless rounds of meetings was only taking away from work", Singh offers.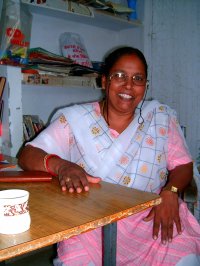 "The community can be pulled up only when its women become articulate", says Pushpa Valmiki.


• A guarded tongue

Women in the social service sector also face the risk of being doubted more than their male counterparts, for a woman who leaves behind her home to usher change in the world, doesn't easily fit into an 'ideal' mould, in many people's eyes.
Madhavi Kuckreja (46) founded Vanagana in 1992 in Chitrakoot, a backward, patriarchal district which reports one of the highest incidences of violence against women. "The first seven eight years", Kuckreja remembers, "were spent in creating a general atmosphere of goodwill". To gain acceptance within the community, Kuckreja started with a 'neutral' project, that of training women to repair handpumps.
"The initial acceptance was necessary, or else we would have been unable to touch the tougher issues. Once we eased ourselves into the situation, people were willing to listen to us, even though they might not agree." But even in this situation of acceptance, Kuckreja's group, which acted as a watchdog for human rights violations, has been pulled up by the police and threatened by the local community. And the hostility has been as much from the women as the men. For instance, at Apni Rasoi, a small all-woman catering unit that is an offshoot of Vanangana, the workers refused to accept Dalits as part of the team, until they were told that they had only two choices - to remain and work alongside Dalits, or to leave the group.
While social work continues to be stimulating and deeply enriching for a lot of people, as in any other work type, changes are needed within the social service sector as well. An overall climate of acceptance, better work practices, the provision of creches and sexual harassment committees at the work place are just a few of the pre requisites for making social work a safe work option for women. Or else many Nirmalas and their potential for positive change will remain untapped.