On a small hill of boulders under the scorching sun lies 6-year-old Sudarshan, fast asleep, oblivious to the happenings around him. One look around and you can spot many such Sudarshans amidst the rising dust in the air.
Around 46 houses at the Ganesh Krupa Society in Khar (E), Mumbai were demolished by the builders after a High Court order. As uncertainty prevails over their future, residents seem to be clueless about the reasons behind such an act.
"Several generations have grown up here, it's strange, how in a matter of few seconds my house, my only shelter, my childhood, my security was brought down under the acclimation of so called development," says Sudarshan's father Partab Deshmukh, seated on the debris of his 70-year-old house.
On being asked, why he cannot relocate his family to some other place, Deshmukh stares with rage and says, "I had a barber shop here. Do you expect me at the age of 45 to go and build a new home for my 8 kids and a source of earning for myself?"
Medha Patkar, known for her Narmada Bachao Andolan, had gone on an indefinite hunger strike, seeking justice for those affected due to the demolition drive. "The government and the builders have misused the Slum Rehabilitation Laws and in the garb of the Slum Rehabilitation Authority in Mumbai have led to lakhs of slum dwellers struggling for the basic right to a house. After colonialization, this is the new form of subservience, buildersahi," said the firebrand social activist.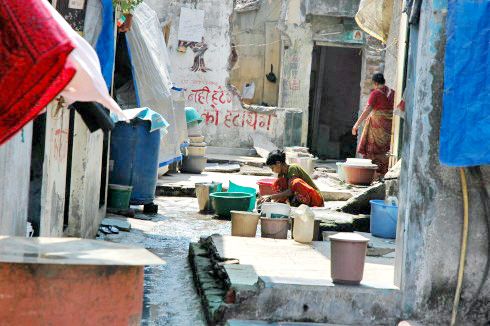 Picture: Partially demolished houses at Ganesh Krupa Society after an earlier eviction drive.

"This is not a recent struggle. Slum dwellers have been fighting for their rights since 2004, when vast slum areas in Mumbai were razed by the Vilasrao Deshmukh government to convert Mumbai to Shanghai. The Adarsh Housing Scam, Hiranandani Developers Land Grab are examples of the extent to which handful of powerful people are robbing the common man of a basic right to shelter," she added.
"Khar Golibar area is another standing example, wherein 350 acres of land, which housed nearly 40,000 families was literally gifted to a single private company - Shivalik Ventures, by invoking special clause 3k of the SRA. This clause gives a single builder complete rights to redevelop a large slum without inviting tenders," said Patkar.
Jayanmati Halwani, who too lost a shelter over his head says, "It was totally unfair on the part of the government to raze our houses. And more so the manner in which they have done that, by giving us just a day's time to evacuate after the notice was handed over to us." It is learnt that the evacuation notice was handed over to the families on 1 April 2013 and the slum was bulldozed very next day on 2 April, 2013.
"I'm not against development, but while we embark upon such a plan we must also think of those who are going to be displaced because of our action. Around 75 per cent of Mumbai's population lives in slums comprising 16 per cent of the total land area. If such mass encroachment from builders continue, then where will the displaced go?" asks Patkar, who apparently broke her hunger strike after Maharashtra Chief Minister Prithviraj Chavan directed Chief Secretary to probe into the Ganesh Krupa Society matter and submit its report within a week.
Weeks have gone by, Medha Patkar still awaits for an assurance from the CM's office along with those rendered homeless, who are now residing on footpaths in anticipation of a healing touch.
How rules are bent
The Slum Rehabilitation Authority authorizes private builders to redevelop slum lands. The slum dwellers are moved into vertical establishments, and the land is thus freed up and becomes a free sale component in the property market. Privatization also means that the government is not responsible for maintaining transparency and quality of the buildings that the private builders will construct. Since money to be made from new land sales in Mumbai is extremely high, there is a vicious competition amongst builders to woo slum dwellers.
There is an important clause and proper process in stages through which any contractor has to proceed. At least they are mandated to first shift the residents into vertical establishments before demolitions. Leave aside allotment of flats, the residents of Ganesh Krupa Society were not even informed about evacuation until just a day earlier.
SRA assures a house to only those people who can show that they have been residents of Maharashtra since 1995 and have had a house in the same society since then. Moreover, the Authority can give permission to go ahead to the builder only if they are able to attain approval of 70 per cent of the people in a society. However, extortion, fraud and forgery at the ground level by builders to establish the fulfilment of conditions convenient for them and lure societies into signing a deal with them have become common practice.
"Builders are encroaching upon our land through unfair means. I have the paper of Antop Hill case. The builders have made fake documents of 620 residents who are not real just to get the deal passed by the High Court. They illegally produced the names, got ration card and bijli bills in the name of these non-existing people. The High Court requires approval from 70 per cent of the residents of the area to pass any redevelopment plan. These non existent residents constituted those 70 per cent," says Sheikh Imtiaz showing the RTI paper.

There is also a clause in the SRA according to which a construction company cannot carry out redevelopment ventures unless the slum dwellers have approved them as amenable to their demands and conditions. On 3 October 2004, the SRA had issued a letter of intent SRAIENG/819/HE/PULOI, which approved Madhu Constructions as the sole authority for carrying out the redevelopment plan in Ganesh Krupa Society. The residents of Golibar society had also favoured Madhu Constructions for the plan. However, financial constraints and pressure from big builders, Madhu Constructions entered into a joint venture with Shivalik Builders Pvt. Ltd. on 3 March 2008 without the knowledge of slum dwellers, which is illegal.
The crucial resolution of the Society dated 7 February 2009, approving of and giving consent to the company to carry out the development, is also suspect and criminal proceedings initiated by slum dwellers in the matter are pending. It is alleged that on the basis of fraudulent documentation, Shivalik succeeded in attaining favorable orders from court, thus beginning forcible evacuations.
Slums constitute an integral part of Mumbai's cityscape as its potential of employment deploys vast population and therefore attracts many to the city. Due to minimal income, high competition and high cost of living a large amount of people end up finding shelter in slums which have shanty structures and unhygienic conditions. Slum development is indeed an important idea to be achieved. However, the motives and logic of operation in these areas seem completely divorced from the real objective of the SRA.