New Delhi, (WFS) - One day, recently, I checked in a bit early to catch a flight at the Bangalore airport. As I sat getting bored, I decided to browse at the bookstall, something I almost never do because of the peculiar mix of books airport stalls have - travel, oriental India, spiritual India, Jeffrey Archer - that I neither have the time nor money for.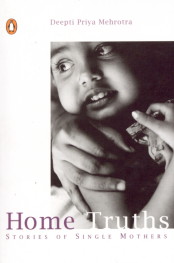 I was both surprised and pleased to find many copies of Home Truths, Deepti Priya Mehrotra's recently published book on single mothers, on one of the shelves. And I began wondering at the many transformations this could represent. Is it because Penguin, which has a wide reach in the market, has published the book? Are 'single moms' an important part of today's reality? Has the women's movement created a space for thinking about issues in new ways? Or is it merely that the title of the book is eye-catching?
Whatever the reason, it is good to know that a feminist rendering of an emerging facet of life has a readership beyond the already converted communities. Home Truths is a narration of the experiences of single mothers as they cope with multiple emotions and challenges in a world defined by the nuclear-extended family, which is regarded as the norm in India. Even in the post-globalisation, market oriented, consumerist metropolitan India, the family (as shown in advertisements), is the nuclear family plus dad's mother and father on the one hand, and 'couple-dom' on the other. The single mother phenomenon is an aberration in such a situation and there are almost no institutional supports available for women to mediate their difficulties, as Mehrotra notes in her afterword.
Single mothers face problems and overwork, yet they also savour a sense of autonomy and independence.

The experiences of single mothers constitute the main part of the book - a series of stories of women from different social locations. Although the number of narratives is small, the women are drawn from different communities, regions and professions. Single mothers face problems and overwork, yet they also savour a sense of autonomy and independence.
I was particularly drawn to some of the narratives. Nafisa of Hyderabad for instance, just walked out of a bad marriage one day. She took courage from women she had seen on TV - those who refused to accept that their lives would continue to be determined by men who tried to victimise them - and arrived at the dargah (shrine) of Nizammudin, in Delhi. Meena, a nautanki (song-dance-drama) artist, recognises that for one like her "there is no one when she is old"; her daughter too has become a nautanki artist and dances for a living. Then there is the narrative of Sapna, a widow who says quite matter-of factly, "I am the mother, I am the father". There is no place for self-pity in her approach; she insists on living by a code that she has evolved. And because Sapna has become part of a newly forged community of women activists in a working class area, she has a protective shadow of women friends falling over her. And so, she is not alone.
Pratima's husband died in an accident; she struggled for years to be independent, to feed her children on her own earnings and is finally able to craft a new life where she is at peace because now, she can add curry to the rice that the family managed on, earlier.
These are stories of extreme fragility - of survival, of choices denied and others consciously made, of anger and bitterness at betrayals, and of pleasure gained at achieving autonomy. No two stories are similar, even as there are many common threads. The narratives in the book can be read separately, as they stand on their own. The prologue pegs the book and an afterword seeks to address some of the issues the narratives throw up. Yet, there are many other issues that the individual reader can relate to, or draw out from the richly woven tapestry of experiences that women recount as they generously let you into their lives, their difficulties, their sorrows and their fears as well as their dreams and hopes.
Mehrotra has also tried to bridge the distance and the hierarchy that is inherent in a relationship when one person talks about her own life and another writes it down, even as the book binds the two together as single mothers. The author includes an account of her own life as a single mother - which she taped - becoming for that duration, both the narrator and the listener. The author's narrative is a very honest account, one of the rare retellings of complex emotions in the book - of anger and rage, and a sense of betrayal at the break up of a marriage. Toward the end of the narrative, there is an equally honest recognition that her ex-partner is not a villain but rather another person with his own needs and shortcomings. Finally, she has got to a stage where she sees herself as part of a flow of people, work, music and laughter, of being able to finally savour her space and freedom.
In the author's personal narrative, we see that she has got to a stage where she sees herself as part of a flow of people, work, music and laughter, of being able to finally savour her space and freedom.

Not all the narratives are about reaching some kind of resolution to difficulty. There is an implicit understanding that there is considerable insecurity in their lives. But equally, there is the insight that 'security' usually goes along with economic dependence, and accepting arbitrariness as an aspect of the relationship with a partner. As Mehrotra puts it, the price of security could also be the condition that "no home is forever". And when that home breaks up - through death, abandonment or choice - you could be left feeling that as a single woman there is no one for you. Or, that although it's been a long, tough journey, you have created your own secure kind of place.