China's record economic growth rate fuelled by the Special Economic Zones (SEZ) is often advocated as the reason for India to adopt this approach. Since the 1980s, China implemented a series of measures and policies with the sole purpose of achieving rapid economic growth. As evidence over the years has shown, this single-minded pursuit of growth has lowered the efficiency and effectiveness of economic policies, besides incurring huge resource and environmental costs. The Chinese experience offers a valuable lesson for India.
Cost of Export-driven Growth
China has to feed 22 percent of the world's population on only 7 percent of land. In July 2005, China's countryside had over 26.1 million people living in absolute poverty and was home to 18 percent of the world's poor, according to Chinese Minister Li Xuju quoted in the People's Daily. Every year, an additional 10 million people have to be fed. Despite this daunting target, between 1996-2005, "development" caused diversion of more than 21 percent of arable land to non-agricultural uses, chiefly highways, industries and SEZs. Per capita land holding now stands at a meager 0.094 hectares. In just thirteen years, between 1992 and 2005, twenty million farmers were laid off agriculture due to land acquisition.
As more arable land is taken over for urbanization and industrialisation, issues related to changes in land use have become a major source of dispute between the public and the government. Protests against land acquisition and deprivation have become a common feature of rural life in China, especially in the provinces of Guangdong (south), Sichuan, Hebei (north), and Henan province. Guangdong has been worst affected. Social instability has become an issue of concern. In 2004, the government admitted to 74,000 riots in the countryside, a seven-fold jump in ten years. Whereas a few years ago, excessive and arbitrary taxation was the peasants' foremost complaint, resentment over the loss of farmland, corruption, worsening pollution and arbitrary evictions by property developers are the main reasons for farmers' unrest now.
UNEP worked with Google to produce before-and-after satellite images of a hundred 'hotspots' and integrate them into Google Earth.
Titled UNEP: Atlas of Our Changing World, Shenzen's before and after pics are for the period between 1979 and 2004 are available through this program. (See: the UNEP site for more.)

While rural China is up in arms against acquisition of land, SEZs like Shenzen in Guangdong showcasing the economic miracle of China, are beset with problems. After growing at a phenomenal rate of around 28 percent for the last 25 years, Shenzen is now paying a huge cost in terms of environment destruction, soaring crime rate and exploitation of its working class, mainly migrants. Foreign investors were lured to Shenzen by cheap land, compliant labour laws and lax or ineffective environmental rules. In 2006, the United Nations Environment Programme designated Shenzen as a 'global environmental hotspot', meaning a region that had suffered rapid environmental destruction.
There's more. According to Howard French, the New York Times bureau chief, most of the year, the Shenzen sky is thick with choking smoke, while the crime rate is almost nine-fold higher than Shanghai. The working class earns US$ 80 every month in the sweatshops and the turnover rate is 10 percent – many turn to prostitution after being laid off. Further, real-estate sharks have stockpiled houses which have caused prices to spiral and have created a new generation of people French calls "mortgage slaves" in an article in the International Herald Tribune on 17 December 2006.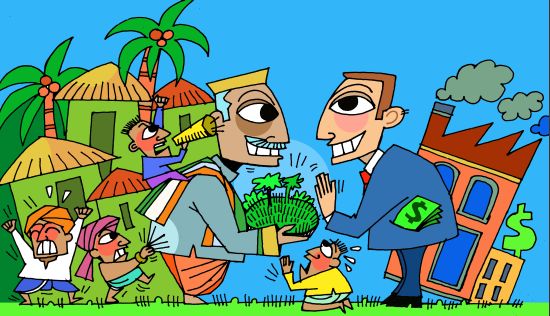 Illustration: Farzana Cooper
The mindless pursuit of growth following the mode of high input, high consumption and low output has seriously impacted the environment. In 2004, China consumed 4.3 times as much coal and electricity as the United States and 11.5 times as much as Japan to generate each US$1 worth of GNP, according to the The Taipei Times. Some 20 per cent of the population lives in severely polluted areas (Science in Society) and 70 percent of the rivers and lakes are in a grim shape (People's Daily). Around 60 per cent of companies that have set up industries in the country violate emission rules. According to the World Bank, environmental problems are the cause of some 300,000 people dying each year. The Chinese government has admitted that pollution costs the country a staggering $200 billion a year - about 10 per cent of its GDP.
While export-driven policy for economic growth has helped China touch record growth figures, the income gap is widening and rapidly approaching the levels of some Latin American countries. Going by a recent report by the Chinese Academy of Social Sciences, China's Gini coefficient – a measure of income distribution where zero means perfect equality and 1 is maximum inequality – touched 0.496 in the year 2006. In comparison, income inequality figures are 0.33 in India, 0.41 in the US and 0.54 in Brazil. Further, the rural-urban income divide is staggering – annual income of city dwellers in China is around US $1,000 which is more than three times that of their rural counterparts.
In certain areas such as asset distribution or years of schooling China's levels of inequity are lower (i.e., more favourable) than India. However, when one looks at it at the aggregate level, the picture is different.
The levels of inequity in China have been rising through the last three decades, whether between rural and urban, within them, or on an aggregate basis.
According to Zhu Ling, between 1978 and 1995, the Gini coefficient of rural income increased from 0.21 to 0.34 and that of the urban from 0.16 to 0.28.
With the economy opening up rapidly post-1995 and also due the massive concessions that China was forced to make in order to join the WTO, the trend continues and the aggregate Gini coefficient in 2006 was around 0.5.

It is in this backdrop that India's SEZ thrust must be seen. Following China, India is replicating a similar model where vast tracts of agricultural land are being acquired for creating SEZs and other industries. The September 2005 notification on Environment Impact Assessment is lax for industrial estates, including SEZs, and apprehensions of dirty industries coming up in these zones are quite real. Further, with drastic changes in labour laws favouring industry being considered, the plight of workers in these SEZs will be similar to those in China. Such a mode of development is environmentally unsustainable and socially undesirable.
Further, it is now widely acknowledged that Chinese exports have also been boosted by its undervalued currency, something which Ben Bernanke, chairman of the US Federal Reserve, terms as an "effective subsidy". This is a luxury that Indian exporters do not enjoy. The argument for setting up SEZs to emulate China's export-led growth is therefore questionable.
Is export-driven growth through SEZs desirable for India?
There is no doubt that exports play a significant role in boosting GDP. However in the case of a country with a sizeable domestic market, the choice lies with the producer to either export or supply to the domestic market. Ila Patnaik of the National Institute for Public Finance and Policy wrote in the The Indian Express in December 2006 that household consumption in India at 68 percent of the GDP is much higher that that of China at 38 percent, Europe at 58 percent and Japan at 55 percent. This is an important source of strength for the domestic manufacturing industry of India.
Given the high level of consumption of Indian households, it is quite possible that this rush is fuelled not by the desire to export out of the country but by the possibility of exporting from SEZs into the Domestic Tariff Area (DTA). The SEZ Act is also designed to facilitate this. Any unit within the SEZ can export to the DTA, after paying the prevailing duty, as long as it is a net foreign exchange earner for three years. It is therefore a win-win situation for these units.
The sops in a SEZ will reduce the cost of capital while labour reforms will ensure trouble-free operations. Further, given the considerable international pressure to reduce industrial tariffs, SEZs will be able to export to the DTA at highly competitive prices. This does not augur well for units outside the SEZs who will now face unfair competition. As cheaper imports have already played havoc with the livelihoods of artisan sector of the economy, cheaper imports into DTA from SEZs will also adversely affect the domestic industry. No wonder many of them now want to migrate into SEZs.
In a country with 65 percent of the population depending on agriculture as a means of livelihood, industry ought to be complementary to agriculture. Through SEZs however, industry is being promoted at the cost of agriculture. Valuable resources spent to create SEZs will be at the cost of building better infrastructure for the rest of the country, something that will affect both the domestic industry as well as agriculture.
Other lessons India could learn from China: Welfare
While the Chinese experience with export-driven economic growth definitely offers many sobering lessons, there are many other areas where India can learn from China. China has initiated a series of measures to arrest social tensions and rising inequality in rural areas. In April 2004, the State Council, China's cabinet, halted the ratification of farmland for other uses and started to rectify the national land market. The Minister of Agriculture, Du Quinglin, promised "not to reduce acreage of basic farmland, change its purpose or downgrade its quality".
China also abolished agricultural tax in 2006 and increased subsidy for food grain production by 10 percent. To boost rural income, the selling price of grain was increased by 60 percent in 2005. In 2004, out of a total 900 million farmers in China, 600 million received US$ 1.5 billion (Rs.6,630 crores approximately) as direct subsidies. 52 million of the Chinese farmers have joined in the rural old-age insurance system and 2.2 million received pensions in 2005. More than 80 million farmers had participated in the rural cooperative medical service system by the end of 2004, and 12.57 million rural needy people had drawn allowances guaranteeing the minimum living standard by the end of 2005.
India, on the other hand, either does not have any of these safety nets or is in the process of dismantling the few that exist. There is much to learn as well as unlearn from the Chinese experience. Until that is done, millions of poor across the country will be made to pay an even higher price than the Chinese did for following this flawed approach.