In 1824, a good 33 years before what is believed to be India's first War of Independence of 1857, a man called Kunwar Chain Singh died fighting against the British. His grave is located in the small town of Sehore, around 37 km from Bhopal off the road to Indore. People in Sehore believe Chain Singh was the first martyr for India's independence. The people of the locality lovingly maintain a small mausoleum in his memory.
This town has other reasons to be proud. A former Supreme Court Chief Justice and later Vice-President of India, Justice Hidayatullah went to school here. Even today, Sehore has good quality schools and colleges. According to Om Deep, a respected social worker, 20 years ago Sehore was a very livable town with a population of around 40-50,000, that has doubled since then. It had a beautiful microclimate and was surrounded by forests, now largely denuded and water bodies that never dried up. Today it is becoming a village again, says Om Deep. There is no planning, and development is completely random.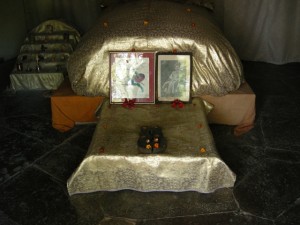 Kunwar Chain Singh's mausoleum in Sehore.
It is hard to believe that within two decades, a town with an adequate supply of water should be facing such an acute shortage that two factories - a sugar mill and a paper mill - were forced to close down as a result. With the closure of these two important avenues for employment, the majority of people who do not find government jobs or have businesses are left with no option but commute to Bhopal every day.
Sehore was once known as Sidhapur and was the former capital of the Bhopal Riyasat. Bhopal city was part of Sehore district until it was hived off into a separate district in 1972.
Like many other towns that were occupied by the British, Sehore is also divided into the 'Kasbah' or native town, and the more orderly former company town where the colonials lived. Not much is orderly in the Sehore of today, and that is largely - according to the local people - due to the absence of any planning. People have settled down wherever they have found vacant land. The inability of the municipal authorities to establish any kind of rules for construction is most evident in colonies where people have built drains in front of their own houses without working out where or how they will connect with the main drain. As a result, these drains simply retain wastewater and the garbage that is thrown in them.
Lack of water is the biggest problem here. The dry season sets in by February when the shortage is acute. There is no water supply scheme, and water is available once in three or four days, and that too only to parts of the town with piped connections. This still leaves roughly 40 per cent of the town without any direct supply of water. In the older areas, the water pipes are old three-inch pipes that are either choked or have burst, say some local residents.
Every house has an underground tank in which water is stored. The tankers bring water from the surrounding rural areas and charge Rs.300 for 5000 litres. From February to July people are entirely dependent on these tankers. But poor people do not have underground tanks. As a result, they end up paying more for water, as they cannot store it.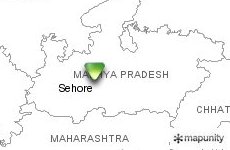 Sehore was once known as Sidhapur and was the former capital of the Bhopal Riyasat. Bhopal city was part of Sehore district until it was hived off into a separate district in 1972.


Even when there is rain, the underground sources are not replenished, as Sehore is located on a hard rock that is just two or three feet below the surface soil. The farmers are not so badly affected, as they get irrigation water and are able to get two crops a year. It is the people living in the town who have no sources apart from what is trucked in.
Poorer communities are worst hit, such as the 350-400 families living in Dussehra Bagh, who mostly survive on daily wages. Here there is only one hand pump a couple of kilometers away from which families collect water. They have successfully cleaned up a disused shallow well that stood in the compound of the now abandoned compound of a Food Corporation of India godown. This is used by the entire community and provides much needed relief.
The absence of water affects cleanliness. The municipal workers come every two or three months, say the women, to clean the drains. "We have so little water. How can we flush the drains?" asks one woman.
The one area where there has been an improvement is sanitation. Despite their poverty, people in Dussehra Bagh have toilets provided under a special State Government scheme that gives the poorest families a subsidy to build individual toilets. As a result, say the women, they don't have to face the indignity of open defecation. "In any case, there is no space left around here", says one of them.
Samarthan, a local non-governmental organisation, has worked with local people for over 10 years. Amongst other things, it has established a single window facility for people wanting birth or death certificates. Earlier they would have to run from one department to another and waste an entire day. They have also set up a similar facility in the 300-bed district hospital. This too saves people a lot of time and frustration. In addition, they have formed a Nagrik Vikas Manch consisting of representatives from various localities.
The Nagrik Vikas Manch has attempted to intervene on crucial issues of governance. For instance the women in the Manch, who are the most active, successfully exposed the corruption in their local anganwadi by getting information using the Right to Information (RTI) Act. As a result, they say, the situation in 35 anganwadis has improved notably and they have set up a system of community monitoring in five wards. In fact, Samarthan has succeeded in popularizing the use of RTI and over 4000 applications have been filed under it. As a part of the campaign, they invited the state Information Commissioner and had a public hearing attended by over 400 people.
Members of the Nagrik Vikas Manch are particularly concerned about the absence of a proper system for garbage clearance. There are only around 80 safai kamgars for the entire town. As a result, they visit each locality only once a week to collect the garbage that piles up. Bins are located in different parts of the town but people mostly throw the garbage around them rather than in them. In any case, as they are not emptied regularly, they are almost always full and overflowing.
Poor governance
While citizens' groups are trying to improve the quality of governance, the municipal council and its elected representatives are on collision course with the Chairman of the council, who is elected directly, and the Executive Officer appointed to assist in the administration. In early 2009, six councilors were arrested and later released when they objected to the presence of two private armed security guards of the Executive Officer who were present in the room during the council meeting.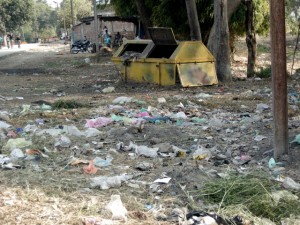 Garbage collectors visit each locality only once a week.
Typically, the Nagar Parishad's working is governed by politics. The majority of the elected councilors belong to the Bharatiya Janata Party, while the chairman is an Independent close to the Congress Party. As a result, there is no agreement. The Chairman and the Executive Officer also do not get along. Sehore has had two or three Executive Officers in five years.
Out of the 35 councilors, 14 are women. The latter are fairly active, particularly those who are educated. Some of the local women narrated how the community will not accept a "Pati Parshad", a husband who stands in for his wife. When one Pati Parshad tried to speak at a ward meeting, people apparently chased him away telling him that he was not their representative.
Lack of fresh investment, or sources of revenue, have added to Sehore's problems. Once a mandi town that served the needs of the villages around it, Sehore has lost that status. ITC has set up an E-Chaupal on the outskirts of the town that functions like a supermarket. People can buy anything from a tractor to fertilizer to groceries. As a result, fewer people are coming into Sehore and many businesses have been affected.
To make matters worse, according to the local activists, the municipality collects only 25 per cent of the taxes it is owed. Taxes are collected from barely a third of all the shops that should pay the municipality, they say. In any case, the level of taxation has not been revised for years despite rising costs. Many people do not pay even the monthly flat rate for water. As a result, whenever a group like Samarthan recommends a scheme or comes up with a new idea that would benefit the town, they are told that there is no money.
Sehore illustrates the problems that arise when there is poor governance. With politics and the personal tensions between the bureaucracy and the elected officials, little gets done. Even the initiatives taken by community groups and the intervention by a group like Samarthan become difficult to sustain when there is no support from the urban local body.