Political skirmishes, 'padyatras', Hinduvta versus secularism, and promises of a utopian state - it's election time in Uttar Pradesh, the country's most populous state. With a population of 170 million and with 403 Legislative Assembly seats up for grabs, all eyes are on how the masses are baited. Of course, masses do not include the approximately 78 million women of the state.
As political parties floated their manifestos during the run up to their campaigns, it seemed that even false promises were few and far between for the women of U.P. The manifestoes had conveniently sidestepped gender issues, let alone working towards them. Thus, in an attempt to wake up the electoral candidates to the needs of the women, a group of women representing over 24 women's groups and social organisations in U.P. has formed a state coalition on gender issues and brought out a 'mahila goshnapatra' (women's manifesto). This recently released 'goshnapatra' not only puts forth the contemporary demands of women, but also lists and analyses the failings of political parties with respect to women's issues and rights.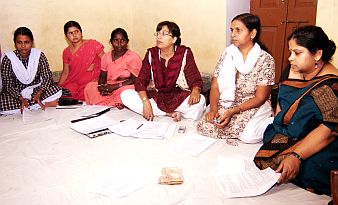 The women of the state coalition releasing the women's manifesto. Jashodhara Dasgupta of Healthwatch (fourth from left) and Arundhati Dhuru of NAPM (extreme right). Pic: WFS.
The coalition is made up of organisations working with a gender perspective in areas such as health, empowerment, legal rights and violence. Some of the members of the coalition are Healthwatch (U.P. and Bihar) that works on women's health issues, Vatsalya, which focusses on female foeticide, Vanangana, that works amidst rural and dalit women in Bundelkhand, Gramya, known for its initiatives for tribal women in Sonebhadra, Mahila Samakhya, which believes in women's empowerment through education and livelihood, Aali, which offers legal assistance to women, Humsafar, which focusses on violence against women and the National Alliance of People's Movements (NAPM).
"With the ongoing assembly elections in the state, we have decided to keep a check on what the parties are promising to the women. In U.P., incidents of violence against women are very high. Also, women are denied even their basic rights. We have broadly categorised all these demands under political rights, economic rights, violence against women, health, right to education and rights of minority women. Our political parties must realise that without ensuring safety and rights for women, they cannot think of progress and winning," says Jashodhara Dasgupta of Healthwatch U.P. and Bihar.
By categorising their demands these women have left no room for ambiguity. For political rights, they have called for all parties to support the 33 per cent reservation for women in parliament and have stressed the need to increase the number of women candidates running for elections. "If you look at the list of candidates fielded, there are hardly any women. We want more representation for women in the electoral process, at all levels," says Dasgupta.
The coalition has met with senior leaders of political parties including the Congress, BSP and BJP to apprise them of the issues raised in the manifesto.


• Looking back, looking forward
• Testing healthcare reforms in U.P.

With respect to economic rights, the manifesto says that the reservation recommendations for women under the National Rural Employment Guarantee Scheme should be implemented strictly. Ration cards should also include the names of women. In cases where a woman is the head of the family, the ration card should be in her name. Furthermore, women working in cottage industries should be recognised as labourers and given benefits. Says Arundhati Dhuru of NAPM, "Women work for an equal number of hours at work, whether it is farming or in an office, and then, also work at home. Despite that they are not considered as equals. They have no rights as labourers."
However, healthcare and violence against women are the most important issues raised in the manifesto. "These are the two areas where the state has failed to deliver. An increasing number of maternal deaths and rising instances of violence against women should be eye-openers for politicians," say Niti Saxena of Aali and Madhavi Kukreja of Vanagana. The coalition demands that politicians with cases of violence against women registered against them should not be given tickets. In addition, women should be given maximum protection in times of communal riots as they are the worst affected.
Healthcare is a top concern on the 'goshnapatra'. According to Vatsalya's Dr Neelam Singh, "Girls in U.P. are not safe even before they are born... " There has been a call for emergency services being made available at all community health centres, greater allocation of funds for the anganwadi programme, and strict action against ultrasound centres, conducting sex determination tests, under the PNDT Act.
Motivated by the initiative of this coalition, several other groups have come on board. Some of the new comers include All India Progressive Women's Association (AIPWA), All India Democratic Women's Association (AIDWA), Bhartiya Mahila Federation, Centre for Environment and Rural Technology (CERT), Stree Adhikar Sangathan, Ibtada, Development Assistance Group (DAG), Sarc, Gandhian Institute and Gramonnati.
The coalition has met with senior leaders of political parties including the Congress, BSP and BJP to apprise them of the issues raised in the manifesto. Of course, at the mention of gender issues, political differences between the parties seemed to have disappeared, with all the parties saying the same thing: "Ab aage dekhenge kya ho sakta hai." (Later on we'll see what we can do.) Most parties say that such decisions can only be taken at their headquarters. "Our manifestoes are finalised in the capital and we cannot make many changes in them," said Virendra Madaan, spokesman, Congress, U.P.
However, the coalition is not in the least bit discouraged. Says Dasgupta, "...we have made our demands heard." Post-elections, the coalition will continue to keep a check on the various schemes launched by the state and union governments and on their implementation. The coalition also plans to take out protest marches, rallies and stage demonstrations to highlight their demands. (Women's Feature Service)