For most belonging to India's middle class, politics is a dirty word. Be it the everyday ups and downs at the workplace, or the insidious psychological maneuverings of participants in a reality show, nobody seems to think that "doing politics" (as such situations are often tagged) is essential, or can be a remotely positive preoccupation. Power is widely held as that which erodes a person of her morals and fellow-feeling, and yet is the ultimate intoxicant.
Indeed, in a country where representatives of power often come with the excess baggage of criminal records or proceed to get mired in endless cases of corruption, it is difficult for the average person to accept that politics is not an external entity that one may or may not allow into one's life, but a precondition of society. Politics is the manner in which we engage with daily structures of power, such as the family, the workplace, the state and the society. It is embedded in our existence, and no amount of non-complicity in partisan politics can erase our identities as political animals.
The erstwhile decision of the Trinamool Congress government in West Bengal to put on hold elections in colleges across the state, and the spate of events that it unfurled, have given rise to debates regarding involvement of the student community in politics. Views exchanged across newspaper op-eds or television programs have brought to light numerous streams of thought, ranging from the assumption of political naivete of students on the one hand to the fundamental democratic right of political participation on the other. But why this debate now?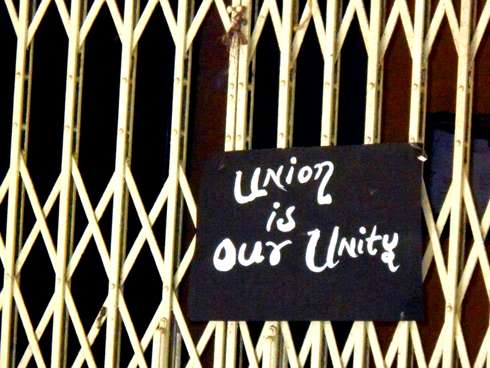 A sign outside the Union Room of a college in Kolkata. Pic: Ritaj Gupta
The context of such a decision had been a series of violent clashes that had taken place across various college campuses in the state, most notably the incident at Harimohan Ghose College on 12 February, 2013, in which a fight had broken out between miscreants from the local Congress and Trinamool Congress stables over the filing of nomination papers for the students' union elections. Caught in the crossfire, sub-inspector Tapas Choudhury was shot dead, and this sparked off discussions about the violent turn that student politics had taken in the state. It was not long before it was found that the clash was, in reality, between local Trinamool Congress councillor Mohammad Iqbal and Congress leader Mokhtar who aimed to settle political scores through union elections at the college.
As the state sought to issue a blanket ban on college and university students' union elections on 18 February, Education Minister Bratya Basu stated that this decision was not related to the Harimohan Ghose College incident, but rather the imminent state and other Board examinations, effectively denying the increase in violence within the precincts of colleges and universities under Trinamool rule.
Protesting against this crackdown on the political process within institutions, activists of the Left-backed Students Federation of India (SFI) started holding demonstrations. From one such gathering, a group of activists were arrested on 2 April and were being taken to the Presidency Jail under police supervision, when 22-year-old student activist Sudipto Gupta reportedly hit a lamppost and was grievously injured. Within hours, he succumbed to his injuries. The "collision" theory was rejected by many and suspicions were rife that the real cause of Sudipto's death had been heavy lathi-charge by the police, who have been accused on more occasions than one of acting as agents of the state's high-handedness.
The entire state went into shock over Sudipto's death even as Chief Minister Mamata Banerjee dubbed this a "small incident." The SFI, in retaliation, heckled the Chief Minister and her finance minister Amit Mitra in Delhi on 9 April in Delhi, unchaining a spate of violence from the Trinamool Chhatra Parishad front back in Bengal. While CPI (M) party offices were destroyed across the state, the most notable incident was the ransacking of the prestigious Presidency University and its historic Baker Laboratory the next day.
While campus politics in the state has in the past seen violence in many forms, the death of a peacefully protesting student leader in police custody, or the death of a policeman on duty during college union elections, or the ransacking of a foremost university constitutes events that have not been witnessed in recent times and which bring back memories of the turbulent student movements of the 70s.

In this entire chain of events, what has emerged is a strengthening of public opinion in many quarters towards one of complete vilification of politics as an aspect of student life. Public pleas for depoliticisation of the student community and college campuses have started surfacing with more regularity and frequency than ever before.
Student Politics and Bengal
While student politics in Bengal has had a long legacy of clashes between different student organizations, it cannot be denied that the current regime has seen a marked increase in the entrance of anti-social elements into the precincts of college. Many, however, see this merely as a continuation of the lumpenisation of student politics that had started under the Congress government of the 1960s and had gathered strength over the long rule of the Left Front.
"There is an imagined sanity of student politics, a naivete of thought that assumes that college politics is dissociated from the general politics of the country", says Upal Chakrabarti, assistant professor of Sociology at Presidency University and former student activist himself. According to him, the extent to which political parties involve themselves in deciding the fate of student unions across colleges and universities in West Bengal is acceptable per se, as there is a need to stop looking at student politics as an entity that is contained within the walls of the institutions alone. But what is unacceptable is the visible violence and narrow vote-garnering tactics that partisan politics brings into the ambit of educational institutions that is unacceptable.
Indeed, the incidents referred to above have all had direct supervision of 'bigger', mainstream politics, and cannot strictly be dubbed as reflections of the increase of violence within the student community alone. Those who feel that students should dissociate themselves from such politics largely predicate their opinion on the belief that student politics is suffering from a poverty of ethics; instead, they should perhaps read this upsurge in violence as part of a larger picture. One cannot view it as an isolated issue outside the presence of violence in the larger political setup and society as a whole. Earlier in February this year, the State Crime Records Bureau, in response to an RTI application filed by a resident, revealed that the state had seen 586 cases of political violence and 56 clashes between student groups between May 2011 and October 2011 - the first five months of the tenure of the present government. At least 926 political workers including 128 students had been injured in such conflict.
Filmmaker Rangan Chakravarty, an SFI activist in his student years at Jadavpur University in the late 70s, admits to an erosion in political ethics within the larger party scenario, which had a direct effect on student politics of his time. "The politics lost its politics," he says. Subhendu Dasgupta, former Professor of Calcutta University and also a student activist during his college years in the 60s, acknowledges the importance of partisan politics within the campus, but with the caveat that contemporary college politics and its closeness to mother parties is a nexus for producing cadres and garnering votes. "There is an absence of broader politics within the political programs of the parties themselves. The race for votes takes precedence and this obviously introduces lumpenism and muscle-flexing," he states.
Aritra Bhaumick, an ex-student of Scottish Church College and an SFI activist, sums up the situation that contemporary student politics faces in Bengal. "We feel we are fighting to uphold an ideology, a class, but we end up promoting and serving selfish people and that is exactly the difference between how student politics should be and how it actually is."
The assumption that while mainstream politics has irretrievably mired itself in violence, student politics has a responsibility to divorce itself from such a brand of realpolitik is an assumption whose practicality and advisability need to be thoroughly questioned. This is not to condone violence within the realm of student movements, but to acknowledge that it is impossible to strictly distinguish or distance student politics from larger political trends. Biman Bandopadhyay, the registrar of Bengal Engineering and Science University (BESU) and a student activist during his college years, raises some important questions that he thinks are coming out of the present scenario. "If young people are exposed to violence that is a part of everyday life at present, is it possible for them to remain completely outside of it? Furthermore, is it acceptable to argue for a ban on student elections and political participation based on the presence of violence in politics? This ultimately raises the question of whether students have a stake in societal change at all."
While campus politics in the state has in the past seen violence in many forms, the death of a peacefully protesting student leader in police custody, or the death of a policeman on duty during college union elections, or the ransacking of a foremost university constitutes events that have not been witnessed in recent times and which bring back memories of the turbulent student movements of the 70s.
"Violence in college politics has been there for a while, but as far as I have seen, always as an 'anticipation' of sorts. Union elections would take place under police protection, and while clashes would happen, it was always under control," says Atreyee Sengupta, ex-student of Comparative Literature from Jadavpur University and former member of Federation of Arts Students, an independent political organization. Alluding to the presence of violence on campuses during the Left Front rule, an ex-student of Maulana Azad College mentions that there was no visible sign of an opposition on campus when SFI controlled the union during her time. "The presence of local miscreants and the imminent threat of armed clashes were always there," she mentions.
Violence, then, as an aspect of student politics in the state, needs to be seen within a historical continuum, and cannot be identified as a reason to dispel political participation from the sphere of education. Says a student activist from the International Relations department of Jadavpur University in the context of violence in union elections, "Shouldn't we be asking the questions then, are state assembly and panchayat elections devoid of violence? I don't think they are. But do you put a stop to them?"
To many students, the role that mass media is playing in this refashioning of student politics in the state as a realm of unbridled goondaism is becoming evident. Shabnam Banerjee, a student activist from Medical College, Kolkata, rightly observes, "The death of Sudipto Gupta had not happened in a clash between students at all. So why is it that the public debate that arose out of it in the media centered around whether students should be allowed to be a part of politics?"
For many like Shabnam, the conflation of student clashes and local gang skirmishes that is being highlighted in mass media representations is influencing the larger understanding of student politics and vilifying political participation in popular belief. Student movements have always played an important role in educating young people to become responsible and conscientious citizens and political beings, and public opinion against collegiate participation in political processes will effectively deny the very human predisposition towards politics, aiding the growth of a culture of uninformed consent.