Recently, newspaper reports in English and Telugu carried news of the World Bank 'banning' construction company Progressive Constructions Ltd (PCL) for at least eleven years for engaging in alleged "fraudulent practices" while executing three contracts for a national highway project . the Lucknow-Muzaffarpur National Highway project . financed by the World Bank. Incidentally, the founding President of PCL is the Union Textiles Minister, Kavuri Sambasiva Rao.
According to various media reports, the World Bank has said that the PCL submitted "numerous fraudulent documents misrepresenting" the company's mobilisation and materials representation. This led to an order to ban for 11 years not only PCL, but "all legal entities directly or indirectly controlled by PCL." The World Bank also stated that the company "would not be able to work on any World Bank financed projects." Given the severity of the order, even a staunch critic of the World Bank's own funding exercises would not disagree that it should call for serious review and, if need be, examination of all existing contracts given to this company.
The state government of Andhra Pradesh (AP) as well as the central government should ideally issue orders to look at the financial dealings of this Company which has entered into several contracts over a span of the last five to seven years (which coincides with Congress rule at the Centre as well as the state of AP). Take, for instance, the Polavaram Indira Sagar Dam over the Godavari River, in which PCL has a lion's share, as well as several major and minor real estate projects in and around Hyderabad (and even in and around Vizag, now that Vizag is deemed to be the next new capital in a new state).
PCL was awarded several 'packages' or slots of the dam construction work (named C1-1, OC etc.) for different stretches of the Polavaram project, which included laying of canals and pipelines. There is also much talk about PCL's local contracts in construction or repairs of minor irrigation canals and tanks in West Godavari district. How can a firm, that has allegedly hoodwinked an international donor such as the World Bank by fudging figures and showing wrong estimates of its own strength, be entrusted with the construction of the Polavaram dam, which is now an important national project?
Union Minister Sambasiva Rao has chosen to avoid the issue by saying he is not directly involved with the PCL, which he claims is his daughter's company.

The CAG report too, in its financial audit, had mentioned manipulation of figures and graft in the issue of contracts to private companies in the name of Jalayagam, the pet project of the late YS Rajasekhara Reddy. PCL was a direct beneficiary of the project, as also of various contracts in other irrigation and real estate development projects. In fact, in Rajahmundry during the year 2006-07, it was also seen helping with projects on the sidelines of the Polavaram spillway construction, which included making alignment maps, CAD drawings and so forth with the Irrigation and CAD department - a fact which most local people claim to be in the know of.
A leaked diplomatic cable dispatched by the US Consul General in Chennai in 2007 (which found itself mentioned in the Wikileaks) reported on the then Congress government headed by Y S Rajasekhara Reddy in Andhra Pradesh being involved in "widespread corruption that was beyond the pale" even for India. It noted that irrigation and housing programmes were in particular beset with corruption.
Sambasiva Rao has chosen to avoid the issue of the World Bank's orders by saying he is not directly involved with the PCL, which he claims is his daughter's company; however, he still appears as the Founding President of the company on its website; surely a Founding president should be in the know of major contracts signed by the company, especially with the government and of a major contract funded by the World Bank?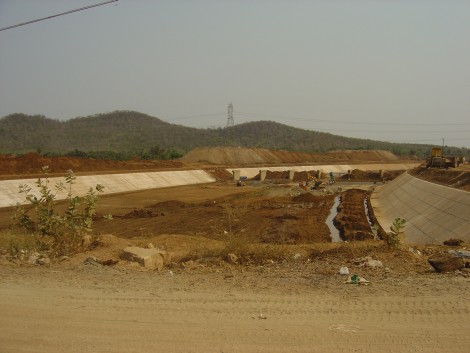 The spillway site for the Polavaram Dam.
Although the World Bank does not seem to be directly involved in funding the Polavaram dam, there is no saying under what heads the contracts for various highways and roads linked to the same Polavaram dam might come under scrutiny in some future time. If you visit the PCL website, you will find that the Company has several stakes all over the country in projects such as "32 dams" and "1571 kms of highways and bridges" (in different parts of the country, which include - Boratani - Barwa adda Section of NH-2, Varanasi - Mohania Section of NH-2, Hyderabad - Pune, Hyderabad Section of NH-7., Gorakhpur - Gopalgunj Section of NH-28 (LMNHP - 9).the Gopalgunj - Mazafarpur Section of NH-28 (LMNHP - 12), etc.
Then there are "industrial, commercial and residential" projects having built up area of 250000 sq m, "EPC / Turnkey / BOT (Build Operate Transfer)" under which there are 23 projects comprising Hospitals, Irrigation Canals, Highways, Bridges, Condominiums, Residential, Commercial & Industrial Structures, Multi-Level Parking", and so on.
As elections to the AP State Assembly and Lok Sabha Elections draw nearer, news such as this is sure to spell trouble for the ruling Congress. But more importantly, it should jolt those who do not raise any questions on the capability or eligibility of private companies to build projects such as dams and roads in a context ridden with graft and false claims. As far as the Polavaram dam construction is concerned, there has been no examination or monitoring (or audit) of the nature of works already done by either PCL or any independent mechanism.
One last word. Ever since the news reports were published, there has also hardly been any discussion or follow-up by mainstream English media on this significant piece of news, irrespective of whether or not there is a consensus regarding World Bank policies. It does appear strange that despite such strong allegations against the company, the media has not considered it 'fodder' enough for discussion or a debate - at least on political leaders doubling up as contractors or corporate honchos and the level of graft rampant in these situations.
After all that we have heard and read about media corruption, the sceptical mind cannot help but wonder if some 'damage control mechanism' has already been put in place by the accused. Who will ever know?