Music World, belonging to the RP-Sanjiv Goenka group, has moved out of the music retailing business for good with the closure of its largest store at Park Street in Kolkata on 1 July. The Rs.14,000 crore business across the country began closing down all its stores, and the final nail on the coffin was the shutting of the Park Street store that was the biggest crowd-puller and highest revenue grosser in the whole chain.
Music World was one of the first entrants into the specialty retail space. Its first store opened in 1997, and in 2003 the company took the franchise route. It grew across India, but by April 2012 the company was forced to scale down its operations, as the market for music - both the legal and illegal one - changed dramatically. The 100 Music World stores spread across India were reduced to just seven in West Bengal. The Park Street store was the last one to go.
The music and home video industry in West Bengal is going through its toughest time, striving for survival every day. The reasons are not far to seek. The most crucial one is music piracy followed by inadequate revenue-sharing model by FM Channels and high taxes levied on music companies. The business of these companies is dwindling due to the public sale of pirated music CDs, DVDs and even entire albums on the pavements of cities and small towns, available at a decimal fraction of the cover price.
"In the last few years, the onset of digitisation of music and shift in consumer preferences towards music and video downloads has rendered the business model (of Music World) unviable. We are therefore exiting this business," Sanjay Gupta, Corporate Head Marketing, RP Sanjiv Goenka Group, said in an official statement. The music industry has seen a major fall in physical sales of CDs and DVDs since popular websites like saavn.com, gaana.com and dhingana.com release latest Hindi film songs officially even before the official release of these songs.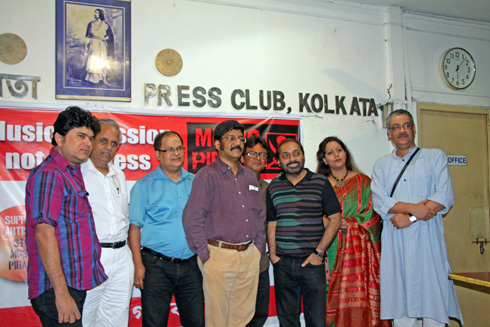 Leading artists and other stakeholders in the music fraternity of West Bengal recently assembled to protest the growing menace of music piracy. Pic: Sagittarius.Inc
To address the grim situation that is posing a death threat to the music industry, the music fraternity of West Bengal assembled for a Press Conference recently organized by the Eastern India Music & Home Video Producers' Association (EIMHVPA). The meeting drew music practitioners from every field, comprising audio company owners and their employees, singers, music directors, lyricists, music critics, in fact anyone and everyone linked to the business of music in one way or another. The meeting was attended by famous singers like Sreekanta Acharya, Rupankar, Surojit Chatterjee (of Bhoomi), Soumitra, Monomoy Bhattacharya, Anindo (of Chandrabindu), Jayati Chakraborty, Smarajit, Raghab Chatterjee, and many others who raised their voices, anchored by singer-music composer-lyricist Siddhartha.  They announced their decision to arrange anti-piracy rallies across the city and submitted a deputation to the Governor and Chief Minister of West Bengal respectively.
"Downloading music on Bluetooth and on our cell phones is legal. But the cell phone maker offers several thousand free music downloads when someone goes to buy a phone. This affects sales but we cannot do much about it. What we need to do is to stop illegal music sites on the Internet that allow free downloading of music. This calls for a sense of inner values, a sense of ethics that is genuinely in short supply among everyone concerned" said singer Raghab Chatterjee.
The local music market is plummeting to the bottom. All this is possible because music duplication software and infrastructure is easily available at relatively cheap prices while the revenue is massive with rising profit margins for those in the piracy business. The low risk-high returns aspect of counterfeiting has made it attractive for dangerous, organized crime syndicates.


• Private property or common resource

Music and home video piracy have risen drastically over the past few years. In India, business in the Eastern and Northern parts are badly hit by piracy. The local music market is plummeting to the bottom. All this is possible because music duplication software and infrastructure is easily available at relatively cheap prices while the revenue is massive with rising profit margins for those in the piracy business. The low-risk-high-returns aspect of counterfeiting has made it attractive for dangerous, organized crime syndicates. Counterfeiting is high in areas where unemployment rate is high and income levels are low.
"If 16 CDs are available in the grey market for Rs.30, it means 16 years of painstaking work gone forever. It is critical that the government takes a serious look at music piracy. Music is downloaded free of charge from Internet sites and if this is possible, why would people go out and buy master CDs of the same songs at a price?" asked Monomoy Bhattacharya, a famous vocalist. "Pirated software to download music and video CDs is available at unbelievably low prices. For example, I have personal information about original software costing Rs.75,000 being sold under the table for Rs.500. Whose responsibility is it to stop this kind of robbery? Are the buyers not as responsible for this as the ones who are pirating them and the ones who are selling them?" asked Rupankar, another celebrity singer. The meeting was followed by a signature campaign.
The future looks bleak with the advent of 3G and 4G technology. The mushrooming of illegal websites has been a dominant trend and will most likely continue to dominate the music and video download business because there are no proper measures to check operations. Retrenchment has set into the music business triggering unemployment. The handful of audio companies who are still around are there more out of love and passion than out of pure business interest. But even they are finding it difficult to survive in the current market scenario.
Seven-point agenda presented to the West Bengal Government by Eastern India Music and Home Video Producers' Association
Introduction of the Goonda Act in West Bengal that is already at work in Karnataka, Kerala, Andhra Pradesh, Punjab, Rajasthan, Uttar Pradesh and Tamil Nadu that include music piracy as a major offence under this Act;
Punishment for cyber crime offences must be more stringent;
All FM stations should increase the revenue-sharing model with audio companies as it was till August, 2010;
Implementation of a law to make it mandatory for FM channels to take permission from licensing authorities and share reasonable revenue to help the music industry producer new albums;
Reduction of taxes to cut down on additional burden on the music companies;
Permitting downloading from legal websites only alongside blocking of copyright infringing websites with immediate effect;
Bringing mobile companies within the ambit of the law and make it mandatory for them to establish a revenue-sharing model with music companies.

Artists, musicians, lyricists, sound recordists, technicians are also being affected in a big way. "The buyers are active participants in this piracy market," said Sreekanta Acharya, a big name in the Bengali music fraternity, who lamented the fact that music lovers themselves chose to buy albums and audio CDs and DVDs off the streets at dirt-cheap prices instead of paying the print price across the counter at a music store. "I can hear my own songs from my latest album in a street corner shop through a pirated CD being played through the loudspeaker. Who will buy the legal version of the CD tell me?" he asks. Music piracy has not only eaten into the profits of retail chains but also online music download services. Flipkart recently shut down its nascent music download service Flyte, claiming insufficient demand for paid downloads in the country.
The Government of West Bengal is also losing the huge revenue it can earn from legal sale of music. Infringement of copyright is a cognizable offence. Authorities can and should take action on their own without any formal compliant. Babul Supriyo in a written statement from Mumbai captured the crisis well as he wrote: "The shutting down of iconic music stores because of non-existent physical sales is caused solely because of piracy and unethical downloads from illegal websites that enjoy the liberty and freedom to carry on with their illegal and unethical business in the absence of stringent laws on the one hand and the absence of application of available laws on the other. Music Labels show little or no interest in recording new music and talents. The morale of many artists is also at an all-time low. I am convinced that in time, this will affect the listeners who will be denied the privilege of listening to new generation of talents and to their favourite singers and music makers."